Food Drinks
Cotswolds Distillery names new CEO – The Spirits Business
Daily News Post
||
Food
:
Jeremy Parsons has been appointed chief executive officer of the Cotswolds Distillery as part of the English producer's expansion plans.
Parsons will take up the position from June 2022 and will work alongside the distillery management team on scaling the distillery's operations and brand, both at home and overseas.
Founder and current chief executive officer Daniel Szor will take up the new position of executive chairman. He will remain involved with running the company on a day-to-day basis.
Earlier this year, the distillery revealed plans for a 'significant' expansion, which will see it become the largest producer of English whisky. 
Szor said: "As we continue to grow and scale our operations, Jeremy's industry experience and management skills will be invaluable, as will his brand-building and brand management talents.
"My new role as executive chairman will remain full-time and, in many ways, will be much the same as my role over the past years: focusing on long-term strategy, helping develop our range of spirits, our physical site and visitor offering, talking to customers and investors alike and showing them around our beautiful distillery."
Parsons boasts more than 30 years' experience in the wine and spirits trade. During his career, he has held senior roles at Constellation Brands and Diageo, among others.
He managed and grew the premium spirits business of Berry Bros & Rudd over 10 years, which included brands such as Cutty Sark whisky, Glenrothes and No.3 Gin.
Most recently, Parsons has worked as chief operating officer of Beamish International, based in Edinburgh, which specialises in the sale of ultra-premium single cask whisky. Over three years, he helped to take the business from £6 million (US$7.8m) to £15m (US$19.7m). He will continue as a non-executive director at Beamish.
Parsons added: "Having spent the last three years working in the ultra-rare whisky sector building the structure and sustainability of a now leading advisory firm, it was a good time to take on a new challenge and to join Dan at The Cotswolds Distillery – a company I have much admired for a long time."
Cotswolds Distillery marks Queen's Jubilee
In additional news, the Cotswolds Distillery has also unveiled a limited edition gin to mark the Queen's platinum jubilee this year.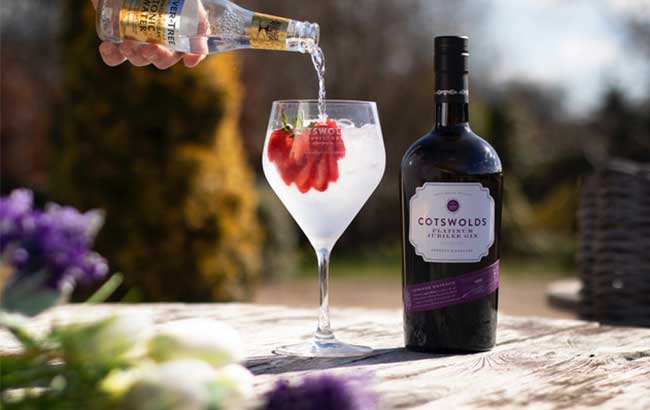 The Cotswolds Distillery Platinum Jubilee Gin will be available in the UK in May.
Szor said: "We are delighted to launch our Platinum Jubilee Gin to celebrate the unprecedented anniversary of Her Majesty the Queen. It encapsulates the taste of summer in a bottle for everyone to enjoy with family and friends. The Platinum Jubilee Gin is the perfect addition to our best-selling Cotswolds Dry Gin and is a must have on your garden table this summer."
Crafted with nine botanicals, the liquid contains flavours of fresh grapefruit citrus, raspberry, fresh strawberry and vanilla. The palate presents notes of jammy raspberry, strawberry and fresh citrus, and the finish boasts hints of vanilla ice cream.
The bottle has been designed to reflect regal livery, with a silver and purple label, while the gin itself was inspired by classic British summer desserts and sits at 46% ABV. 
The brand recommends the limited edition gin be served with tonic water and garnished with fresh strawberries. 
It will be available to buy from wine specialist Majestic Wine for RRP £34.95 (US$45.91).
Latest Food Drinks News Today Headlines Check More Links