Food Drinks
Glenfarclas 105 comp winner talks whisky ambitions – The Spirits Business
Daily News Post
||
Food
:
Bartender Dan Jones stormed to victory in the Glenfarclas 105 Cask Strength contest – his first competition final. He discusses his dream to go from cocktail connoisseur to Scotch whisky master.
*This feature was originally published in the October 2021 issue of The Spirits Business magazine.
For Dan Jones, winning the second Glenfarclas 105 Cask Strength Competition was an invaluable experience. "This is the first time I've been to a final, so to go straight through and win it is odd," the London‐born bartender explains. The self-confessed whisky geek triumphed at the final in Edinburgh in September 2021, beating seven bartenders from acclaimed venues such as Swift and The Connaught.
Jones took inspiration from his family in Essex for one of his winning cocktails, a Highball called Never Far From Home that was made with ingredients from his family's farm, as well as rose water, a nod to his sister Rose. "Making a Highball well balanced is difficult," he says.
His second cocktail, Darwin's Rob Roy, was made with Glenfarclas 105 fat‐washed with citrus‐infused olive oil, Belsazar Rosé Vermouth, sugar syrup, homemade truffle and orange bitters, and balsamic vinegar, all garnished with a crostini and cherry gel. It was based on the theme of 1836, when the distillery was established, but the drink could have turned out differently: "I had a different idea; I thought I would do a cocktail that evolved using reverse spherification that would add a thin film and release the liquid by popping it. So for the Rob Roy you could pop the drink to add more sweet vermouth. It was a logistical nightmare if I had to transport it from Bristol to Edinburgh, so I abandoned that idea."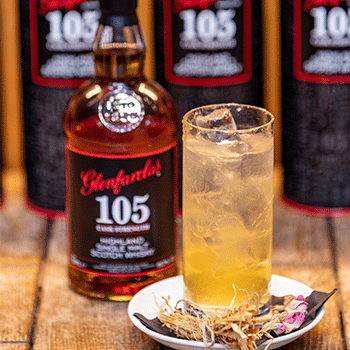 Jones' presentation skills were highly commended by the judges, with the bartender sticking to the 10‐minute time limit while divulging knowledge of the brand.
"I don't like to learn stuff off by heart for competitions as it can come off really stiff. I love public speaking; I was a drama nerd as a teenager. I tried to focus on the drinks that I'm making. I know it well and I spent ages making it. I've talked to guests about it."
Jones, who is bar supervisor at Bristol's Klosterhaus, is adamant about remaining on the competition circuit. "Competitions will be something I do more of," he says. "I fell in love with the industry very quickly. I was bar‐backing and now I'm winning cocktail competitions."
Like many bartenders, Jones' entry into the industry was a happy accident. While studying philosophy at the University of Bristol, Jones started as a weekend bar back at The Florist in 2019, part of the New World Trading Company. His ambition to progress in the industry saw him compete in a Marti Miller's gin competition. "I was still a bar back but I was already thinking a career in the industry was good fun, so I made a twist on a Mimosa and I came third. I was the plucky bar back that gave it a shot," he says. "I really wanted to be a bartender."
Daunting challenge
Jones moved up the ranks to become head bartender at The Florist, but the pandemic hit and he was placed on furlough "for a really long time". During this time, he jumped ship to join the opening team at German‐inspired restaurant Klosterhaus, a new D&D London venue in Bristol, in September 2020. "It was daunting because we had all these big shots from London and I had only worked one job at The Florist where everyone was trained there," he adds.
However, the venue was forced to close within a month of opening when the second lockdown came into force in England during November. "By mid‐October we were wondering if this place was going to survive the lockdown," he says. "I had taken a risk moving. I was thinking whether it was the right move to make, and in the end it was."
At Klosterhaus, Jones says the team was "handed the keys to the kingdom" in terms of creating the cocktail menu: "It's an opportunity I wouldn't get if I was in those high‐end bars in London.
"The good thing about D&D is that none of the sites are part of a chain, while benefitting from the protection of a parent company, so we have control over the menu."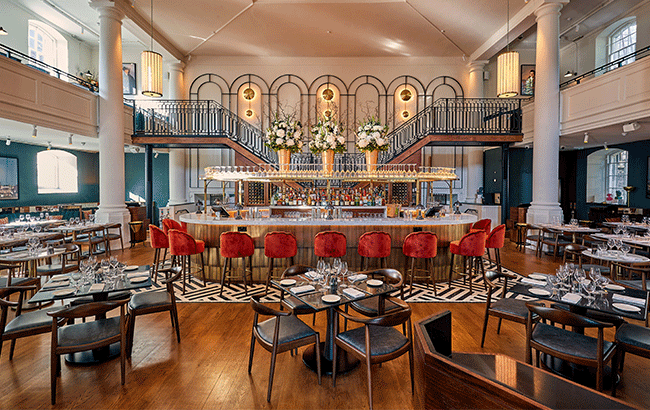 Jones and the team are finalising a new cocktail menu for October with a winter theme. The aim is to launch a new menu every six months, Jones tells me. "We've come up with some twists on classic, winter-themed drinks and some really out‐there cocktails," he says. "We've got a cocktail that is duck‐fat‐washed Bourbon with mushroom‐infused Campari and red vermouth – a wintry, dark twist on a Negroni."
There's also a Kirsch Daiquiri, made with homemade rosemary syrup, cherry bitters and Havana Club 7, and a twist on a Margarita using burnt passionfruit syrup, Tequila, mezcal and lime juice.
Career moves
While he could see himself making the move to London in a few years' time to work at one of the city's top watering holes, Jones' ultimate goal is a career in spirits.
"I don't want to go down the management route," he says. "I like making drinks and designing them. Every bartender has a dream to open their own bar. That being said, I'd love to work in the Scotch industry, ideally production. I'm really passionate about tasting whisky and creating the product.
"I'm interested in the subtleties of how you can change the flavour of a Scotch; it's so alluring to me. It's still so people‐focused. Learning from those people would be a fantastic thing to do. I'd love to do brand ambassador stuff as well."
Jones' passion for spirits also saw him launch a spirits review website, The Spirits Somm, with a friend in the industry.
It's fitting then that his prize for winning the Glenfarclas competition is a two‐day trip to the Scottish distillery itself, where he'll be shown the ropes. "Glenfarclas will be my first visit to a distillery. I'm very excited," he enthuses.
Latest Food Drinks News Today Headlines Check More Links