Business
NYC Sign-Up Criticized; Vaccines at Dodger Stadium: Virus Update
Today News
||
Pfizer Inc. and BioNTech SE raised their Covid-19 vaccine production target for this year to 2 billion shots. The previous production target was 1.3 billion doses.
New York City residents looking to get vaccines are confronting a "bewildering sign-up process" that's hindering plans to speed up inoculations, Comptroller Scott Stringer said. Los Angeles, the epicenter of the latest U.S. wave, will turn Dodger Stadium into a mass vaccination center to inoculate as many as 12,000 people a day.
Ireland's hospitals are under mounting pressure as it grapples with a daily infection rate that's now among the highest in the world, with ambulances forming a backlog outside one facility over the weekend.
Malaysia will place most of the country under some form of lockdown for two weeks starting Jan. 13. A new cluster erupted in Suihua city of northeastern Chinese province Heilongjiang.
Global Tracker: Cases top 90 million; deaths surpass 1.93 million
Vaccine Tracker: More than 25 million shots given worldwide
Globe-Trotters pledge to fly less after Covid to help climate
Automakers are losing production as virus disrupts chip supplies
U.K. ramps up vaccine rollout with hospitals under strain
Subscribe to a daily update on the virus from Bloomberg's Prognosis team here. Click CVID on the terminal for global data on coronavirus cases and deaths.
Portugal Reports Record Fatalities (9:47 a.m. NY)
Portugal on Monday reported the biggest daily increase in deaths from the coronavirus since the start of the outbreak. There were 122 new fatalities in a day, more than the previous record of 118 on Friday, taking the total to 7,925 deaths, according to government data.
The number of new coronavirus infections rose by 5,604 in a day compared with a record 10,176 new cases in a day reported on Friday.
Portugal may have to tighten restrictions on movement this week as it tries to contain the spread of the pandemic, Prime Minister Antonio Costa said on Thursday.
NYC Vaccine Sign-Up Process Is 'Bewildering' (9:20 a.m. NY)
New York City residents looking to get vaccines are confronting a "bewildering sign-up process" that is hindering plans to speed up inoculations, Comptroller Scott Stringer said on Twitter.
The city opened mass vaccination sites Sunday in Brooklyn and the Bronx, extended shots on Monday to people 75 and over, and encouraged everyone eligible to schedule an appointment. One of the sign-up websites has a multistep process to set up an account, another to make an appointment, and numerous questions or fields to be answered or filled in, Stringer said on Twitter.
Stringer is among a field of Democratic candidates competing to succeed Mayor Bill de Blasio.
Israel's Shots Are Working (9 a.m. NY)
Israel's vaccination campaign, which has already covered about 20% of its population, is producing early signs that vaccines are slowing the virus. Sheba Medical Center's Gili Regev, director of the infection prevention and control unit, says that her study of around 500 health-care workers vaccinated with the Pfizer-BioNTech shot is already turning the tide.
By the second week after the initial shot, more than 50% produced antibodies to protect against Covid-19. Those who were infected more than 10 days since getting the first jab typically had a milder disease and some of those infected were not infectious, she said, cautioning they are preliminary findings.
Russia Approves Study of Sputnik Light Vaccine (8:43 a.m. NY)
Russia approved a 150-person study of the so-called Sputnik Light vaccine developed by the makers of the country's first registered inoculation, according to the Health Ministry.
Russian President Vladimir Putin first suggested a single-dose "light version" of a coronavirus vaccination that would be less effective and offer protection for a shorter period last month in order to get more people inoculated faster. The Sputnik V vaccine consists of two shots taken three weeks apart. Producers have faced some issues ramping up production of the second dose.
Pfizer, BioNTech Boost Covid Vaccine Target (7:33 a.m. NY)
Pfizer and BioNTech raised their Covid-19 vaccine production target for this year to 2 billion shots.
The partners have already committed more than half that capacity, BioNTech said in a presentation filed on Monday. A new production site in Marburg, Germany, expected to become operational by the end of February will be able to make as many as 750 million doses per year.
Malaysia Imposes Targeted Lockdowns to Battle Virus Wave (7 a.m. NY)
Malaysia will place most of the country under some form of lockdown for two weeks starting Jan. 13. While five essential sectors including manufacturing, construction and agriculture, will remain open, interstate travel will be banned throughout the country.
Separately, the country will buy an additional 12.2 million of the Pfizer-BioNTech coronavirus vaccine. The latest order ramps up availability to 25 million doses, enough to inoculate 39% of the population.
One in Five in England May Have Caught Virus (6:30 a.m. NY)
As many have 20% of people in England have had the virus, according to data firm Edge Health, which works with the U.K.'s public health service. About half of the population of the east London borough of Barking & Dagenham have had Covid-19, according to the analysis.
South Africa Oxygen Demand Surges (6:10 a.m. NY)
Oxygen usage is surging in South Africa amid a new wave of coronavirus infections, leaving suppliers struggling to keep pace with demand. As infection rates and deaths reach records, Air Liquide SA, Afrox Healthcare Ltd. and Air Products are boosting deliveries to hospitals, with some now taking place daily rather than weekly.
"Consumption from our hospital customers has increased by three to four times," Air Liquide said in a response to queries. "Some regions have experienced a more than six-fold increase, while some specific hospitals have experienced an as much as 10-fold increase in consumption."
London Transit Deaths (5:31 p.m. HK)
The National Union of Rail, Maritime and Transport Workers is seeking stronger safety measures to protect Transport for London staff from the pandemic after three transit workers died in recent days. The union demanded the Mayor of London and London Underground provide guarantees on worker safety, including allowing vulnerable employees to stay home if needed. N95-style masks should be available when requested, the union wrote.
China's New Cluster (5:15 pm HK)
A new cluster erupted in Suihua city of northeastern Chinese province Heilongjiang. The city of over 5 million people reported 20 asymptomatic infections after authorities tested more than 2,800 people. Health authorities are waiting for results for the rest of some 8,700 people who underwent testing after a woman tested positive at a county hospital on Saturday, Chinese News Services reported.
The detection of the new cluster came as the outbreaks in Shijiazhuang city near the Chinese capital escalated with more than 450 cases in less than 10 days and sporadic flareups in the country's northeastern provinces.
China reported 85 local confirmed coronavirus infections Jan. 10, including 82 in the northern province of Hebei, 2 in Liaoning and 1 in Beijing.
Irish Hospital Pressure Mounts (5:05 p.m.)
Ireland's hospital system appeared close to being overwhelmed, as coronavirus case numbers continue to explode. Doctors treated patients in ambulances outside one facility in the northwest of the country over the weekend as patients suspected of having the virus filled the hospital, while intensive care beds availability has dropped to 38.
Ireland's 7 day incidence rate per 100,000 people is now the highest in the world, according to a Bloomberg analysis.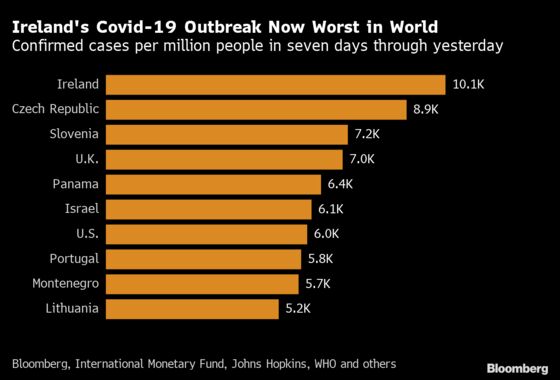 New Strains Spread in Europe (4:30 p.m. HK)
Finland reported a total of 49 cases of the U.K. and South African variants of the coronavirus on Monday, with the bulk of those infections detected in travelers and their close contacts in recent weeks. In Latvia, one case of the U.K. variant was discovered, related to a recent trip to the country.
L.A. Turns Dodger Stadium Into Vaccination Hub (3:45 p.m. HK)
Los Angeles, the epicenter of the latest wave, will turn Dodger Stadium from the country's biggest Covid-19 testing site into a mass vaccination center to inoculate as many as 12,000 people a day.
The stadium will cease being a testing site Monday, with the transition taking place by the end of the week.
The Greater L.A. area, where one in 11 have been infected, has tested 5 million people, or about half of its population. With a surge in cases, Southern California and other parts of the state have run out of ICU capacity.
France Not Planning New Lockdown for Now (3:41 p.m. HK)
France continues monitoring day-to-day Covid-19 situation "very closely" and is taking necessary measures to protect health of its citizens, government spokesman Gabriel Attal says in radio interview on Europe 1.
Attal said France would meet its target of vaccinating 1 million people by the end of January.
Separately, Transport Minister Jean-Baptiste Djebbari said it would be illegal in many countries for companies to render vaccination obligatory.
"Not everyone can be vaccinated," he said in LCI TV interview Monday. "We don't want to create categories of populations, those who have access to vaccinations and those who don't.'
Tokyo Suffers 7th Day of Cases Above 1,000 (2:48 p.m. HK)
Tokyo found 1,219 new coronavirus cases on Monday, the local government said, marking a seventh straight day of more than 1,000 daily infections.
Japan's government called on the public to stay home during a three-day weekend that includes Monday, but the nation's second state of emergency in Tokyo and surrounding prefectures appears to have failed to reduce foot traffic as effectively as during the first in April, Yomiuri reported earlier.
Australia to Lift Lockdown in Brisbane (7:34 a.m. HK)
Australia's Queensland state will lift the three-day lockdown on its capital city Brisbane from 6pm local time after zero new coronavirus cases were recorded overnight, Premier Annastacia Palaszczuk said.
Still, some restrictions will remain on the amount of people allowed in shops and restaurants, and masks must be worn in public indoor places places like libraries and supermarkets, she told reporters Monday.
The fourth Australia vs. India cricket test will likely go ahead in Brisbane as planned on Friday with ground capacity halved and spectators required to wear masks unless seated, Palaszczuk said.
More Economy Business News Updates of Today Check Below
Today News || Business Today || World News || Headlines Today || Health || Technology News || Education News

Source