Business
U.K. Mulls Tighter Borders; Mexico Leader Infected: Virus Update
Today News
||
Global coronavirus cases approached the 100 million mark, as infections in the U.S. surpassed 25 million. The U.S. is stepping up surveillance of virus variants to monitor their impact on vaccines.
California is expected to lift a stay-at-home order on Monday, according to a media report. Meanwhile, the U.K. is considering tightening border controls while France may go into another lockdown within days, and Israel will bar foreign flights through the end of the month. Hong Kong signaled more lockdowns in the future after ending measures imposed over the weekend.
Mexican President Andres Manuel Lopez Obrador said he is infected with Covid-19. Australia provisionally approved the vaccine developed by Pfizer Inc., clearing the way for the country's first jabs in late February.
Subscribe to a daily update on the virus from Bloomberg's Prognosis team here. Click CVID on the terminal for global data on cases and deaths.
California Governor Seen Lifting Stay-at-Home Order: NBC (2:14 p.m. HK)
California Governor Gavin Newsom is expected to announce Monday the lifting of a stay-at-home order, NBC Bay Area reported, citing a letter from the California Restaurant Association to its members. The letter said senior officials in the Newsom administration confirmed the move with the association.
Israel Bars International Flights Until End of January (2:02 p.m. HK)
Israel's cabinet approved restrictions that will bar foreign flights from entering the country in order to limit the country's exposure to mutated strains of Covid-19. The closure takes effect at midnight Monday and will last through the end of the month, according to an announcement from Prime Minister Benjamin Netanyahu's office. The government made exemptions for cargo and emergency situations.
Last week, Israel extended its lockdown to the end of January to keep cases down as it progresses with its vaccine campaign.
Australia Halts Quarantine-Free NZ Travel: ABC (1:59 p.m. HK)
Australia has suspended quarantine-free travel for New Zealanders arriving in the country for 72 hours, after a woman was infected in New Zealand with the South African variant of Covid-19, Australian Broadcasting Corp. reported. Travelers coming from New Zealand to Australia in the next 72 hours will have to go into mandatory hotel quarantine, ABC said.
Thai Tourist Arrivals at Decade Low (1:57 p.m. HK)
Foreign tourist arrivals into Thailand plunged to the lowest level in at least 12 years after the country closed its borders to contain the coronavirus outbreak, with a resurgence in infections now undermining efforts to reopen the industry.
Tourist arrivals slumped to 6.7 million in 2020 from 39.9 million a year earlier, data from the Ministry of Tourism and Sports showed Monday. That's the lowest number of visitors since at least 2008, according to ministry data.
Korea Finds Nine Patients With Variants (1:55 p.m. HK)
South Korea has confirmed nine additional patients with coronavirus variants that are raising concerns with their potency and contagiousness. All of the patients — four with the U.K. variant, three with the South African and two with the Brazilian types — were imported, or overseas arrivals, according to the Korea Disease Control and Prevention Agency. Korea has confirmed 27 patients infected with one of the three variants in total so far, all imported.
South Korea earlier reported 437 total new cases, the highest number in more than a week. Still, new cases have remained below 500 for eight straight days. Total deaths rose by 11 to 1,360.
Myanmar to Start Covid Vaccine Rollout This Week (12:14 p.m. HK)
Myanmar will begin its nationwide vaccine rollout program on Wednesday with the inoculation of frontline health workers and volunteers, according to the Ministry of Health and Sports. Cabinet members including de facto leader Aung San Suu Kyi and President Win Myint will receive shots on Thursday, said Khin Khin Gyi, director of emerging infectious disease at the ministry.
Tighter Travel Rules Mulled in N.Z. After Case Emerges (11:24 a.m. HK)
New Zealand is considering restricting the movement of returning travelers even after their two-week forced isolation period, as a woman who tested positive for Covid-19 after leaving quarantine became the country's first local infection in two months.
The 56-year-old fell ill several days after completing 14 days at an Auckland quarantine hotel earlier this month with the South Africa variant of the virus, and is likely to have contracted it from another traveler staying on the same floor of the facility, said officials.
The case reflects the challenges of keeping out the virus even with some of the strictest border control globally.
China City's Residents Chafe at Restrictions (11:04 a.m. HK)
Residents are chafing at aggressive restrictions imposed in the northeastern Chinese city of Tonghua. Some of the city's two million residents have been complaining on Chinese social media about the shortage of necessities, saying people were suddenly banned from leaving their homes without sufficient time to prepare.
Jilin province, where Tonghua is located, reported 67 cases on Monday, the highest daily number on record. While total confirmed locally transmitted cases in China's latest outbreaks this year now stand at 1,706, daily infections in Hebei and Heilongjiang province have come down slightly from last week's peak.
Mexico's President Says He's Infected With Covid-19 (8:40 a.m. HK)
Mexican President Andres Manuel Lopez Obrador said he's infected with Covid-19 after the country posted record increases in cases and fatalities from the outbreak in the past week.
The president announced his diagnosis in a tweet, saying his symptoms are mild and that he's receiving treatment. He's also expected to stay on top of the country's affairs, and will take a scheduled call with Russian leader Vladimir Putin on Monday.
"As always, I am optimistic," he said. "We will all move forward."
Jakarta Confirms Extension of Restrictions to Feb. 8 (8:38 a.m. HK)
Jakarta is extending restrictions of movement by two weeks to Feb. 8, in line with the national policy, to curb a rise in cases in the Indonesian capital. Some of the restrictions include a requirement for religious places and non-esssential businesses to operate at 25% to half the capacity, while no public events are allowed, the Jakarta government said in a statement.
White House Pushed by Lawmakers on Relief Plan's Size (8:13 a.m. HK)
White House economic adviser Brian Deese was asked Sunday by Republican and Democratic lawmakers for justification for the $1.9 trillion price tag of the administration's Covid-19 relief plan.
"Part of what we're asking for is more data — where did you get the number?" said Senator Angus King, a Democratically-aligned Maine independent who participated in Deese's call. King was referring to the potential cost of the package's components, versus the total price-tag.
Participants characterized it as an initial outreach by the White House as President Joe Biden seeks what would be the second-largest emergency spending bill ever.
U.K. Considers Stricter Border Controls (5:29 p.m. NY)
The U.K. is considering tightening controls at its borders to prevent the import of new strains of coronavirus, which it fears may undermine the success of its vaccination program.
"The conversation has changed about the borders," Britain's health secretary Matt Hancock said on Sky News on Sunday. "These new variants can really set us back and we need to protect ourselves against them coming in."
Australia Clears Pfizer Vaccine (5:07 p.m. NY)
Australia's drug regulator provisionally approved the Covid-19 vaccine developed by Pfizer Inc. and BioNTech SE, clearing the way for the country's first jabs in late February.
Aged-care and disability-care residents and workers, front-line healthcare workers, quarantine and border workers will receive the vaccine first, Prime Minister Scott Morrison said in a statement.
Hong Kong Lifts Lockdown (4:54 p.m. NY)
Hong Kong lifted its first lockdown over the weekend that affected thousands of residents after it completed testing the people in the area to contain a worsening outbreak.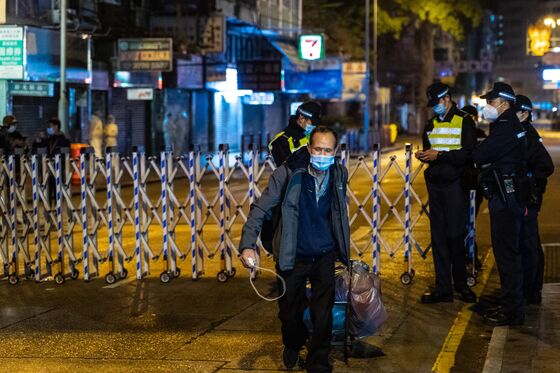 The government tested about 7,000 people, mostly in Kowloon's Yau Ma Tei and Jordan areas — known for their night markets — and found just 13 confirmed coronavirus cases, it said in a statement. The effort involved more than 3,000 government officers from 16 departments, it said.
U.S. Plans Ban for Most Non-Citizens From South Africa (4:08 p.m. NY)
The U.S. will ban entry to most non-U.S. citizens who have recently been in South Africa in response to the new Covid-19 strain there, according to a White House official familiar with the plan. It's unclear how long the restrictions will continue.
The Biden administration will also continue restrictions on travel to the U.S. from Brazil, the U.K., Ireland and 26 countries in Europe that the Trump administration planned to relax as of Monday, said the official, who requested anonymity because the plans haven't been made public.
Sweden Bans Travel With Norway (3:18 p.m. NY)
Sweden has introduced a travel ban with neighboring Norway that starts at midnight on Monday and runs until Feb. 14.
The country has also extended its temporary entry bans from the U.K. and Denmark until Feb. 14, Interior Minister Mikael Damberg said at a press conference on Sunday. "A feared outbreak of the mutated variant in Olso, in combination with the extensive shutdowns may entail a risk of a flood of people to the Swedish side of the border," he said.
Norway extended tougher restrictions beyond the Oslo area amid uncertainty about how quickly and widely the U.K. variant is spreading. Authorities said there's a big risk, and now is the time to act as the infection-rate curve is trending downward. The restrictions will apply through the end of January.
Brazil Protests Call for Bolsonaro Ouster Amid Virus Crisis (3:13 p.m. NY)
Brazilian protesters took to the streets to call for President Jair Bolsonaro's impeachment as his administration faces criticism over a slow coronavirus vaccination roll-out and a surging death toll from the pandemic.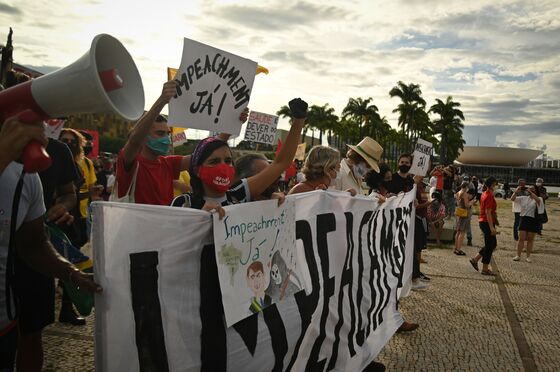 Motorcades clogged main avenues of cities including Rio de Janeiro and Sao Paulo, honking horns and carrying signs calling for the president's removal. Sunday's demonstrations were backed by conservative groups, while Saturday protests were organized by left-wing political parties and labor unions.
More Economy Business News Updates of Today Check Below
Today News || Business Today || World News || Headlines Today || Health || Technology News || Education News

Source