Education
Concerns Linger Over Decision by Notre Dame of Maryland to Go Co-Ed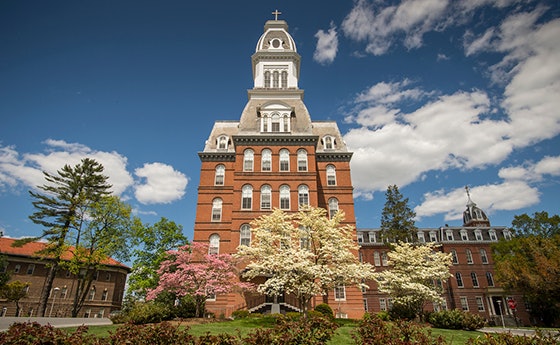 News Today
||
EDU News
:
Notre Dame of Maryland University (NDMU), the only remaining women's college in the state, has announced it will start accepting undergraduate men come fall 2023, a decision that has sparked criticism from some of the school's students, faculty, and alumni.
The move was announced Sept. 13, marking the end of NDMU's nearly 125-year tenure as a women-only higher ed institution. The school – founded in 1895 – was the first U.S. Catholic university to grant four-year degrees to women.
"On Sept. 12, 2022, the NDMU Board of Trustees voted unanimously that the University become co-educational and enroll men into the traditional undergraduate program starting in fall 2023," the NDMU announcement read. "The decision came nearly a year after the Board formed an Enrollment Task Force to review the enrollment trends of women's colleges, as well as undergraduate data nationally and statewide. By becoming co-ed, NDMU is honoring and expanding its historical mission to educate leaders to transform the world. This decision will allow NDMU to provide its distinctive model of inclusive transformational education to more women and men."
The school cited that it has "historically gone where the need is" and that it "has an opportunity to expand access to its inclusive and transformational education to more women and men" as its reasons for the change, adding that the school's foundresses, the School Sisters of Notre Dame, supported the decision.
Damita C. McDonald, NDMU senior director for university communications & public relations, said in an email that finances were not a factor in the board's decision to move in this direction, noting that the school is in "a strong financial position."
Both the work of the task force and the vote to go co-ed were confidential, McDonald said. 
"I believe the vast majority of faculty are appalled by how the process was done, about how this was handled, about how no one was consulted," said one faculty who asked to remain anonymous, adding that the  decision felt like a loss of shared governance and noted that faculty were not consulted. 
In a webpage of frequently asked questions, NDMU noted that this was not the first time that men have attended the school. In 1975, NDMU became the U.S.'s second college to establish a Weekend College for adult undergrad students, allowing men to enroll for the first time in the college's history. Other Catholic women's colleges, including Trinity Washington University located in the nation's capital, have allowed men to enroll in select undergraduate and graduate programs. Trinity, however, has kept  enrollment in its main undergraduate College of Arts and Sciences, exclusively for women. 
Those interviewed described NDMU's women-only college atmosphere as empowering and a safe space for women, an atmosphere some believe will be lost with a move to co-education.
"I know it's harmful because I know there are a lot of women, young women, who, as I did, need a women's college experience," said Jennifer Ashwell, an NDMU alum who graduated in 2015. "They need a space where they can find their own voice, speak in their own voice, and have that be affirmed by their peers and professors. They also need a space where women's unique needs are considered in a learning environment. Young women also just really need to see that that space matters to other people, that they matter to other people, and that we can accomplish amazing things together, that we can support each other and uplift each other and see how beneficial that is.
"Throughout my four years, … it was incredibly empowering to me. I really think this decision is harming future generations of young women who deserve and still need that chance, especially in a country where our last president made such ugly comments about women, has been accused by so many women of sexual assault. We still live in a country where only about 27% of Congress is made up of women. I don't think that need has disappeared. This decision honestly feels like a betrayal."
Kristi Halford, former chair of the Alumnae Executive Board and a 2001 graduate, said she worries about what going co-ed will mean for the school's current students who, like her, made the intentional choice to attend a women's college.
"I am concerned for the young women that are attending," Halford said. "Certainly new students going into it are going to know that it's a co-ed institution. But for these young women that are currently there, they went there knowing that they were going to be in a women's environment. So, it is going to change the way they learn and the environment that they're in. Women's college is not for everybody. A lot of people want to be in a co-ed environment. But when you intentionally select to go to a women's college, you're doing that for various reasons. And it is going to change. It has to change when you have men in the room and in conversations."
Today News || Breaking News || World News || Politics || Health News || Tech News || Education News
Source