Education
Three Considerations to Effectively Address Mental Health in Higher Education
News Today
||
EDU News
:
Dr. Nathaan DemersIt goes without saying that college campuses are in a difficult position when it comes to addressing student mental health and well-being. A fall 2021 survey of the YOU at College campus network revealed 98.7% of students strongly, or very strongly, agreed that expanding mental health services should be a priority for institutions. What we've seen in the last 18+ months of the pandemic is an increased recognition within student populations that mental health is directly tied to academic performance and intent to persist in school, with Healthy Minds Data showing 83% of students saying their mental health has negatively impacted their academic performance. Now, more than ever, students are aware of the challenges they face, and are asking their institutions to provide services and resources to support their well-being and overall success.
From our perspectives — as a researcher and assistant professor of public health, as well as a clinical psychologist who develops well-being resources for campuses nationwide — there are several realities and considerations that campus leaders must prioritize to best support their students and campus communities:
• The Need for Data: For the past decade, mental health has been top of mind for campus administrators across nearly all institution types. Data from the National Healthy Minds Study, as well as other sources, has documented rising prevalence rates, with symptoms of depression and anxiety roughly doubling over the past 10 years. Counseling center utilization rates have increased at a pace 5x-7x greater than increases in student enrollment and counseling centers simply have not been able to keep up with these demands. While many campuses swiftly implemented programming to provide telehealth options for mental health during COVID, data suggested an overall decrease in the number of students seeking counseling services in the 2020-2021 academic year, despite the increase in distress during this time.
What we've learned is that data provides institutions a window into trends, needs, and areas of emphasis that individual campuses can leverage to build awareness and invest in resources that ensure a proactive approach to providing students, faculty, and staff with adequate systems of care.
With this consideration, it is important that campuses create an infrastructure that allows for internal quantitative and qualitative research to learn what their communities need from a mental health standpoint, which will guide proactive responses and programming to best address those areas. Furthermore, campuses must spend time and attention prioritizing the experience and needs of students from diverse and historically marginalized backgrounds, given the disproportionate impact the pandemic has had upon these students.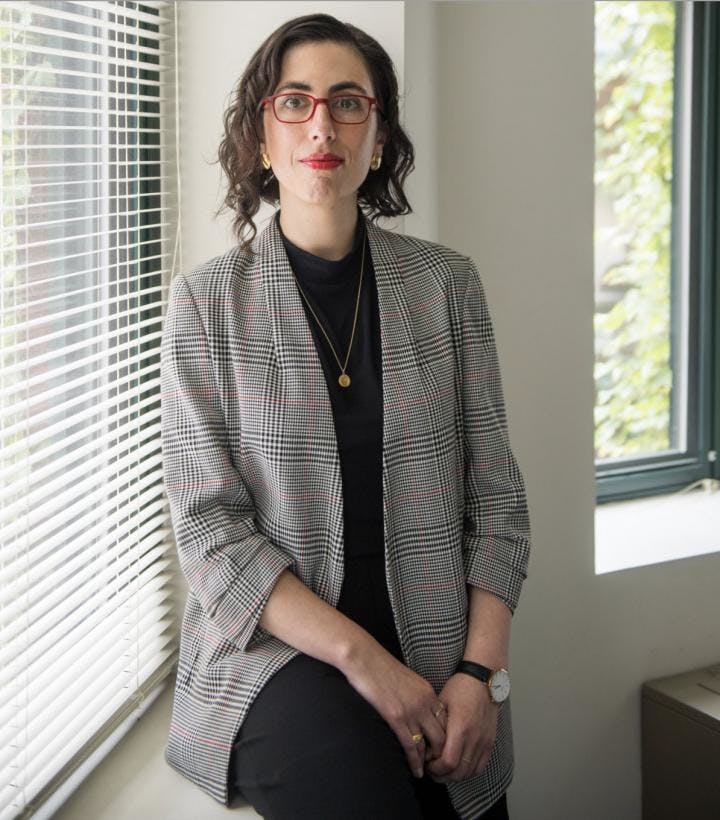 Dr. Sarah Ketchen LipsonAdditional survey data from the YOU at College campus network found that 75% of students noted that inclusion and personalization to their unique identities is a major aspect of choosing to engage with mental health and well-being interventions on campus. Leaning into more qualitative and quantitative analysis such as this will help provide a vital roadmap for institutional planning and evaluation, creating more cohesive and supportive communities.
• Build Well-Being Into the Fabric of Universities: COVID-19 turned students' worlds upside down, creating a difficult problem for institutions trying to connect with and address student mental health and well-being. In addition to this disconnect from school life, there was the added grief of missing countless milestones on campus, as well as the removal of traditional supports that schools offer (i.e. friend networks, sports, clubs, counseling services, RAs). It is not surprising that 89% of students surveyed by Active Minds in fall 2020 indicated that their mental health worsened in light of COVID, which stressed each campus's ability to provide adequate support.
The opportunity that arose, however, is that COVID exposed the importance of expanding the role and responsibility of full-campus support for student mental health and well-being beyond the counseling center where it has historically resided. Institutions are now acknowledging the reality that student mental health needs do not exist in a vacuum, and, in order to effectively address those needs, a campus-wide approach is required.
Inclusive of everything from providing additional training to faculty/staff on how to recognize and refer students in distress, to including scalable evidence-based psychoeducation, to implementing self-help and campus navigation tools, institutions must recognize that the time is now for action in conveying that they are not only aware of the importance of mental health and well-being but are proactively building systems of care to support it throughout campus ecosystems.
Experts in campus mental health have long talked about the need to bring mental health into the curriculum, making it more accessible to each and every student, especially since many mental health challenges first onset in the developmental phase of college. Now is the time to do just that: provide students with increased awareness, bolster coping skills, resilience, and a comprehensive framework and knowledge around where and how to access support.
• Employee Well-Being: In addition to the many student mental health insights that have been gleaned over the past 18+ months, the pandemic has surfaced the lack of emphasis placed upon faculty and staff mental health and well-being. With burnout rampant amongst faculty and staff, in light of a transition in-and-out of remote learning, increased responsibilities, childcare and other family needs, fear of job insecurity in light of furloughs and reduced hours, it has never been more essential for supervisors, department chairs, deans, and human resources departments to prioritize mental health for employees. As faculty and staff members are often the first line of defense in supporting students, an increase in mental health needs amongst student populations highlights the importance of ensuring faculty and staff also have adequate support systems. This includes making employees aware of existing employee assistance programs that contribute to their success and well-being. Research has indicated that many barriers prevent faculty and staff from connecting to support including lack of awareness related to available HR and EAP supports, lack of willingness to utilize EAP supports due to questions about confidentiality, and low confidence in finding resources to support students (which often contributes to stress). We have a unique opportunity at this point in time to listen, co-design, and implement programming that helps overcome many of the hurdles faculty and staff members face when trying to prioritize their mental health and well-being. This emphasis on a campus-wide approach to building a happier, healthier, more cohesive campus community will pay dividends in the long-run for all institutions.
Higher ed is now confronted with an opportunity to address inequalities that have been exposed, and in many instances widened, during the pandemic. Students from historically marginalized communities – namely first-generation, low-income, and students of color – have, on average, lower rates of mental health service utilization and lower rates of persistence. Thus, it is imperative that we bring together two national dialogues within higher education which have largely been separated until now: that of student mental health, and that of persistence. Every college and university are unique organizations, serving unique student bodies, made up of unique individuals, so the specific approaches to advance equity will differ, but the opportunity exists at large. Overall, higher education is facing both a daunting challenge and an amazing opportunity to change the way we think about, approach, and support mental health and well-being for both students and entire campus communities. As such, we have identified the above-mentioned priorities for institutions moving forward: (1) collecting campus-wide data on mental health and well-being; (2) building mental health and well-being programs, resources, and services that exist outside of the campus counseling center, shifting our thinking about mental health as a shared responsibility across all campus units; and (3) better understanding and addressing the mental health needs of faculty and staff to build more cohesive campus communities.  
Dr. Nathaan Demers is a licensed clinical psychologist and the VP of clinical programs & strategic partnerships with YOU at College.
Dr. Sarah Ketchen Lipson is an assistant professor, Department of Health Law Policy and Management, Boston University School of Public Health, as well as principal investigator, Healthy Minds Network.
This opinion piece originally appeared in the March 17, 2022 edition of Diverse.
Today News || Breaking News || World News || Politics || Health News || Tech News || Education News
Source