Entertainment
Fans blast Joe Jonas for promoting 'anti-wrinkle' injectables
Entertainment
:
Joe Jonas has been sharing his beauty secrets of late, and has now admitted he relies on regular "anti-wrinkle injections" – but not all his fans are happy about it.
In a new interview with People, the singer and former Disney Channel star revealed why he has now partnered with a cosmetic injectable brand that aims to remove fine lines.
"We're all getting older and part of that is being comfortable [in our skin]," the 33-year-old said.
The interview comes after Jonas shared a promotional video he filmed for the product, where he quotes tag lines like "I want something that keeps me looking like me" and "there's no one way to define beauty".
READ MORE: Sydney woman's mission following terminal cancer diagnosis
READ MORE: This is what you really get when you order a 'large' pizza
Unfortunately for Jonas, his fans don't seem all that impressed by this new promo work.
"Hahahahaha wtf, how much did you get paid for this?" one person wrote in the comments.
"We're 32, joe. Wait til we are 40+ before thinking u need this s–t," another wrote.
A third commented: "That's what we get? Botox ads instead of new music?"
But when speaking to People, Jonas explained skincare and beauty aren't things he "shies away from" as a man, and wishes more men embraced them.
"There were all these talks at one point, like, 'Oh, men can't do this or it's weird for guys to do that,' and I think there's a stigma that's fading, and I like that," he said.
"Guys are more openly wearing makeup, and it's great to see. It's like, do whatever you want, you know? It's a beautiful generation that we're living in."
Jonas is a father now, to two-year-old daughter Willa, who he shares with his wife, Game of Thrones actress Sophie Turner. The couple are expecting their second child.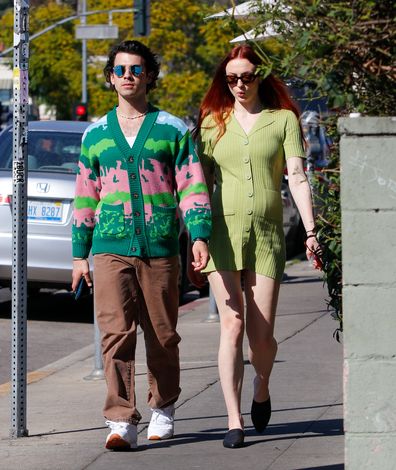 For a daily dose of 9Honey, subscribe to our newsletter here
Turner and Jonas met through mutual friends in 2016 and were engaged just a year later.
After seven years together, they have both made plenty of daring and fashionable public appearances together, and Jonas has taken the chance to show off a more flamboyant and creative side to him in the style and beauty department.
The singer adds to People that he can't believe he's at a stage of life where he feels so comfortable in his own skin, and so explorative with beauty, style and hair care.
"You get to an age where you just go, 'Okay, I don't feel those pressures anymore.' I think if you had asked me 10 years ago, I would have definitely felt that pressure more."
READ MORE: Single woman shares hilarious dating advice sent to her by her 'tiny Italian landlord'

Latest Entertainment News Today, Trending Celebrity News Gossips & Headlines
Today News Post || Breaking News || Entertainment News || Movies || Movie Review || Celeb Gossips || Tv Shows

Source