Entertainment
'I wasn't taking care of myself': Winona Ryder reveals she spiralled after split from Johnny Depp
Entertainment
:
Winona Ryder has referred to her historic split from ex-fiancé Johnny Depp as a "Girl, Interrupted real-life" experience, admitting she was at her lowest when they broke up.
In a tell-all interview, Ryder, 50, told Harper's Bazaar she felt like she was in her own version of Girl, Interrupted, the 1999 psychological drama she starred in, when she split from Depp in 1993.
"That was my Girl, Interrupted real life," Ryder says.
Ryder's comments prove telling, and quite dark, considering she portrayed an affected young woman in a psychiatric hospital in the film.
READ MORE: Melbourne woman's crippling anxiety sign of sinister illness
READ MORE: Travis Barker rushed to hospital with wife Kourtney Kardashian
To take you back, she and Depp first met in 1989 at the premiere of Great Balls of Fire (in which Ryder stars) and quickly paired up, but split in 1993.
That same year, Ryder starred in the 1994 film The House of the Spirits, based on Chilean writer Isabel Allende's critically acclaimed novel.
In her interview with Harper's Bazaar, Ryder recalled her mindset at the time.
"I remember, I was playing this character who ends up getting tortured in a Chilean prison," she says.
"I would look at these fake bruises and cuts on my face [from the shoot], and I would struggle to see myself as this little girl. 'Would you be treating this girl like you're treating yourself?' [I remember thinking].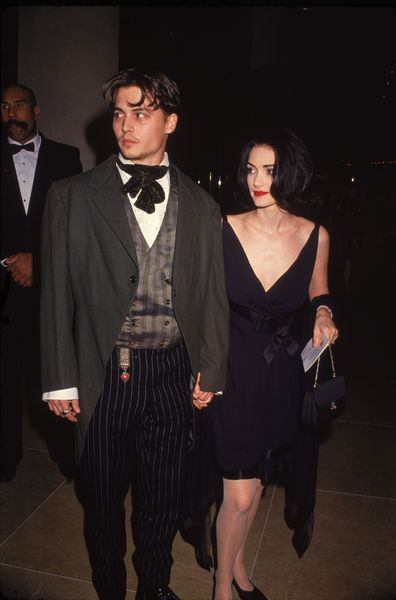 For a daily dose of 9Honey, subscribe to our newsletter here
"I remember looking at myself and saying, 'This is what I'm doing to myself inside' because I just wasn't taking care of myself," she says.
Also in 1993, Ryder acted in The Age of Innocence, where co-star Michelle Pfeiffer gave her some kind words of advice.
"I remember Michelle being like, 'This is going to pass,'" Ryder recalls. "But I couldn't hear it."
Ryder recognises her comments on the break-up are quite rare, admitting she has never spoken publicly about her split with Depp to protect herself.
"I've never talked about it," she says in the interview.
"There's this part of me that's very private. I have such…a place in my heart for those days. But for someone younger who grew up with social media, it's hard to describe."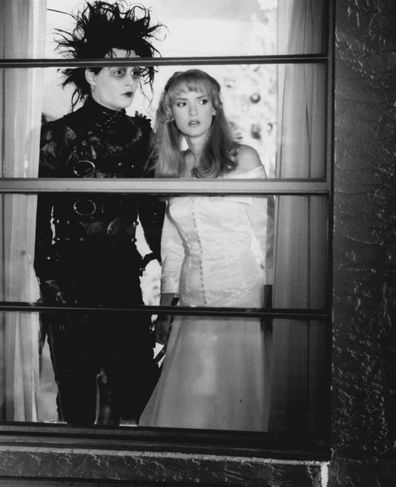 Why did Depp and Ryder split?
After meeting in 1989, Depp and Ryder dated for five months before the Pirates of the Caribbean actor popped the question.
The pair were loved by fans instantly, but they truly hit Hollywood's hottest couple list when they co-starred in Tim Burton's 1990 film Edward Scissorhands.
Over the next few years, their love continued to blossom, with Depp even inking himself with a tattoo in Ryder's honour, reading 'Winona Forever'.
They seemed to be the perfect '90s pair, dressed in all-black, with matching mops of dark hair, pale skin and eyes only for each other.
As their careers grew more successful, and they appeared at more and more movie premieres and awards shows together, they became constants on the front of all and every celebrity magazine.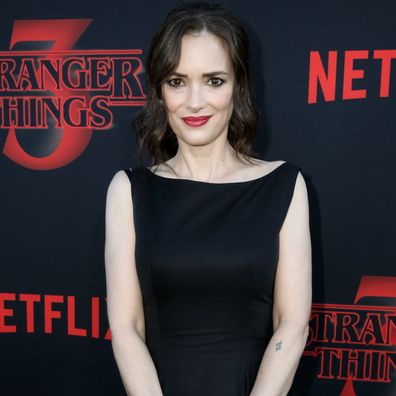 READ MORE: All the free school holiday activities this winter
But in June 1993, Depp and Ryder called off their engagement with no clear reason as to why.
During an interview with Los Angeles Times, Depp hinted the media pressure on their relationship may have played a role.
"It's very hard to have a personal life in this town," he said. "My relationship with Winona was my mistake – to be as open as we were."
To truly mark the moment, Depp had his tattoo changed. It now reads 'Wino Forever'.
The pair appear to be on good terms, with Ryder coming to her ex-fiancé's defence during his court case against ex-wife Amber Heard brewed back in 2016.
"I can only speak from my own experience, which was wildly different than what is being said," Ryder told Time.
"He was never, never that way towards me. Never abusive at all towards me. I only know him as a really good, loving, caring guy who is very, very protective of the people that he loves."
Latest Entertainment News Today, Trending Celebrity News Gossips & Headlines
Today News Post || Breaking News || Entertainment News || Movies || Movie Review || Celeb Gossips || Tv Shows

Source