Entertainment
John Travolta, Tim Allen and more stars pay tribute to Cheers actress Kirstie Alley
Entertainment
:
John Travolta, Tim Allen and more Hollywood stars are remembering actress Kirstie Alley, who died today at the age of 71.
The Cheers and Look Who's Talking star was recently diagnosed with cancer.
Alley's children True and Lillie Parker said the "fierce" actress was surrounded by family when she died.
Alley's Cheers co-star Ted Danson mourned the death of his friend in a lengthy statement shared with People.
"I was on a plane today and did something I rarely do. I watched an old episode of Cheers. It was the episode where Tom Berenger proposes to Kirstie, who keeps saying no, even though she desperately wants to say yes," Danson said.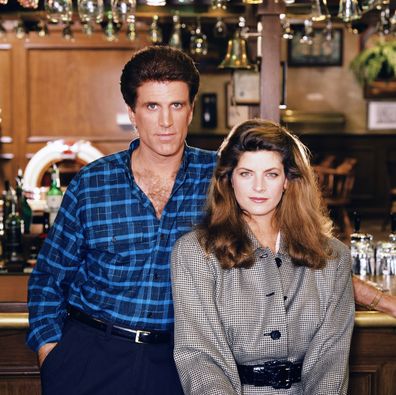 "Kirstie was truly brilliant in it. Her ability to play a woman on the verge of a nervous breakdown was both moving and hysterically funny. She made me laugh 30 years ago when she shot that scene, and she made me laugh today just as hard.
"As I got off the plane, I heard that Kirstie had died. I am so sad and so grateful for all the times she made me laugh. I send my love to her children. As they well know, their mother had a heart of gold. I will miss her."
Another of Alley's Cheers co-stars, Kelsey Grammar, issued a short statement regarding the star's shock death.
"I always believed grief for a public figure is a private matter, but I will say I loved her," Grammar said.
Not long after the news broke, Alley's Look Who's Talking co-star John Travolta shared a tribute.
"Kirstie was one of the most special relationships I've ever had," he said on Instagram. "I love you Kirstie. I know we will see each other again."
Tim Allen, who starred alongside Alley in For Richer or Poorer, tweeted: "A sweet soul pass on in Kirstie Alley. Sad, sad news. Prayers for all her family."
See more tributes below.
Jamie Lee Curtis, who starred alongside Alley in the recent TV show Scream Queens, has also paid tribute.
"I've just heard the sad news that Kirstie Alley has died," Curtis wrote, alongside a photo of the pair on the show. "She was a great comic foil in @tvscreamqueens and a beautiful mama bear in her very real life.
"She helped me buy onesies for my family that year for Christmas. We agreed to disagree about some things but had a mutual respect and connection. Sad news," her tribute ended.
The Shawshank Redemption actor Clancy Brown, who starred with Alley in the 1988 film Shoot to Kill, tweeted a sweet tribute.
"Kirstie was beautiful in so many ways. I loved working with her. There was no one like her on earth. My condolences to her family," he wrote.
Alley's It Takes Two co-star Steve Guttenberg shared some touching words also.
"Kirstie met me at her house with a tuna sandwich on my favorite bread," he recalled. "'Steve, I know all about you and your love of rye bread, eat some tuna.'
"We were rehearsing 'It Takes Two', and every day she amazed me with her generosity of the tangible and with her soulfulness. The world is a bit empty without Kirstie," he ended.
Days of Our Lives star Jackée Harry also shared a tribute, retweeting a glowing tweet Alley had shared about her back in 2018.
"Whether you agreed with her or not, Kirstie Alley was an undeniable talent who brought joy to many – through the screen and with her warm, hilarious spirit," Harry tweeted. "RIP, luv. You were one of a kind."
Alley's 2018 tweet red, "I LOVE YOU @JackeeHarry YOU ARE FUNNY AS hell…and make everyone want to be your best friend."
Broadway star and Bewitched actress Kristin Chenoweth, who appeared in the TV sitcom series Kirstie with Alley, also tweeted a tribute.
"RIP Kirstie. I loved you so. We will meet again," she wrote.
Former child star from Touched by an Angel, Valerie Bertinelli, shared her thoughts for Alley. The pair were reportedly close friends.
"Oh Kirstie," Bertinelli tweeted, along with a broken heart emoji. "Rest in Peace."
2GB's Entertainment Editor Peter Ford has also commented on the news, live on air with Deborah Knight.
"It's a complete shock," Ford told Knight. "I didn't know until your producer called just a couple of minutes ago… it's terrible, shocking news."
The pair went on to discuss Alley's breakout role in Cheers, a performance that saw her earn an Emmy and a Golden Globe in 1991.
"She had a hard job there because she went in to replace the actress Shelley Long, who was terrific and very well established, but she left Cheers and Kirsty got the gig and instantly made that space her own," Ford recalled.
"I thought she just had this beautiful delivery. And she and Ted Danson worked so well together… she is gone much too soon and completely out of the blue," he added.

Latest Entertainment News Today, Trending Celebrity News Gossips & Headlines
Today News Post || Breaking News || Entertainment News || Movies || Movie Review || Celeb Gossips || Tv Shows

Source