Entertainment
These incredible facial steamers will unclog your pores and soften your skin from the comfort of your own home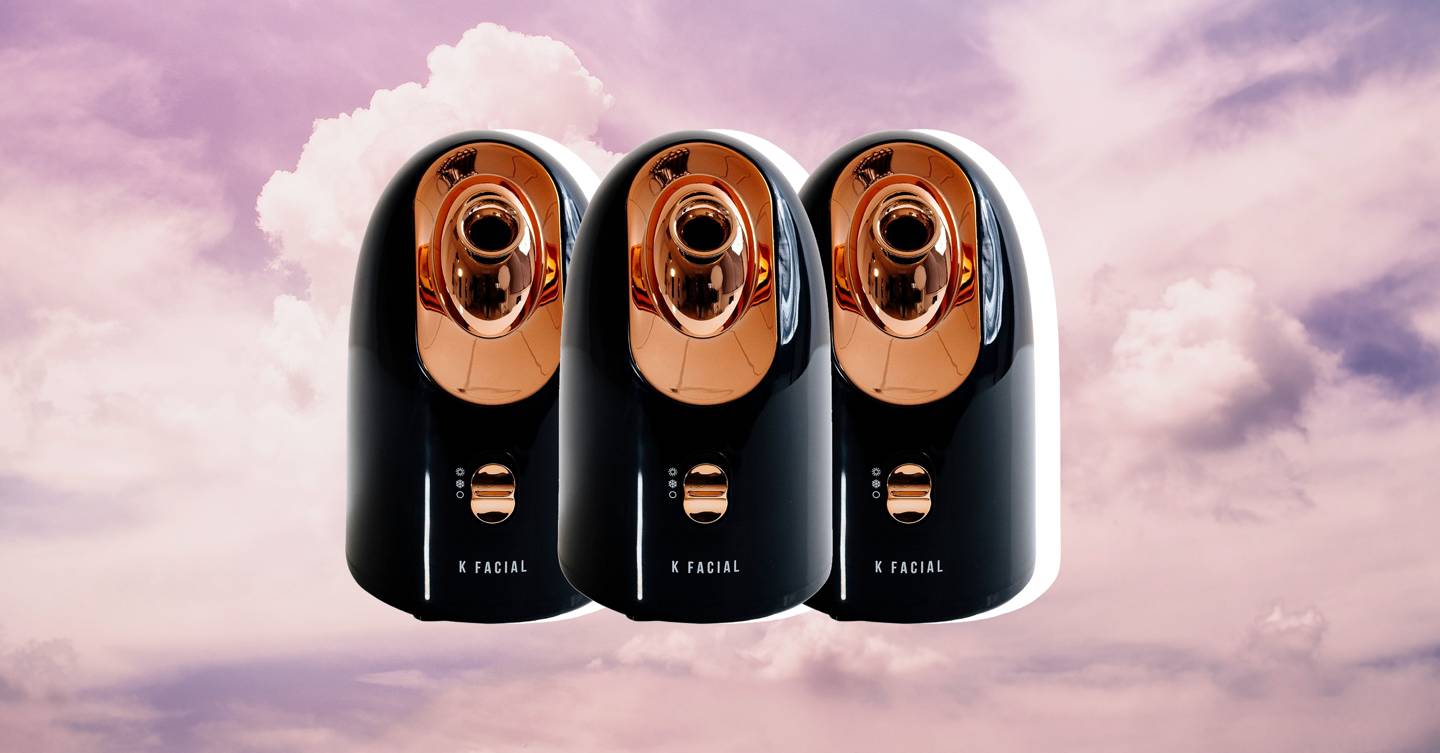 Entertainment
:
Each and every winter, our skin puts up with a hell of a battering. Facing extreme temperature changes as you step from the *freezing* cold outdoors to the warmth of your centrally-heated home is mostly to blame. So, we're always on the lookout for ways to make our complexion glow again.
Sure, we've perfected our skincare routine, invested in one of the best LED face masks and got clued up on every trending skincare ingredient of the moment (Vitamin C, niacinamide and hyaluronic acid, we're looking at you) – but it wasn't until this year that we considered purchasing a facial steamer to take things to the next level.
Steaming has been used in professional facials for a *very* long time, ridding your complexion of the dirt, oil and makeup build-up which can cause breakouts and blackheads. Steaming is a great way to unclog your pores and leave your skin feeling immeasurably softer – hence why the professionals use it – so why didn't we consider it before? Well, facial steamers have historically been pretty expensive. But now, thanks to some of our favourite beauty retailers, you can snap up affordable at-home facial steamers and reap the benefits from your sofa. The dream.
At-home facial steamers serve up all the benefits of professional treatments – and you don't even have to leave the house. Veteran beauty sleuths are taking note of the trend; the term 'Facial Steamer' has been searched for 40% more over the past 12 months on Google in comparison to the year prior, with the term 'Best Facial Steamer' rising by a whopping 70%.
The demand is out there, proving that we're looking for beauty tools to provide us with salon worthy skin at home more than ever. So, we thought we'd give it a go. Keep scrolling for everything you need to know about facial steaming, but the best facial steamers to invest in ahead of the new year. We've tried and tested the lot.
What are the benefits of using a facial steamer? What skin complaints can facial steaming help with?
Steaming your face helps to soften the oil and dirt that's sitting inside your pores, making it much easier to extract any blackheads and unclog your pores. Steam will allow your pores to open up, which loosens the build-up of dirt.
If that wasn't enough, hotter skin will become more receptive to the skincare products you apply on top. Basically, your facial serum, moisturiser and eye cream will be more effective. Plus, warm steam helps to dilate blood vessels and increase circulation which helps skin appear plumper.
Oh, and the benefits of facial steaming aren't *just* skin deep. Steaming is good for your mental health and physical health, too, allowing you to switch off after a long day (grab yourself an essential oil diffuser while you're at it) and banish sinus congestion.
How long should I steam my face for?
Hitting the sweet spot is key when it comes to facial steaming. Sure, you can't argue with the wealth of benefits – but steam your face for too long, and things won't be so rosey. Steaming your face for too long will cause skin to dry out… which is exactly what we're trying to avoid.
Ten minutes is widely regarded as a good amount of time to steam your face for. After facial steaming, use your favourite cleanser, then close your pores back up by swilling your skin with hot water, and use a calming toner to finish the job properly.
Can a bowl of boiling water and a towel offer me the same effect?
In short, no. This is an old school method of facial steaming, and hanging your skin over a boiling hot bowl of water won't do any favours. Why? For starters, you'll have guessed the temperature of the water – and therefore the steam – which is likely far too hot for your precious skin to take. Also, it's far too easy to steam your skin for too long, especially if you doze off while hanging there. The best facial steamers come with timers so you can steam for just the right amount of time.
Here are the best facial steamers to invest in now and enjoy forever.
Latest Entertainment News Today, Trending Celebrity News Gossips & Headlines
Today News Post || Breaking News || Entertainment News || Movies || Movie Review || Celeb Gossips || Tv Shows

Source