Entertainment
Thor: Love and Thunder review: Comedy is the star of this show, but not always to its benefit
Entertainment
:
Thor: Love and Thunder is Taika Waititi dialled to 11. It's full of heart and very funny – possibly too funny – for a story about a 'God Butcher'.
Christian Bale's take on the villain Gorr is terrifying, but we don't see enough of him. Same goes for Russel Crowe's Zeus. 
Comedy is the star of this show, and while scenes will have you laughing out loud, they don't serve the story as well as they did in Waititi's near-perfect MCU debut, Thor: Ragnarock.     
READ MORE: 'What's your current credit card balance?': Chris Hemsworth interviewed by kids
We catch up with Thor and the Guardians of the Galaxy on an alien planet, and much like the lyrics of 'Sweet Child of Mine' – the classic Guns and Roses song Waititi gleefully overuses throughout the film – everyone's favourite Norse god is asking 'where do we go now?'
Chris Hemsworth is Marvel's first MCU star to get a fourth solo film. 
Free from the shackles of the hyper-connected Infinity Saga, director Taika Waititi happily dives back into the Norse god's heart and the challenge of teaching Thor to love once more.
After an outrageously flashy action scene, Thor quickly parts ways with the Guardians, adopts two screaming goats and returns to New Asgard, where he is reunited with Jane Foster; his ex-girlfriend and now Mighty Thor.
READ MORE: Chris Hemsworth says showing his bare butt in Thor: Love and Thunder was a 'dream' come true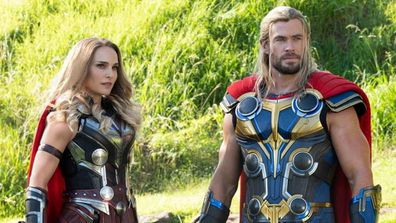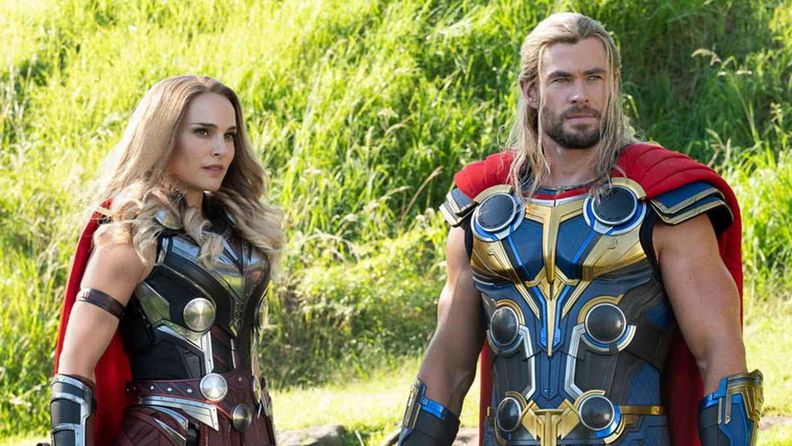 Natalie Portman's return as Dr Foster is wonderful. 
Not only is she a magnificent hero, but her presence allows Marvel to flesh out the breakdown of their relationship on screen.
This is her movie – not Thor's. And part of me wishes it was in name as well so the film could give me screen time to her and Gorr. 
Like the comic this movie is named after, Jane is battling two evils: a cursed villain intent on murdering every god in the universe and, on a much more personal level, cancer. 
It's a lot to explore in a movie that runs less than two hours.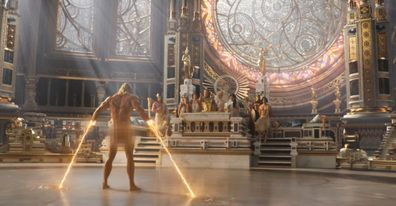 Love and Thunder is the shortest of the MCU's phase four movies, which is bizarre given Waititi's first cut was four hours long. 
Waititi has since said they filmed scenes that didn't fit the overall tone of the film. 
I'm all for improvisation, but that's a lot of film to leave on the cutting room floor and – given the pace of storytelling in Marvel's cinematic releases – there were scenes that could have used a tighter script and a little more time to breathe. 
Gorr's turn from devout worship to god killer is one example. 
READ MORE: Chris Hemsworth's hilarious school pick-up moment: 'Like some weird sitcom'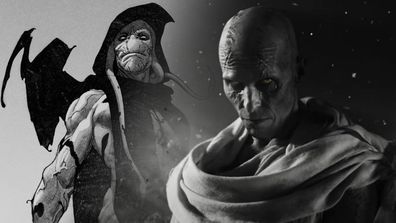 The history of the cursed sword he uses is never explored, nor do we ever see him murder gods on screen.
Christian Bale steals every scene he's in, but the ending offered in his quest for revenge won't be satisfying for all.
Regardless, Thor: Love and Thunder is incredibly fun to watch. 
There are two excellent post-credit scenes that hint at what's to come for Thor, and a fifth movie is all but certain. I for one look forward to watching it a second time in cinemas.  
Latest Entertainment News Today, Trending Celebrity News Gossips & Headlines
Today News Post || Breaking News || Entertainment News || Movies || Movie Review || Celeb Gossips || Tv Shows

Source