Entertainment
Tom Cruise celebrates 60th birthday at British F1 Grand Prix
Entertainment
:
Tom Cruise has always had a need for speed, so it's no surprise he spent his 60th birthday trackside at the British F1 Grand Prix over the weekend.
The Top Gun: Maverick star was all smiles on Sunday as he mingled with fellow VIPs such as Gordon Ramsay, Geri Halliwell and champion race car driver Lewis Hamilton, who Cruise congratulated for coming third in the race held at Silverstone Circuit in Northamptonshire, England.
"Lewis always," Cruise told Sky Sports earlier at the event when asked who he was supporting. "He's a great friend of mine. I hope he has a great day." 
READ MORE: Claims of 'fake juror' in Heard, Depp case
However, later in the day, it was Hamilton who had praise for the iconic star on the milestone occasion. 
"Happy birthday," the 37-year-old was overheard telling Cruise as they embraced by the track after the race, which the actor watched from from the Mercedes garage.
Fans of Cruise would know he is no stranger to race car driving, having starred in the 1990 movie Days of Thunder in which he played a NASCAR driver. 
It was a jam-packed birthday weekend for Cruise. On Friday, he attended Adele's concert at the British Summer Time Hyde Park Festival in London where he and fellow celebs Luke Evans, Natalie Portman and Idris Elba watched the singer perform.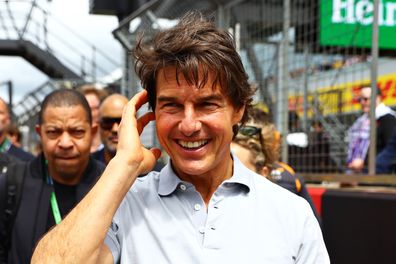 Naturally, tributes flowed for the actor on his 60th, with Top Gun: Maverick co-stars Glen Powell leading the way.
READ MORE: Role 'anxious' Beatrice played in Andrew's 'disastrous' move
"This is 60," Powell tweeted alongside an image of Cruise doing an airborne stunt for his upcoming film Mission Impossible: Dead Reckoning.
"TC, there is just no one like you. Keep hanging' in there. Happy Birthday!"
Beloved The Princess Bride actor Cary Elwes also greeted Cruise, writing: "Your generosity of spirit is as legendary as your remarkable talent."
Cruise has had much to celebrate in recent weeks. His film, Top Gun: Maverick, has now grossed more than $1US billion ($1.45 billion) at the box office worldwide. 
READ MORE: Queen's job rewritten allowing for less duties as Charles steps up
This past weekend alone – the Fourth of July weekend in the US – the successful sequel raked in an additional $US25 millon ($36 million) in the US and $US37 million ($54 million) overseas. Accordging to Forbes, this makes Top Gun: Maverick one of the highest-grossing films of all time. 
"To all the films in release, to all the studios, and to all the exhibitors: congratulations," Cruise tweeted last week.
"To the audience: thank you for venturing out and allowing us to entertain you. See you at the movies."
For a daily dose of 9Honey, subscribe to our newsletter here.
Latest Entertainment News Today, Trending Celebrity News Gossips & Headlines
Today News Post || Breaking News || Entertainment News || Movies || Movie Review || Celeb Gossips || Tv Shows

Source