Entertainment
Victoria Beckham recalls being forced to weigh herself on TV after birth of son Brooklyn
Entertainment
:
Victoria Beckham has reflected on a trying period in her life where she was constantly scrutinised over her weight and even forced to weigh herself on live TV.
Speaking to Vogue Australia, the former Spice Girls recalled the many headlines about her fluctuating frame and how it often made front-page tabloid news around the world. 
"I've had 'Porky Posh', I've had 'Skeleton Posh'," she told the publication. "After I had [firstborn son] Brooklyn, there was a picture on the front page of a newspaper pointing to every single part of my body where I had to focus on losing the weight from."
READ MORE: Claims of 'fake juror' in Heard, Depp case
The 48-year-old particularly remembered how she was asked to weigh herself on British TV show TFI Friday, on which she appeared in 1999 weeks after giving birth to her first child, Brooklyn Beckham, with husband David Beckham. 
READ MORE: Role 'anxious' Beatrice played in Andrew's 'disastrous' move
"I went on a TV show with [English TV presenter] Chris Evans many years ago, and I'd just had Brooklyn and lost a lot of weight after," Victoria shared with Vogue.
"It happened to my mum after her pregnancies. It doesn't mean you have an eating disorder."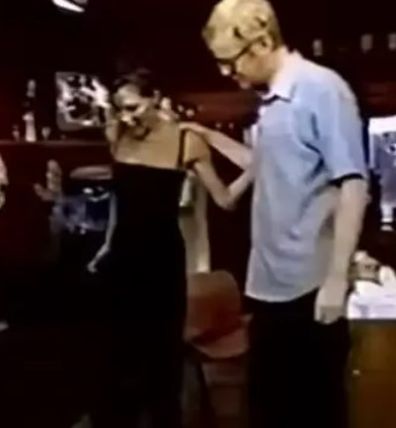 Victoria recalled Evans asking her "how did you get back to shape after birth?" because "a lot of girls want to know" before he brought out scales from under his desk for her to stand on in front of the cameras and live studio audience.
Watch the resurfaced clip above. 
"And he made me stand on the scales to be weighed. Can you imagine doing that nowadays?" she wondered. 
READ MORE: Queen's job rewritten allowing for less duties as Charles steps up
The clip has since resurfaced online and shows Evans asking Victoria. "Can I check, do you mind?" to which she replied, "This is horrible" before reluctantly stepping on the scale.
"Eight stones [50kg] not bad at all, is it?" Evans then said, reading out her weight for viewers in both the studio and at home. 
These days, Victoria says she has a much healthier outlook when it comes to her body image. 
"It's not about being a certain size," she told Grazia in May. "It's about knowing who you are and being happy with who you are. I have found my own balance between wanting to have fun and being disciplined about eating healthily and working out. When you're younger you fight against that balance."
For a daily dose of 9Honey, subscribe to our newsletter here.
Latest Entertainment News Today, Trending Celebrity News Gossips & Headlines
Today News Post || Breaking News || Entertainment News || Movies || Movie Review || Celeb Gossips || Tv Shows

Source