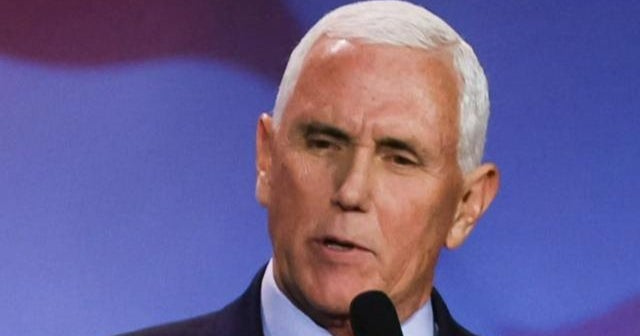 Today News Post
||
Latest News
Former Vice President Mike Pence said he takes "full responsibility" for the existence of classified documents in his Indiana home, speaking publicly for the first time since those documents were publicly disclosed earlier this week. 
CNN first reported, and Pence's team quickly confirmed, that documents with classification markings were found at his home in Carmel, Indiana. Sources told CBS News the classified documents found in the middle of the month at Pence's residence included briefings from foreign trips. Pence's team turned the records over to authorities. 
"Those classified documents should not have been in my personal residence, mistakes were made," Pence told a crowd in Miami Friday. "And I take full responsibility. And I direct my counsel to work with the National Archives, with the Department of Justice, and with the Congress to fully cooperate in any investigation," Pence said Friday. "I know that when errors are made, it's important that they be resolved swiftly and disclosed."
Pence said it's been a "very humbling week for us, but I know we did the right thing" in handing over the documents and disclosing them publicly. The former vice president said he knows the proper handling of classified information "is very important to the national interest." 
In the final weeks of the Trump administration, Pence said they "did a thorough review of all the documents" in the vice president's office and residence, and he's "confident that was conducted in a professional manner." 
"But with news in recent weeks of repeated disclosure of classified documents in the personal residence of President Biden, dating back to his service as vice president, I simply thought out of an abundance of caution, it would be appropriate to review my personal records kept at our residents in the state of Indiana," Pence said. "And we initiated that process."
He added that a "small number of documents marked classified or sensitive" were" interspersed" with his personal papers. So, Pence said his team turned over the documents to the FBI, alerted the National Archives and Records Administration (NARA), and communicated to Congress. 
The documents found at Pence's residence come as the White House deals with the fallout from classified documents found at President Biden's former office, and his home and garage in Wilmington, Delaware. The White House continues to emphasize that they are cooperating with investigators, as special counsel Robert Hur takes over the investigation. But Mr. Biden has taken a more defiant approach to the discovery of classified documents in his spaces.
Mr. Biden last week said he has "no regrets" on the handling of classified documents since they were discovered. The president, asked why the White House didn't disclose the existence of the documents in November, before the midterm elections, told reporters he thinks they're going to find out "there's no there there." 
"We found a handful of documents were filed in the wrong place," Mr. Biden responded. "We immediately turned them over to the Archives and the Justice Department. We're fully cooperating, looking forward to getting this resolved quickly. I think you're gonna find there's nothing there. I have no regrets. I'm following what the lawyers have told me they want me to do. That's exactly what we're doing. There's no there there."
NARA has asked representatives of the six most recent past presidential administrations to comb through their personal records again to check for any classified or other presidential records, according to the text of a letter obtained by CBS News. That request to review documents was prompted by documents marked as classified found at the residences of Biden, Pence and former President Donald Trump. 
"The responsibility to comply with the PRA does not diminish after the end of an administration," the letters said. "Therefore, we request that you conduct an assessment of any materials held outside of NARA that relate to the Administration for which you serve as a designated representative under the PRA, to determine whether bodies of materials previously assumed to be personal in nature might inadvertently contain Presidential or Vice Presidential records subject to the PRA, whether classified or unclassified."
Today News Post || Latest News || World News || US News || Health News || Technology News || Education News

Source