Technology
Best cordless vacuum cleaners for 2021: the best wire-free vacuums you can buy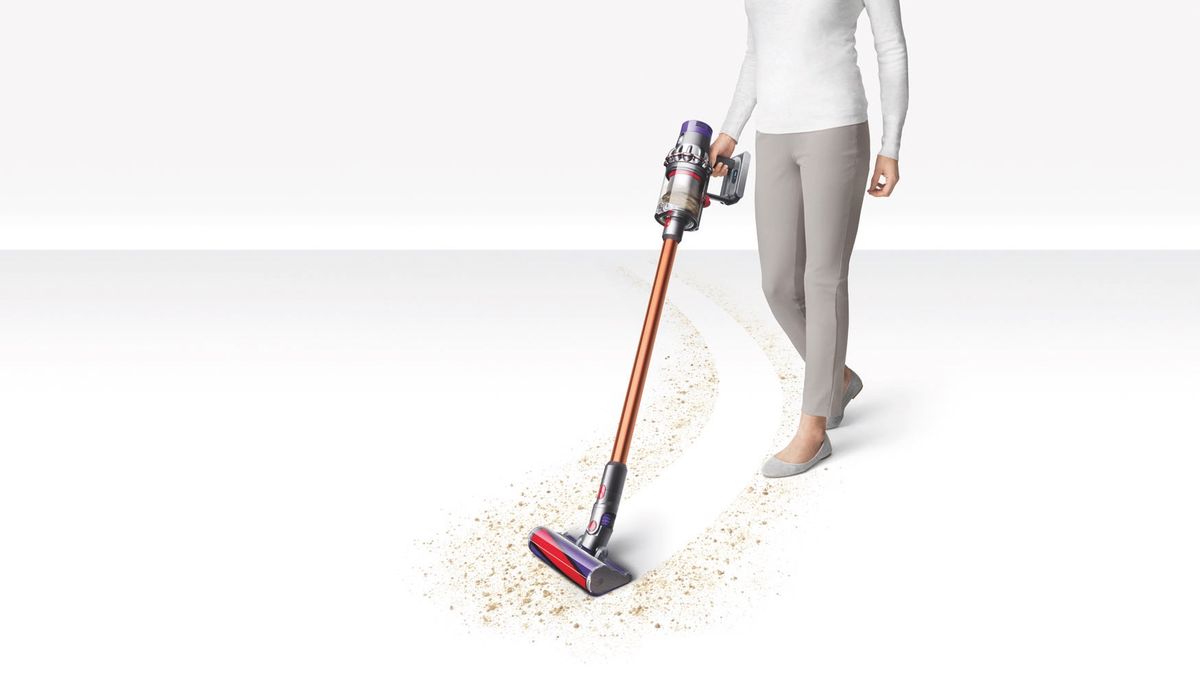 Tech News
||
The best cordless vacuum cleaners can now match, and in many cases, outperform their wired competitors when it comes to suction power, large dust bins, and a good selection of tools. Nowadays, many of the best vacuum cleaners on the market have cut the cord completely. 
Brands like Dyson, Vax, and Shark offer lightweight cordless vacuum cleaners, which are sometimes known as stick vacuums, that are compact and easy to store without compromising on power or battery life.
In fact, vacuum superbrand Dyson is so over wires these days that during the launch of its super-popular Cyclone V10, it vowed never to make a corded vacuum again. So with everyone cutting the cord, is it time you did too? 
Before we get stuck into the best cordless vacuums available right now, we've got another high-tech option for you to consider. There are now many robot vacuum cleaners on the market, which are free to roam and tidy your home without you so much as lifting a finger. These certainly have no wire holding them back either, but you do have to pay a little extra for the convenience. 
But robot vacuums aren't for everyone, setting them up can be a bit of a hassle and even the best ones tend to miss those dusty corners. So, if you're looking for the best of the best clean with one of our favorite cordless vacuum cleaners of the year, we have all the best options for you to choose from below.
UPDATE: Vax recently unveiled two new cordless vacuum cleaners that sit in its Vax ONEPWR Blade 4 Cordless Vacuum Cleaner. Aimed at pet owners as they come with a mini motorized brush design for pet hair, Vax claims these lightweight cordless vacs offer the same cleaning power as corded vacuums and even "outperforms the UK's top 3 best-selling cordless vacuum cleaners". We have high hopes for these vacuums, as the previous model, the Vax Blade 2, was one of best scoring cordless vacuum cleaners, and until it was recently discontinued, appeared in this list. 
We'll be putting these bold claims to the test, but until then it might be worth checking out the new Vax range if you're in the market for a cordless vacuum cleaner.
Check out what everything we know about Dyson's forthcoming vacuum; the Dyson V12 
Is this the perfect cordless vacuum cleaner? A few niggles aside, it very nearly could be. It's more potent than its best-in-class predecessor, cleans even better on all surfaces, is quieter, and has a longer-lasting battery too.
Even on the lowest power setting, it delivers powerful suction. It's easy to switch between the power settings manually, alternatively use it in Auto mode with the new High Torque cleaner head and let the V11 automatically adjust the power for the floor type you're using it on. It's also got a new color LCD display that adds a touch of class with in-depth information such as the exact run-time remaining, where blockages are located, and how to clear them.
It comes with an arsenal of tools too including a soft roller cleaner head, mini motorized tool, crevice tool, and quick-release mini soft dusting brush. There's also a docking station and charger.
A smidge heavier than its predecessor, now tipping our scales just over the 3kg mark, it still felt balanced in use, but the V11 Absolute doesn't come cheap. That said, we think it's worth the money if you want simply the best cordless vacuum cleaner available today.
Read our full  review: Dyson V11 Absolute

While the Roidm S1E doesn't match the Dyson on suction power or run-time, at a fraction of the price it's a worthy entrant in our line-up of the best cordless vacuums. Easy to carry and use in both stick cleaner or handheld mode, this lightweight cordless vacuum excels when it comes to noise too. Even though its decibel levels are similar to other cordless vacuums, we found the tone was softer making it easy to chat while cleaning without the need to shout. 
With six design awards under its belt, the Roidmi S-series ticks the style and substance boxes. There's a good selection of tools too, including a motorized mattress brush that makes light work of upholstery cleaning. 
The battery lasts for 40-minutes on standard power or 10 minutes of super suction if needed, which can't quite match some competitors but considering the affordable price tag is a compromise we're willing to make. The suction also could be stronger, on full power it wasn't quite the oomph needed for deep-cleaning carpets, but it's still a great everyday floor care option.

For those with bigger homes, the Dyson V11 outsize combines everything that's great about the Dyson V11 absolute with a larger dust bin and wider cleaning head, to ensure you don't have to abandon cleaning half way through to empty the vacuum cleaner. 
Just as powerful as its smaller sibling, we were impressed that the Dyson V11 outsize sucked everything from discarded biscuit crumbs and ground-in dirt to cereal and cat biscuits. The stiff nylon bristles of the brush bar, which spins up to 60 times a second, are great at removing ground-in dirt from carpets. There are three power settings, which you can switch between manually, or use the Auto Mode couples with the High Torque cleaner head and let the vacuum cleaner decide how much power you need based on the floor type you're cleaning.  It's got the same color LCD display that displays the remaining run-time, and if any blockages; where they are, and how to clear them.
The 1.9-liter bin is 150% bigger than the dust bin on the V11 Absolute but you'll still only get 60 minutes maximum run-time, and the vacuum cleaner is considerably more expensive too. But it could be worth the extra investment if it means your floor cleaning isn't interrupted. 
Read our full review: Dyson V11 Outsize

Not only is this cordless vacuum excellent at cleaning pet hairs from rugs and dry spills from tiles, it's also a high-tech choice that comes with an app to let you know when the bin needs emptying and provides the battery-level too. It'll even keep track the calories you've burned while cleaning.
It doesn't quite manage the deep cleaning we've seen on the very best cordless models, but with three cleaning modes and a collection of eight different tools, it's certainly versatile. 
The super-powerful turbo mode doesn't disappoint, although the run-time is relatively short in this mode.
cordless vacuum cleaner excellent at The Hoover H-Free 800 is a high-tech cordless cleaning option, coming with an app t.
and it's nicely lightweight too. It's excellent at cleaning pet hairs from rugs and dry spills from tiles, and it's no slouch over carpets, even if it doesn't manage the deep cleaning of the very best cordless models. The H-Free 800 is an excellent all-round cleaner for a decent price.

The predecessor to Dyson's V11 range, the Dyson V10 cyclone offers impressive cleaning power but at a slightly more affordable price, although not quite as competitive as other models on the market. In fact, Dyson was so confident about the performance of its cordless vacuums when it launched the V10 Cyclone that at the same time it announced it would no longer be building corded vacuum cleaners. 
It's on par with the V11 when it comes to cleaning performance. We found on carpets and hard floors it did a sterling job of sucking up fine dust, pet hair, and even larger debris such as cereal and cat litter. It's got the same size dust bin and matches the V11 on an up-to 60-minute runtime, though do be aware that if you push it to its most powerful suction settings that figure drops dramatically. At full power, it doesn't last quite as long as the V11 either, and it doesn't have the ability to automatically adjust the suction power to suit the floor type you're cleaning. There's no LCD display either, but it is lighter and cheaper.
Read our full review: Dyson V10 Cyclone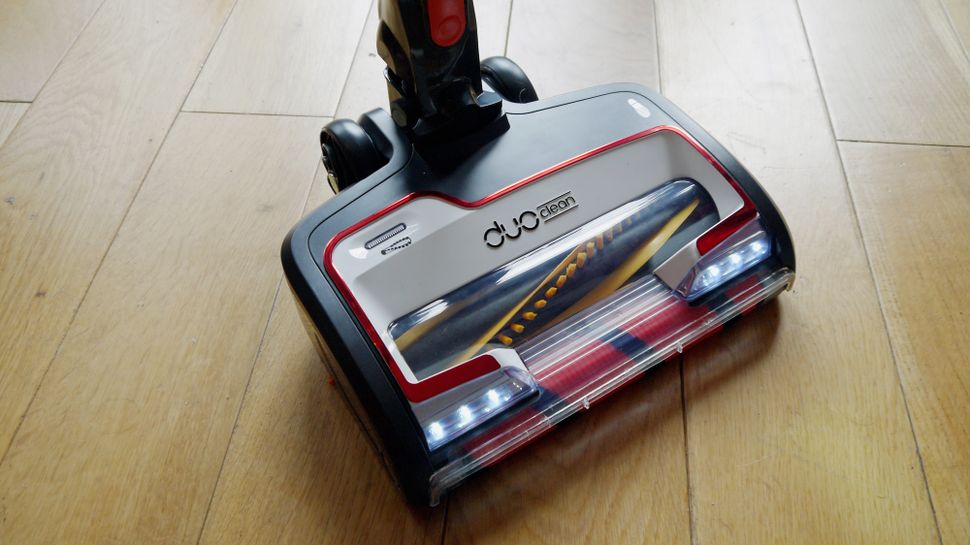 The Dyson Cyclone V10 Absolute is superb, but it's also superbly expensive. If you're after something a little less extravagant, but just as well served in the sucking stakes, consider the Shark Anti Hair Wrap Flexology IZ201UK cordless vacuum cleaner instead. 
A smidge cheaper than the Dyson V10, you can often pick-up Shark's cordless vacuum for 30% less than the list price, making it a comparable option. It can only run for 40 minutes on a single charge compared to Dyson's 60 minutes, but there is the option to purchase a version with two batteries for easy switching when you run out of battery
The brush-roller features Anti Hair Wrap technology that prevents hair from getting tangled up, so you no longer have to spend hours picking out the strands yourself, and the main 'stick' of the cordless vacuum is bendable which makes it much easier to clean under furniture and in tight spaces. It also comes with three additional tools
Read our full review: Shark Anti Hair Wrap Flexology IZ201

Were it not for the Shark and newer Dyson models above, the Dyson V8 Absolute would still be our top pick of the cordless vacuum cleaners on the market. And though it's getting a bit long in the tooth, as an older model now commanding more affordable pricing, it's still well worth giving a try.
Another transforming cordless vacuum cleaner, like the Dyson Cyclone V10 Absolute and Dyson V11 Absolute, it too features a pistol-grip power button, meaning it's only drawing from the battery and sucking up grime when it's actually being held down and used. As such, its 40 minute running time can feel much longer than that – though again the more powerful settings and motorized heads will see that figure drastically reduced.
Fitted with a large bin and sold complete with a ton of accessories, it's a great package and, best of all, it's fun to use – its sci-fi aesthetic will make you feel like a Ghostbuster while you're doing your chores.
Read our full review: Dyson V8 Absolute

"AirRam" sounds almost like too cool a name for a white goods product – it could be a special move in Street Fighter or something like that. But the Gtech AirRam MK2 backs it up with respectable sucking action, and at a palatable price point too.
Designed like an upright, you'll get about 40 minutes out of the AirRam MK2 per charge, giving the Dyson V8 Absolute a run for its money. It'll run off a mains power supply too, though don't expect to go very far with the short cable that's supplied.
Gtech Airlock technology adapts the head for different flooring types which guarantees a good suction seal whether tackling carpet or hardwoods, while a removable cylinder bin lets you easily dispose of any collected grime.
But though it's not too heavy, the lack of a hose or different attachments makes it less versatile than some of the other products on this list. Still, it gets the job done, and at a far more affordable price than the competition to boot.

Tech News Today Latest Technology Headlines & Trends Link Below