USA News
Could this doorbell video help solve a murder?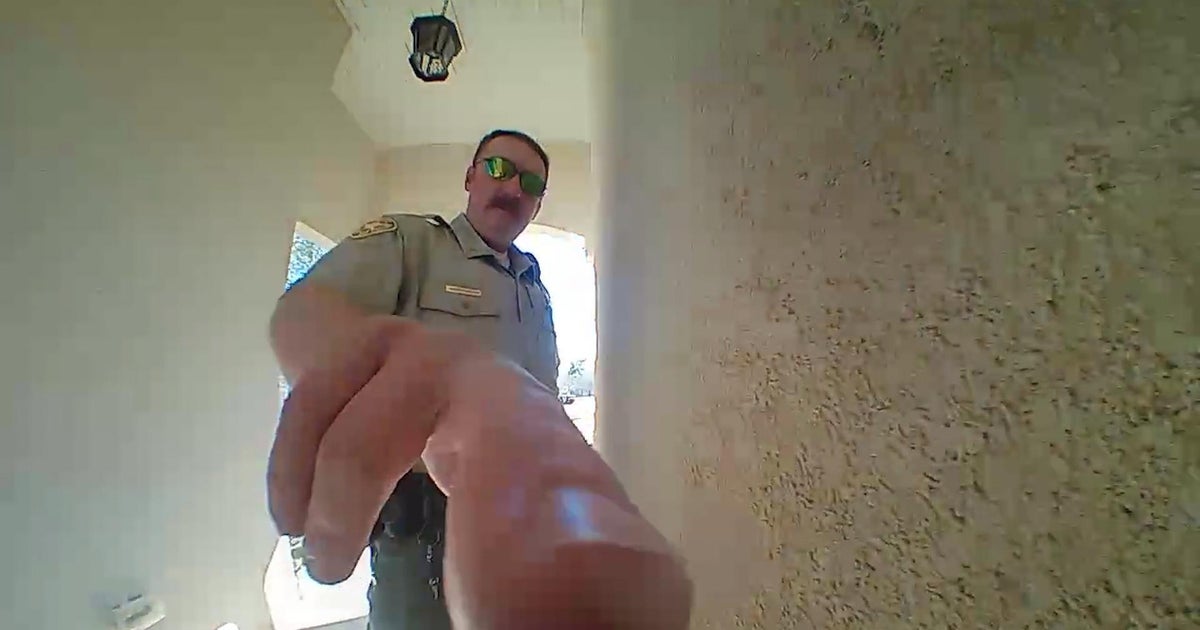 US HEADLINES
:
On Feb. 3, 2020, Putnam County Sheriff's Deputy Terrell Abernathy was dispatched to the home of a police officer with the City of Eatonton, Georgia. He was there to serve Officer Seth Perrault with a subpoena to appear in court as witness in a case for the department. No one answered the door, but as Abernathy said to CBS News correspondent Anne-Marie Green, he could tell someone was home.
"I heard footsteps or footfalls, heavy ones," Abernathy told Green in an interview for this week's "48 Hours" report, "The Death of an Officer's Wife," airing Saturday, Jan. 28 at 10/9c on CBS and streaming on Paramount+. "I'm announcing myself, who I am, what it is. I even turned my back to the door. I don't care if you're in your underwear. Just answer the door and take the paper," he added. 
Seven minutes later, Abernathy left with the subpoena still in hand.
Twenty minutes later, Abernathy was on his way back to the Perrault home. Seth Perrault had called his boss, the chief of police, to report that his wife had killed herself. The chief then alerted Putnam County Sheriff Howard Sills. In an interview for "48 Hours," the sheriff told Green that Perrault claimed he and his wife Amanda were in bed arguing, "And then all of a sudden she just produced the gun outta thin air and executed herself." 
But when Sills entered the Perrault's home and saw the way Amanda Perrault's body was lying in the couple's bed, he knew something was wrong. 
"I've never seen anything like that," said Sills. "Her body is flat on her back, her legs are almost together, and her arms are tucked against her side." The gun Amanda Perrault had allegedly shot herself with was by her left foot, and the gun's magazine was by her right hand. Sills says that was enough to convince him that Amanda Perrault had not killed herself.
District Attorney Wright Barksdale told Green that he agreed with the sheriff. "He told me, 'This scene is not right. There's something not adding up.'" The crime scene, as well as other evidence in the case, also had Barksdale convinced that Amanda Perrault's death was not a suicide, but a murder.
The evidence in this case included interviews with some of the Perrault's neighbors, who reported that the couple could be heard fighting just about every day, and in their eyes, Seth Perrault was almost always the aggressor. One neighbor said he would sometimes stand watch in his yard listening to the arguments in case things got really bad. When asked why none of them ever called the police, the neighbors said it was because Seth Perrault was the police.
Two of Amanda Perrault's sisters, Angie and Alesha Johnson, told Green that they knew things were bad in the marriage, and had asked their sister several times if they should call 911. "She would tell you, 'No, no, don't call. We've just been drinkin' … everything'll be OK later on.' Maybe she knew her situation would become even worse."
On Jan. 28, 2020, Amanda's situation did get worse — bad enough that she called 911 to report that her husband had gotten physical with her. Seth Perrault was arrested that day, and Amanda asked her sister Angie Johnson to please come and get her the next morning. Instead, Amanda attended her husband's bond hearing. Before releasing Seth Perrault on bail, the judge asked Amanda if she wanted an order of protection. She said no, and then let her husband come home. Five days later, Amanda was dead.
Just days after the shooting, the sheriff decided he had enough evidence to get a warrant for Seth Perrault's arrest, and Perrault was taken into custody. But before a grand jury could hear the evidence and decide if there was enough to go to trial, COVID-19 hit and shut down the courts. Seth Perrault had been in jail for seven months, awaiting a possible indictment and trial, when a medical examiner at the Georgia Bureau of Investigations finally released Amanda Perrault's autopsy report, and astounded everyone. Dr. Lora Darrisaw had concluded that the manner of death was suicide.
"I was astounded," the sheriff said. "I just called the DA. I said, 'You're not gonna believe this.'"
"Did you think maybe you made a mistake?" Green asked the district attorney. "Absolutely not,"  Barksdale responded. Barksdale said there was too much evidence indicating that Amanda Perrault had been murdered — including that doorbell video of the deputy at the Perrault's front door. 
"In my heart, I believe that Amanda Perrault had already been shot when Abernathy rang the doorbell, said Barksdale. "I think he was concerned that somebody heard the gunshot, and that's why he didn't go to the door."
One of Seth Perrault's lawyers, Justin Kenney, told "48 Hours" that Darrisaw is a respected medical examiner, "So, her certification of suicide, we thought, was basically open and shut."
"You have to remember; she works for the state," Kenney said.
But what would a jury think about the report? "It all came down to the forensics," said Kenney. "Could the state actually prove that Seth had pulled the trigger and shot his wife in the head?"
Latest US Breaking News & World News Today More Updates