Australia News
ABC removes references to 'Invasion Day' from article headline after Communication Minister's criticism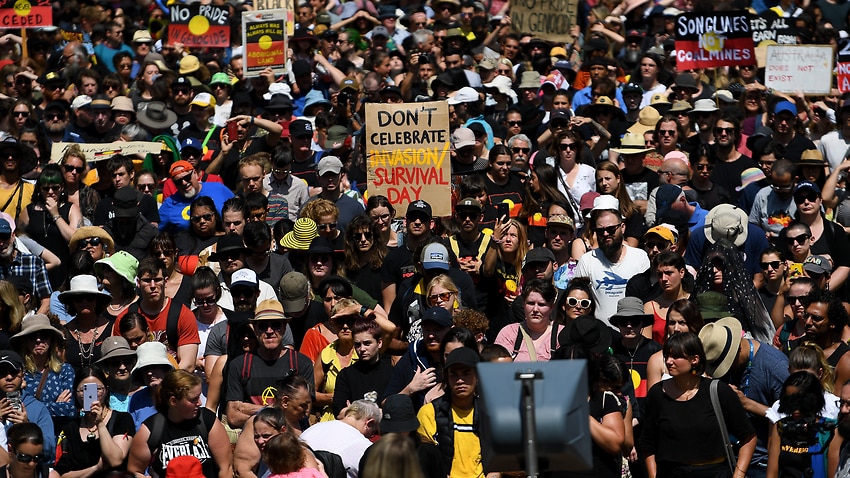 News Today
||
Headlines Today
The ABC has removed a reference to "Invasion Day" from the headline of a story detailing 26 January events after Communications Minister Paul Fletcher called on the broadcaster to correct it.
Mr Fletcher's criticisms came after The Australian newspaper highlighted what it described was a "barrage of criticism" aimed at the ABC over the article.
The original headline "Australia Day/Invasion Day 2021 events guide…" was changed to "Australia Day is a contentious day for many, here are the events being held on January 26" late on Monday.
"26 January marks Australia Day or Invasion Day, typically seen as a celebration of the nation or a day of sorrow for the colonisation of an ancient culture," the article originally read.    
The article then went on to list both Australia Day events and "Invasion Day" protests that are scheduled for 26 January. 
In a statement on Monday, an ABC spokesperson said the "ABC's policy is to use the term Australia Day, as it always has."
"As the editorial advice states, other terms can be used when they are appropriate in certain contexts. This does not mean they are used interchangeably," it read.
The 26 January is a difficult date for many Indigenous Australians, as it marks the beginning of Australia's colonisation. Thousands of Australians have called for the date of the national holiday to be changed, to reflect that it is considered a day of mourning for many. 
But in his statement, Mr Fletcher said the broadcaster had "clearly got this one wrong" by using both terms.
"The name of Australia Day is reflected in legislation across Australia. More important, it is reflected in the usage of the overwhelming majority of Australians," he said.
"While the ABC has editorial independence, and I do not control what it says, I call on the ABC to correct this inaccurate article.
"The obligation on the ABC Board is clear under the Act: to ensure that the gathering and presentation of news is accurate and impartial."
Mr Fletcher's most recent criticism comes after he hit out at the ABC late last year over a Four Corners episode that aired allegations of misconduct against cabinet ministers Christian Porter and Alan Tudge.  
In response, he sent 15 questions to ABC chair Ita Buttrose demanding she justify the public interest in the program – titled "Inside the Canberra Bubble" – revealing the behaviour of the senior ministers.
He had publicised his complaint on Twitter but denied the letter was aimed as a retaliatory measure to defend his colleagues.
'This is a perennial issue'
The Australian's article reported that "scores of Australians were quick to register their disapproval online" after the story was uploaded, which it described as using the terms "interchangeably".
But the ABC spokesperson said debate over the terms "Australia Day" and "Invasion Day" was nothing new.
"Some audience members have been asking about the ABC's terminology in stories and coverage around Australia Day. This is a perennial issue," the spokesperson said.
"We also recognise and respect that community members use other terms for the event, including '26 January', 'Invasion Day' and 'Survival Day' so our reporting and coverage reflect that."
Latest & Breaking Australia News Today Headlines: More Updates