Australia News
After losing his legs in a car accident, Khoa wasn't going to let the pandemic beat him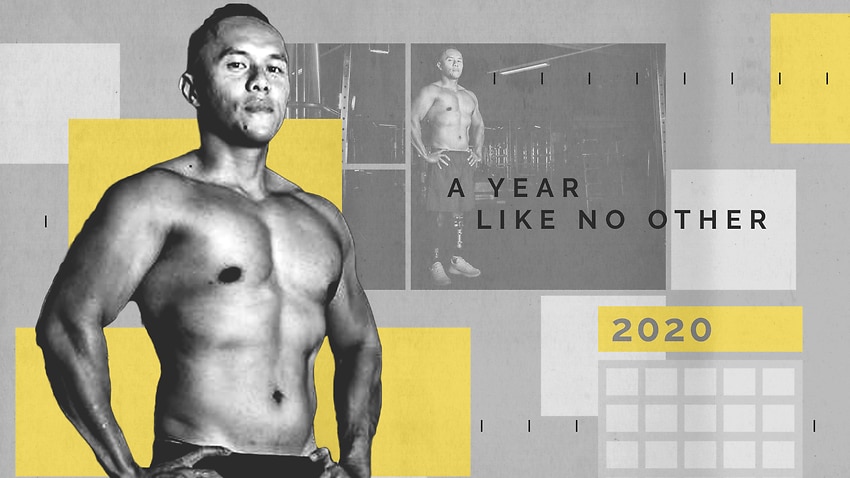 News Today
||
Headlines Today
A Year Like No Other is an SBS News collaboration with the University of Technology Sydney. It features stories written by journalism students.  
Christmas 2012 was a defining time for Khoa Nam Tran. 
He was involved in a car accident in which the front passenger died and the driver suffered a severe brain injury. Khoa, who was sitting in the back, had both his legs crushed.
Eight years on, the 37-year-old is reflecting on what has been another significant chapter in his life: 2020. 
As the child of refugees, Khoa is no stranger to challenges. His parents fled the war in Vietnam and Khoa was born in France before the family came to Australia when he was two.
They began a new life in the South-Western Sydney suburb of Cabramatta, and after his accident, Khoa decided to turn his experience into something positive.  
He addressed his partying lifestyle and opened a gym in 2017 which allowed him to socialise, form friendships and help others in a healthier setting.
"Since my accident, my main goal has been to help people who feel like they can't go anywhere else," he says.
"They can look back and say … 'If a guy with no legs can laugh and smile all the time, then maybe I should too'."
Since my accident, my main goal has been to help people who feel like they can't go anywhere else.

– Khoa Nam Tran
But in March, the Australian government announced it would be shutting all 'non-essential' services due to the coronavirus pandemic, which included all gym and health facilities.  
"It was hard to stay positive because my source of income was gone and I didn't know what to do if the worst-case scenario hit and I lost my business," he says. 
The gym had been crucial to Khoa's recovery. 
"It helped me gain confidence at the early stages of my amputation and I knew that if I opened the doors for other people to do exactly the same thing, you're changing a bit of their lives."
He knew he had to keep it going, so he came up with a plan.  
"When we shut down, the only effective means of communication was our social media. So I maintained that connection by posting workouts for people," he says. 
"I involved my personal trainers to create videos for people to do workouts at home that don't need equipment and I created virtual classes every week, live on Facebook." 
It worked, but Khoa knew there was another important element to consider. As businesses across Australia shut down, people, including Khoa, struggled with their mental health. 
"When the gym comes to mind, people think about the physical aspect of things, but it's more of the mental side of things," he says. 
"When I decided to work out, it was a conscious decision to socialise, to get out there and build my confidence again, to be in the real world". 
"I was a person who would go out and bond with all the members. I would have a laugh, I would chit chat and forget to work out, but when that finished, I was basically at home for two months. 
"Thankfully, our social media helped me on the mental side of things; to stay connected, to keep up to date with what's going on around the world. That kept me mentally aligned."
Social media helped me on the mental side of things; to stay connected.
Khoa decided to use his platform to speak out about mental health and participated in the Push for Better 'Push-Up Challenge' – a charity campaign which has since raised more than five million dollars.  
Participants had to complete 3,318 push ups over 25 days. 
"I kept regularly posting, showing people that we can still always work out," Khoa says.
"Doing the Push-Up Challenge was a great initiative … they've raised millions of dollars for males suffering depression."
While Khoa's business saw some gym-goers cancel their memberships, others paused theirs, keeping a commitment to return at a future date. And in June, the government announced gyms in New South Wales could reopen, with restrictions in place.
"That was the biggest relief ever," Khoa says.  
While he's been through a lot, Khoa says the lessons he learnt during 2020 will stay with him forever. 
"Even when we are going through tough times, we have to look at the positive side." 
Readers seeking support with mental health can contact Beyond Blue on 1300 22 4636. More information is available at Beyondblue.org.au. Embrace Multicultural Mental Health supports people from culturally and linguistically diverse backgrounds. 
LGBTIQ+ Australians seeking support with mental health can contact QLife on 1800 184 527 or visitqlife.org.au. ReachOut.com also has a list of support services.
Cassie Darcy is from Sydney. She finished her Bachelor of Communication (Journalism) in 2020 after studying remotely, and will be working in the communications industry in 2021.  She has made a documentary about Khoa which you can watch below.
Read more from the A Year Like No Other series:
Latest & Breaking Australia News Today Headlines: More Updates