Australia News
Artist Jackie lives with disability. She just held her first solo exhibition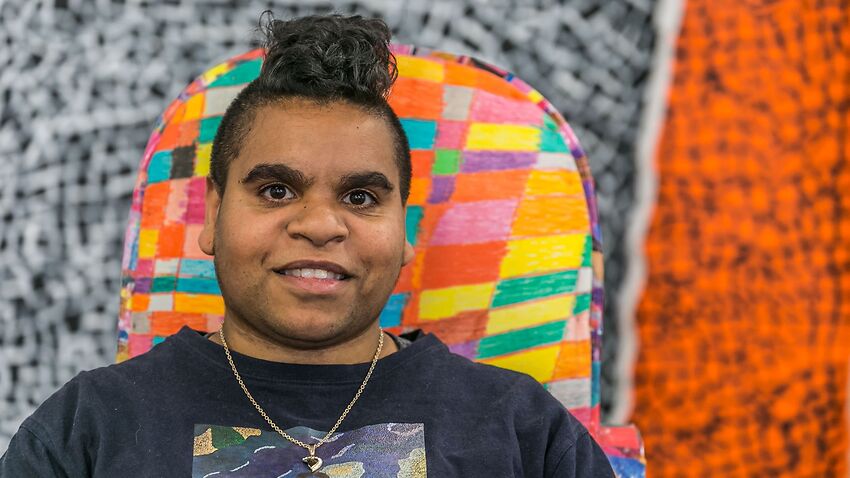 News Today
||
Headlines Today
For Ngarrindjeri Wirangu woman Jackie Saunders, 2020 has been her most fulfilling year yet.
The South Australian artist, who lives with Fetal Alcohol Spectrum Disorder, has used the time in lockdown to adapt her craft, and last month held her first solo exhibition where her works sold for thousands of dollars.
She says her pathway to becoming a professional artist hasn't been easy, in part because of her disability.
"You go through everyday challenges, like confusion," the 31-year-old said.
"I have an issue with my memory, I have a lot of mood swings, which sometimes affects people and which people don't really enjoy. But that's just me. It's part of my disability as well. I don't like being in moods either, it really sucks."
Because Jackie's disability can't be seen from the outside, it can also make it more challenging for people to understand, she said.
"Being invisible, I think it makes it hard for people to understand my disability. People think I know things straight away, but it takes my brain longer to get things, it takes time to process."
Being invisible, I think it makes it hard for people to understand my disability.
Growing up in a foster family, who she still lives with in the Adelaide suburb of Christie Downs, Jackie said she uses her painting to connect with her biological family and Aboriginal culture, describing herself as the "daughter of a saltwater woman and a desert-dwelling man". 
"I do a lot of stuff about my mum and dad and my family because they're important to me. Now they're gone I do a lot of paintings around them," she said. 
Jackie isn't new to the wider arts world. For several years she has been writing and performing with Adelaide pop group The Sisters of Invention, whose members all live with disability, and being a famous Indigenous artist has been a dream of hers for a long time. 
Lockdown saw her turn her "doodles" into "big, bright, and bold" large-scale works she said, and now she hopes to have her own studio.
"I do forget to give myself a pat on the back. Telling myself I'm a good person and I've gone through a lot and I've done a lot and I should be really proud of myself." 
I do forget to give myself a pat on the back. I've gone through a lot and I've done a lot.
Her career has been made possible through the support of a visual arts training program at Tutti Arts, a South Australian arts hub for people living with disability and a registered provider on the National Disability Insurance Scheme. The program is funded by her NDIS plan and helps her with career development.
Tutti Arts CEO Pat Rix told SBS News it was rewarding seeing artists such as Jackie come through the program and begin making a living as a professional artist.
"There is absolutely nothing like it, I know how tough it is to make it in the arts industry. Tutti has been not just a springboard but also a safety net," she said.
Jackie also receives help from support workers and psychologists under the NDIS scheme.
"It makes me feel good, it's helpful," she said. "Life has improved because I'm getting the supports I need."
While Jackie has found support through the NDIS, it is not the same for all Australians living with a disability, particularly those who are Indigenous. 
The NDIS has faced criticisms in the past that the system is difficult to navigate and has left many Aboriginal and Torres Strait Islander people without support. 
Of the first 100,000 people on the scheme, only five per cent were Indigenous. That is despite Indigenous people being 70 per cent more likely to experience disability than the non-Indigenous population. 
There have also been criticisms around a lack of Indigenous staff working at NDIS providers and as support workers.
In October the federal government announced a $5.9 million funding boost through the National Aboriginal Community Controlled Health Organisation to make the NDIS more accessible and culturally appropriate to Indigenous people.
In a statement provided to SBS News, National Disability Insurance Agency spokesperson Shannon Rees said things were improving.
"In the last quarter, 9.1 per cent of participants who received a plan identify as Aboriginal and Torres Strait Islander, the highest percentage of any quarter to date."
The expansion of the National Community Connector Program will also play a critical role in reaching out to people with disability in harder-to-reach areas, she said, with more than 60 specialist community connectors already delivering services in Aboriginal and Torres Strait Islander communities.
For Jackie, the support she has received has helped her develop her career – something she wants to continue building on. 
"Focusing on the things I love like painting keeps my mind at a resting place and at ease. It's one of the things I love and I'm passionate about," she said.
"I just want to focus on my art and keep my head up strong."
International Day of People with Disability is marked on 3 December.
Latest & Breaking Australia News Today Headlines: More Updates