Australia News
Australia reports 40 new COVID-19 deaths as WA reintroduces indoor mask mandate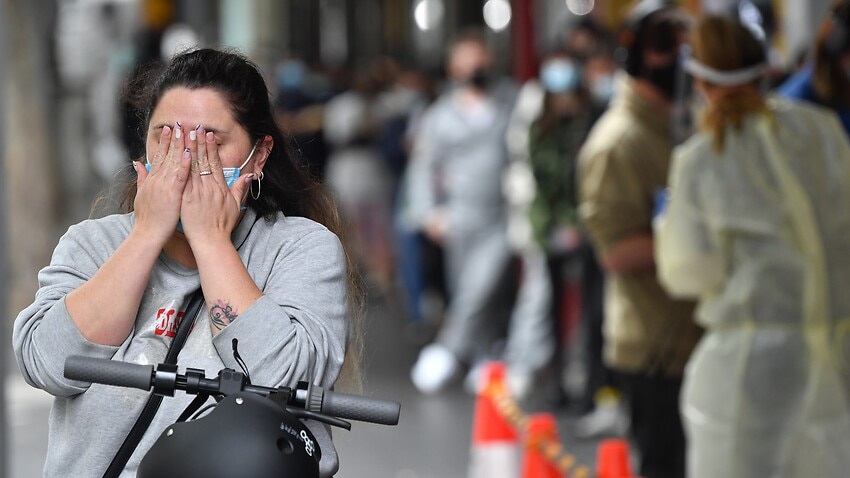 News Today
||
Headlines Today
"It's clear the number of cases of the Omicron variant is growing, and so is the risk to the community," Premier Mark McGowan said. 
NSW reports 20 deaths, concern over vaccine rates in state's north
New South Wales on Sunday recorded 20 further COVID-19 deaths and 34,660 new cases. 
Of the latest number of infections, 13,682 were detected via rapid antigen tests (RAT), and 20,978 through PCR testing.
Of the positive RAT numbers, 11,200 were from the past week.
There are currently 2,650 patients in hospital across the state, up from 2,576 on Saturday. The number of patients in ICU is 191.
At the depths of the Delta outbreak last September, there were 244 COVID-infected people in ICUs.
NSW COVID-19 update – Sunday 16 January 2022

In the 24-hour reporting period to 8pm last night:

– 95.2% of people aged 16+ have had one dose of a COVID-19 vaccine
– 93.8% of people aged 16+ have had two doses of a COVID-19 vaccine pic.twitter.com/si9U4l6rpR
NSW Premier Dominic Perrottet said 50 per cent of people currently in the ICU in the state are unvaccinated. 
"So the evidence, the facts are very, very clear. Vaccination helps protect you and your family and your friends and the wider community," he told reporters in Sydney on Sunday.
Some 93.8 per cent of all eligible adults in NSW are now double dosed, while 25.4 per cent have also received a booster jab. Of children aged 5-11, 11.5 per cent are now single vaccinated.
Health Minister Brad Hazzard expressed concern about parts of northern NSW, where the vaccination rate is low. 
"I will say this to the disbelievers: wake up to yourselves. The world is telling us that this virus will keep killing us and keep putting us in hospital, unless we get vaccinated," he said on Sunday.
The state government on Saturday announced it was extending rental relief for small businesses amid the Omicron outbreak.
Treasurer Matt Kean said the scheme would continue until 13 March.
Victoria reports 13 deaths, receives RAT delivery
Over in Victoria, the health department says there have been 13 further COVID-19-related deaths and 28,128 new infections, up from the 25,526 reported on Saturday.
There are 1,114 patients in hospital in Victoria – also an increase from Saturday's number, which was 1054.
There are 122 patients in ICU and 35 on ventilators.
Among the new cases, 10,337 tested positive via RAT and 17,791 were diagnosed through PCR. 
There are currently 237,559 active cases in the state.
Premier Daniel Andrews announced the state has now received its "significant first batch" of three million RATs, from a bulk order of 44 million.
They will be handed out to essential workers in health and aged care, disability and emergency services from Monday.
Victorians with pre-existing conditions that make them susceptible to severe illness will also be prioritised for a RAT, to ensure they are diagnosed quickly so that care can be provided as soon as possible.
The Victorian state government's rent-relief program has also been extended for businesses struggling amid the latest wave.
Small Business Minister Jaala Pulford on Saturday announced an extension of the relief scheme to 15 March for commercial tenants and landlords experiencing hardship.
Masks return indoors in WA
Western Australia reported six new COVID-19 cases on Sunday, including five which are locally acquired.
Two of those cases, reported earlier on Sunday, were identified as close contacts of previously reported cases.  
Premier Mark McGowan announced three further local cases later that day, which will be included in Monday's update, prompting the re-introduction of a mask mandate for all indoor venues in the Perth and Peel regions from 6pm. 
In addition to the two local cases already announced, I can confirm as of 1pm today, WA has reported a further three local cases so far today.

It's clear the number of cases of the Omicron variant is growing, and so is the risk to the community. pic.twitter.com/F6e0dZPPAq
"In light of the growing number of cases in WA, today we are raising the alarm. We need everyone in Perth and Peel to take this situation very seriously," he said. 
"We now have community spread of Omicron in Perth – we know it spreads fast and easily. The spread of Omicron is serious and requires a serious response."
The mask mandate will not apply to the home, chldren under 12 or those doing vigorous exercise. 
Three deaths in Queensland
Queensland, meanwhile, has reported three new COVID-19 deaths and 17,445 cases.
There are 670 people in hospital with the virus and 49 patients in ICU. Sixteen people in intensive care are on ventilators.
Of the new positive cases, 4,615 were detected via RATs and 12,830 through PCR tests.
There are currently 203,657 active cases in the state.
Speaking to reporters on Sunday morning, Chief Health Officer Dr John Gerrard issued advice to those experiencing symptoms to only call emergency services if their symptoms are severe.
"If you're walking around the house, maybe walking 40 paces around the house, and it feels like you've climbed a flight of stairs and you're short of breath after walking around the house, then that's the sort of symptom that's of particular concern to us," Dr Gerrard said.
"And in that case, you should be considering calling an ambulance."
Two new deaths in SA
South Australia reported two further COVID-19-related deaths and 3,450 new cases on Sunday.
There are 220 patients in hospitals, with 26 in ICU. 
Of the new cases, 1,049 tested positive via RAT and 2,401 were detected through PCR.
ACT reports two new deaths
The Australian Capital Territory reported two new deaths on Sunday, taking the total number of COVID-19 fatalities in the jurisdiction since the start of the pandemic to 18. 
ACT Health said the two deaths involve a man in his 50s and a man in his 90s.
The Territory also recorded 1,316 new cases, of which 716 tested positive via RAT and 600 were detected through PCR.
There are currently 41 patients in hospital, up from 30 on Saturday. There are three people in ICU and two on ventilators.
ACT has reported 22,396 cases since March 2020 and 3,257 are currently active.
Tasmania's active cases drop again
Tasmania on Sunday announced 825 new COVID-19 cases.
Twenty-two people with coronavirus are in hospital, with eight of those being treated for virus symptoms. One person is in intensive care.
The other 14 people in hospital have COVID-19 but are being treated for unrelated medical conditions.
The new infections came from 580 self-reported rapid antigen tests and 245 PCR tests.
Tasmania's health department said on Sunday morning 1,448 people were released from isolation in the past 24 hours.
There are 623 fewer active COVID-19 cases in the state, with the current 6,485 active cases down from 7,108 on Saturday.
NT records 327 new cases
The Northern Territory reported 327 new COVID-19 cases on Sunday, of which 131 tested positive via RAT and 196 through PCR.
There are currently 4,000 active cases in the Territory, with 44 patients in hospital. 
Of the 44 hospitalised cases, 13 are classified as "acute hospital admissions". There are no patients in ICU.
According to a statement from the department of the chief minister and cabinet, "there have been a number of new cases in correctional facilities across the Northern Territory, including one inmate in Alice Springs, one staff member at the Barkly Work Camp and three inmates in Darwin". 
"All of these facilities have activated their COVID management plans and are in constant communication with NT Health," the statement said.
Additional reporting by AAP.
Latest & Breaking Australia News Today Headlines: More Updates