Australia News
'Hong Kongers have not given up': Former Hong Kong legislator addresses Sydney protest amid call for Australia to provide citizenship option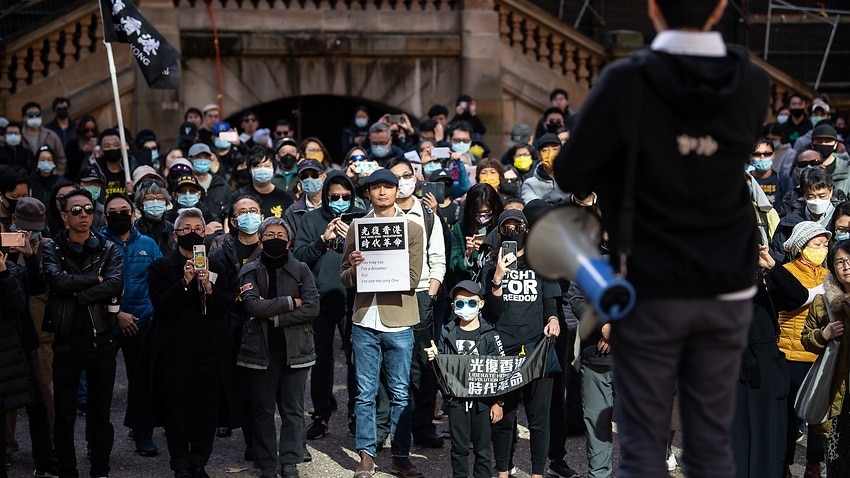 News Today
||
Headlines Today
Supporters of Hong Kong's democracy protesters gathered in Sydney to mark two years since mass protests in Hong Kong turned violent. 
With the city's protest movement now stifled by the controversial national security law, many said they were speaking out on behalf of those back home who cannot.
Former Hong Kong legislator Ted Hui said he left six months ago because the crackdown on dissent had reached new levels. 
"Basically in Hong Kong, dissent is not tolerated nowadays. They're putting dissidents and activists to jail. So now targeting journalists, teachers, all walks of life," Mr Hui told SBS News.
"So if I were in Hong Kong and I continued to speak for freedom of democracy in Hong Kong, I would be in jail."
He said while he did not fear being in jail, he felt he could more powerfully speak out about the impacts of national security laws from outside Hong Kong.
"Jail time is not frightening to me. But if we lose our freedoms – no one can speak up at all. And it is quite detrimental to Hong Kong."
Mr Hui said the rally was sending a message that the right to protest and free speech must be protected and restored in Hong Kong. 
"The aim of us gathering together is to show the message that Hong Kongers have not given up." 
Agnes Chow is one of more than 100 people who have been arrested under the new national security law. She has now been released by authorities after around seven months behind bars for her role in a 2019 protest outside the city's police headquarters. 
She has not yet been charged but dozens of others have, including jailed pro-democracy media tycoon Jimmy Lai.
Most have been denied bail and they face up to life imprisonment, if convicted.
Protests have been all but illegal for the last year in Hong Kong; and most of the city's democracy leaders have been arrested, jailed or fled overseas.
Ted Hui said it is emotionally difficult for him to see parliamentary colleagues silenced. 
"It is very painful to see young people, parliamentarians who sat next to me in the chamber who can't speak any more." 
NSW Labor Senator Tony Sheldon said he believes the Australian government should do more to provide refuge to Hong Kong residents fleeing the region because of the national security law. 
"Move beyond just a visa which finishes up in four years time," he told SBS News, after addressing the rally. "It should be extended to actual rights to become Australian residents and citizens. For those who struggle and are fighting for democracy, I think they make damn good Australians."
The government did announce some visa concessions and residency pathways for Hong Kongers in Australia last July.
Figures from Hong Kong's Justice Department show more than 10,000 people have been arrested in connection with anti-government protests since 2019.
Tiffany Cheung attended the Sydney rally, saying she felt it is important to bring attention to the worsening situation in Hong Kong. 
"Over the past two years the freedom of Hong Kong has been deteriorating very, very badly," she told SBS News. "In Hong Kong, we could not stage a protest like this."
"We hope that one day Hong Kong will get back to the freedom."
Two years ago on 12 June, thousands of protesters surrounded the city's legislature in an attempt to stop the passage of a bill that could have allowed extraditions to mainland China's opaque judicial system.
Riot police used tear gas and rubber bullets to disperse the huge crowds.
Footage of the clashes deepened public anger, and fuelled what became an increasingly violent movement calling for full democracy that raged for seven straight months.
Huge crowds rallied week after week in the most serious challenge to China's rule since Hong Kong's 1997 handover.
China's leaders have dismissed the call for democracy, portraying those who protested as stooges of "foreign forces" trying to undermine China.
They have since overseen a sweeping crackdown that has successfully curbed dissent and radically transformed the once outspoken semi-autonomous city.
The spear tip of that crackdown is the national security law. 
Last week authorities banned an annual candlelight vigil to commemorate victims of Beijing's deadly 1989 Tiananmen Square crackdown.
But many Hong Kongers still quietly signalled defiance by turning on mobile phone lights and lighting candles that evening.
Additional reporting: Claudia Farhart, AFP 
Latest & Breaking Australia News Today Headlines: More Updates