Australia News
Hundreds take part in unauthorised refugee rights protests across Australia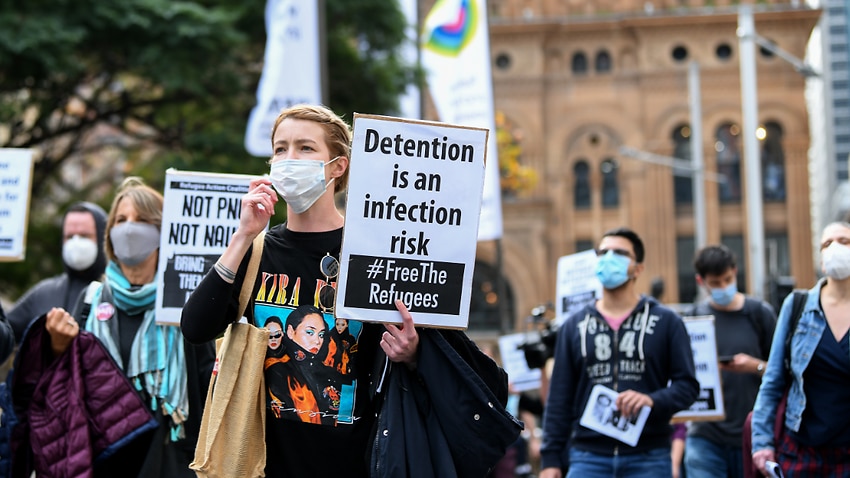 News Today
||
Headlines Today
Hundreds of people in Australia's eastern states have defied health orders to gather and protest against the treatment of refugees.
Protesters defied a court order in attending a rally in Sydney, however the small event fizzled out without confrontation with police.
A group of around 70 protesters chanted slogans, stood in front of Town Hall and did laps of the block as part of the "Free the refugees: national day of action" event on Saturday.
The rally was held under the watchful eye of a 100-strong police presence, including officers on horseback.
Just under 300 people registered their intention to attend the event on Facebook, with another 1,200 expressing their interest.
However, the turnout was far smaller.
Protesters largely obeyed social distancing rules and one of the organisers moved amongst the crowd handing out face masks.
The Refugee Action Coalition (RAC) pushed ahead with the event, despite the Supreme Court on Thursday night ruling it a prohibited public assembly.
NSW Police opposed the event on health grounds amid the coronavirus pandemic.
Organisers had planned to hold an "exercise protest" by having participants jog and cycle around the streets to get around the 20-person limit on public gatherings.
Instead, about half the protesters walked laps of the block chanting slogans such as "free, free the refugees", while another group stood in front of Town Hall.
RAC's James Supple defended the decision to go ahead with the rally despite Justice Michael Walton ruling that the public health risks did not outweigh "the rights to public assembly and freedom of speech in the present context".
"People are attempting suicide, their mental health is deteriorating rapidly, their medical issues are not being properly treated, there's an urgent issue there for the people who need to be released," Mr Supple said.
On Friday night, a 24-year-old woman was fined $1,000 for disobeying a police move-on order during a Black Lives Matter protest in the Sydney CBD.
Around 300 protesters attended the march but were outnumbered by 600 police officers and the group quickly moved from Town Hall to Hyde Park.
Eight different locations
In Melbourne, protest action took place in eight separate locations across the city in a bid to avoid breaching COVID-19 restrictions.
Rallies were held outside the Mantra Preston, Melbourne Immigration Transit Accommodation, Border Force offices in Docklands, Casselden Place Immigration Office, the Liberal Party headquarters, the State Library, State Parliament and acting Immigration Minister Alan Tudge's office.
Organisers urged attendees to register ahead of the action to ensure numbers did not exceed the 20-person limit at any one location. 
No fines were issued to protesters, The Age reports.
The RAC estimated there were about 200 attendees spread across the eight protest sites.
The rally outside the Mantra Preston heard from Priya Murugappan, a Tamil asylum seeker who had been living in Biloela, Queensland with her husband and two children before the government tried to deport them.
The family has spent more than two years in detention fighting their deportation, first in Melbourne, before being transferred to Christmas Island in 2019.
"We are very lonely and we are very depressed," Priya said in a recorded message with translation.
"Our children are struggling. They have no support at all in this detention centre. I beg the government to let us go back to Biloela, at least for the sake of our children."
Protest continues in Brisbane
In Brisbane, about 300 protesters blockaded a hotel, accusing the government of seeking to silence detained asylum seekers by moving them.
Supporters of about 120 detainees on Saturday briefly surged past security into the hotel compound in a failed bid to unite one of the asylum seekers with his wife and child.
The protesters pulled back on request of one of the detained men, who said their actions could lead to the asylum seekers being punished.
Supporters of the asylum seekers have vowed to continue preventing authorities from accessing the Kangaroo Point Central Hotel.
Protesters are demanding the government cease transferring the asylum seekers and return people who've already been moved.
"The reason they are transferring them is because they have caused so much noise," protest spokeswoman Ruby Thorburn told reporters on Saturday.
"It is really important that we continue to maintain that."
About 40 men holding signs saying "Where Is Justice" and "Refugees Are Without Crime" stood on the hotel's balconies waving as the protest kicked off.
The protest commenced on Thursday night and continued on Friday.
Trucks and other vehicles leaving the hotel precinct were searched to ensure no asylum seekers were inside.
People in Australia must stay at least 1.5 metres away from others. Check your state's restrictions on gathering limits.
Testing for coronavirus is now widely available across Australia. If you are experiencing cold or flu symptoms, arrange a test by calling your doctor or contact the Coronavirus Health Information Hotline on 1800 020 080.
The federal government's coronavirus tracing app COVIDSafe is available for download from your phone's app store.
SBS is committed to informing Australia's diverse communities about the latest COVID-19 developments. News and information is available in 63 languages at sbs.com.au/coronavirus
Additional reporting by Maani Truu.
Latest & Breaking Australia News Today Headlines: More Updates