Australia News
Myths about COVID-19 vaccines are still doing the rounds. Here's why they don't check out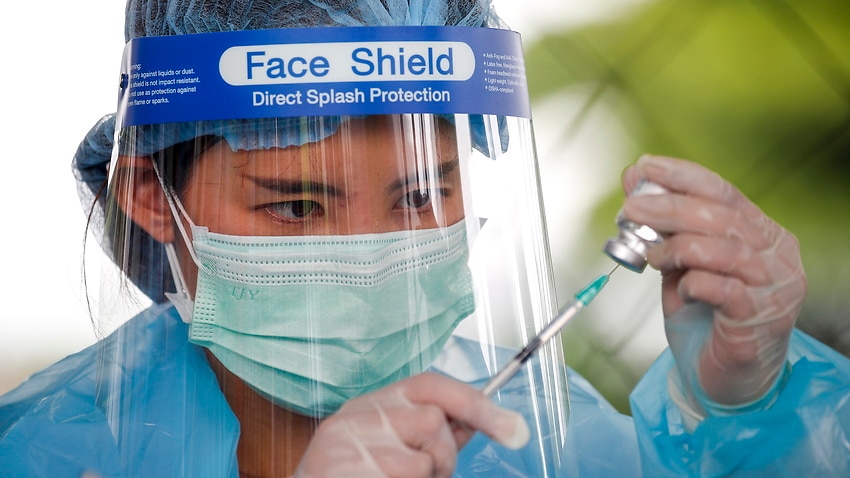 News Today
||
Headlines Today
COVID-19 vaccines have been proven to reduce severe illness, hospitalisation and death, and they're considered our ticket out of lockdowns by federal, state and territory leaders.
In the United States, nearly all COVID-19 deaths are now in people who aren't vaccinated. It demonstrates what the jabs can do when almost 50 per cent of the total country is fully vaccinated.
But despite their success, there are still falsehoods circulating about COVID-19 vaccines. Here is why some of the most common myths don't hold up, as explained by infectious diseases physician and Australian National University professor Peter Collignon. 
MYTH: Trials for COVID-19 vaccines have been rushed and weren't as thorough
The Pfizer and AstraZeneca vaccines went through the full process required to get approval in Australia. No part was rushed and no emergency use was given here. 
Professor Collignon has reassured that trials for the COVID-19 vaccines available in Australia were "as extensive as any other". 
"It involved thousands of people, so as many as any drug or vaccine," he said.
The Therapeutic Goods Administration (TGA) provisionally approved the vaccines after a complete assessment of the data available. This is the same process as that for any vaccine approved in this country, according to the Department of Health.  
The one notable side-effect not picked up in trials, the blood-clotting disorder associated with the AstraZeneca jab, could not have been detected earlier because of how very rare it is, explained Professor Collignon.
Only when it was rolled out to hundreds of thousands of people could it have been found.
Testing and treatment has improved since the rare side effect emerged, thanks to the development of diagnostic tests and guidelines.
MYTH: I'm young and healthy I don't need the vaccine
"COVID can affect people at all ages and can actually cause severe illness and death at all ages – it just does it more frequently in older people," said Professor Collignon.
"If you're an 80-year-old and you get COVID you have a one in ten chance of dying. If you're 70, two in 100."
If a 30-year-old contracts COVID-19, the chance of dying becomes one in 10,000, explained Professor Collignon.
"You might say, 'hey, what am I worried about' – but that's only death, there are other problems with COVID as well," he said.
"You can get sick and be unwell for quite a while and get long COVID, for instance."
MYTH: The vaccine will give me COVID-19
"You're not going to get COVID from the vaccine itself. None of them have live COVID virus in them or even a variation of a live COVID virus," said Professor Collignon.
"What they will do is stop you from getting COVID or significantly decrease your risk."
If you get a fever, headache or muscle aches after the vaccine, that's a sign that your immune system is working, he adds.
MYTH: It might affect my fertility
Professor Collignon said there was no evidence that COVID-19 vaccines affected fertility in any way, and he didn't expect there would be.
"You also have to take into account if you get COVID because you're unvaccinated, that's a big effect on your fertility as well if you get very sick," said Professor Collignon.
"So far, I would think you're more likely to have a problem with fertility if you get COVID rather than getting vaccinated."
MYTH: The vaccines are not effective
Professor Collignon said there was no doubt the Pfizer and AstraZeneca vaccines were both safe and effective, as proven by the clinical trials and real-life rollout.
"We've already saved hundreds of thousands if not millions of lives by having these early rollouts of vaccines," he said.
MYTH: Pfizer vaccine studies have a 2023 completion date, so it's not been properly approved
It's correct that the Pfizer coronavirus vaccine has been given an "estimated study completion date" in January 2023. 
But Professor Collignon has assured that ongoing research is normal practice, and it would be more concerning if it wasn't being done.
"I don't imagine we will see a termination of studies even in 2023," he said.
"The reason for doing that is not because we are expecting a lot, but if you don't do that, then people are worried."
Researchers will also be looking to confirm how long antibodies from the vaccines last, and find some clarity around booster shots.
"So far it's looking good, they work against the new variants and the antibodies are there six months or even twelve months into it after you've been given the vaccine, but that's ongoing research," said Professor Collignon.
MYTH: There's a microchip inside the vaccine
On this, Professor Collignon is emphatic: "There is no microchip in any of the vaccines".
"You couldn't make one small enough to do it, for starters," he added.
Latest & Breaking Australia News Today Headlines: More Updates