Australia News
National Cabinet to consider fast-tracking COVID-19 jabs for over 50s during Thursday meeting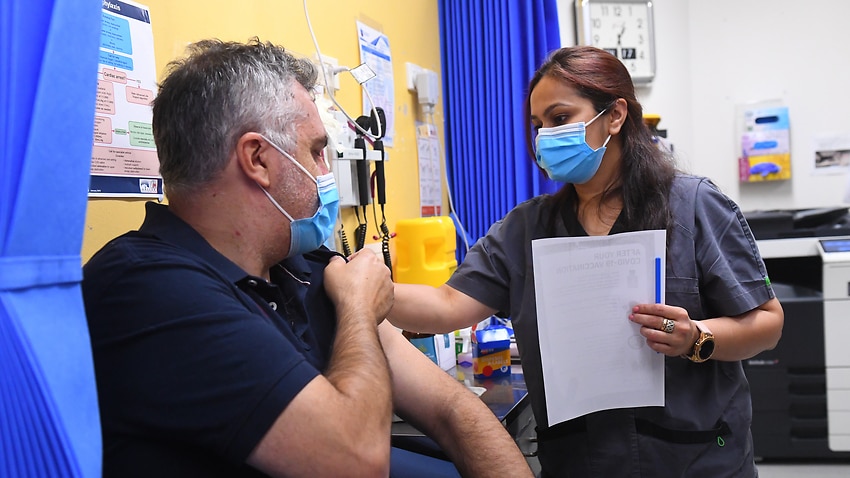 News Today
||
Headlines Today
A National Cabinet meeting is expected to sign off on changes to the COVID-19 vaccination rollout as the Australian government works to accelerate the stuttering program. 
State and territory leaders on Monday agreed in-principle to bring forward vaccines for those aged over 50 and to create more-state-run mass vaccination hubs to speed up the rollout.  
The group is meeting for the second time this week on Thursday, as the federal government attempts to reset the program to address logistical issues over the sourcing and supplying of vaccines. 
Speaking ahead of the meeting on Thursday, NSW Premier Gladys Berejiklian expressed support for a less structured approach to accelerate the vaccine rollout. 
"I have always argued that we should be less rigid in the way we rollout the vaccine and I stand by that but we've also got to make sure we follow the health advice," she told reporters. 
"We have capacity here to do more if we get those doses – but we also have to aware that for NSW our priority is really vaccinating those key workers and their families."
GPs have been tasked as the main delivery point for vaccinations for people aged 50 and older, but states and territories are considering options to supplement the rollout through expanded state vaccination centres.
There has been broad concern about the speed of the rollout and vaccine supply shortages, prompting some states to push for the introduction of the mass vaccination sites to accelerate the rollout. 
Ms Berejiklian on Thursday said the NSW government is hoping to have their max vaccination hubs running by mid-May.
"Of course, it also depends on the doses that we have available to us," she told reporters. 
Victoria on Sunday announced it was opening three mass vaccination hubs focusing on those Australians who have been prioritised for the shots. 
Queensland says it won't shift to mass vaccination centres until bulk supplies can be guaranteed, which it does not expect until the final three months of the year.
The vaccination program topped 1.7 million jabs on Wednesday, but concerns persist over the delay in administering vaccinations to some of the most vulnerable communities in Australia.
An inquiry heard this week only 6.5 per cent of disability care facility residents have received their jab, despite them being included in the first priority group of the vaccine rollout.
There has also been concerns raised around the rate of vaccinations to aged-care facilities.
The federal government has blamed delays in the international delivery of vaccines as well as new evidence about AstraZeneca vaccine links to blood clots for the slowness of the rollout. 
The Australian Technical Advisory Group on Immunisation recently recommended Pfizer as the preferred vaccine for people under 50, causing a major disruption to the vaccination program. 
The renewed biweekly national cabinet meetings were called by Prime Minister Scott Morrison in an effort to the vaccination rollout back on track. 
With reporting by AAP.
Latest & Breaking Australia News Today Headlines: More Updates