Australia News
OPA-cize! The Australian made dance classes getting people fit the Greek way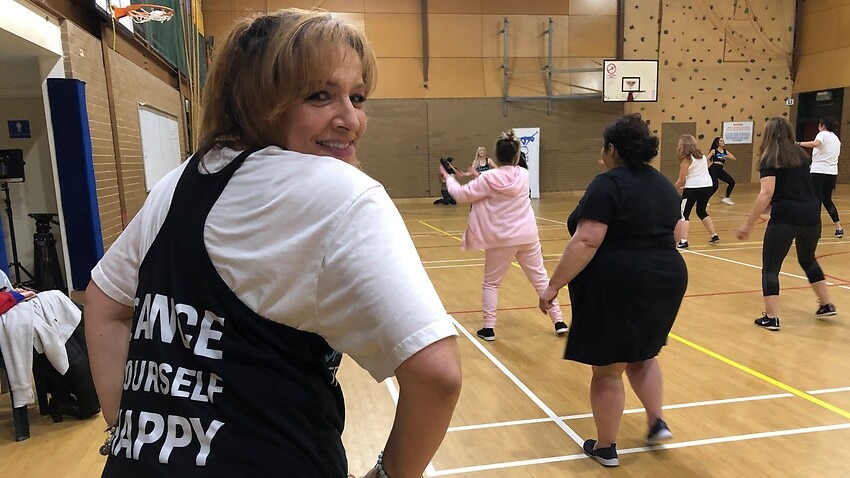 News Today
||
Headlines Today
Throwing a hand into the air, Kathy Skettos yells 'opa!' as she takes her place at the front of a large hall in Melbourne's southwest.
Dozens of women dressed in activewear and T-shirts reading 'dance yourself happy' stand waiting, as the Greek music begins to play.
Arms held aloft, Kathy steps to the side, crossing her feet over and over again to the rhythm of the bouzouki (a type of lute popular in Greece), pausing every few beats to clap, cheer and encourage the class to follow along.
She's loud, energetic and dances with an enthusiasm that compels those watching to take her lead.
This is OPA-cize. It's part cardio, part disco, and according to Kathy, 100 per cent Greek.
"Some of these songs are the ones we grew up with that we bring back, and we add the Greek moves and the daggy aerobics fitness into it, and it works – it's a great combination," she says. 
Kathy was born in Australia to Greek and Greek-Egyptian parents, she describes her upbringing as "very very Greek".
"My parents embraced the Aussie way of life but they were still very Greek," she says.
"My sister, in particular, loved everything Greek; Greek music, Greek lifestyle, and we used to clash about this. I used to say, 'can you be a bit more English? We live in Australia.'"
Her sister Mary was the inspiration behind OPA-cize. She died suddenly of heart failure in 2015.
At the time, Kathy was a Latin fitness instructor.
To honour Mary, Kathy designed a Greek dance class to reach women who didn't feel comfortable at the gym, thought they were too uncoordinated for an exercise class, or struggled with depression or isolation.
OPA-cize was launched as a one-off event, but quickly found a niche in the competitive fitness industry.
"Before too long I'd sold 300 tickets to this one night and I said to my husband 'I think there's the potential for a business here – this is crazy the reaction I'm getting.'"
After starting with just one class in a Sydney hall, OPA-cize is now taught in nearly every state and territory in Australia.
Dancing to modern and traditional Greek music, participants come from all walks of life.
OPA-cize program specialist Valerie Mustafay teaches in Brisbane. She says the class has helped her reconnect with her Greek roots and she brings her non-Greek friends along for the ride.
"Initially people are a bit hesitant because they're thinking 'what is this?' Until they get through the door, then I find 99.9 per cent of people come back because they love it so much," she says.
It's also created an opportunity for second and third-generation Greek migrants to learn more about their language and culture.
Dora Stankovic, an instructor in Melbourne's southwest, says she was taught to dance by her father. Now she's passing that tradition on to her daughter through OPA-cize.
"I think I would've liked Dad to see Dahlia dance, but just to show her the love of my language and our appreciation of it and just to understand the beauty behind it."
Dahlia, who teaches alongside her mother, says the Greek music and the Greek words spoken in class have helped her learn the language of her grandparents. 
"Before I started this, I had little to no knowledge of the Greek language and now I've picked up so much."
As well as becoming a hit in Australia, Kathy says OPA-cize has been taken up in the US, Canada, the UK, Switzerland, Germany and Japan in recent years.
It's a success she attributes to her sister.
"I'm blown away. I look over my shoulder to see who this person is who created OPA-cize. I don't believe it's me. I love the program, it is wonderful, and I credit it all to Mary."
Classes went online during the COVID-19 lockdowns but are now back. OPA-cize also runs a seniors class for those aged 65-85, and this year, OPA-cize in the water was launched, called Aqua-cize.
While it's marketed as a 'have fun, get fit' style of aerobics, instructor Sofie Karas says it's much than an exercise class.
"Even if you don't know the steps, even if you can't follow the instructors, everyone has so much joy for that hour. It's a great escape, a great outlet for everyone and they just love it."
It's an environment that instructor Tina Marmagelos says is accessible for everyone.
"You feel like you're accepted – doesn't matter what shape, size, age you are, what nationality – we're on a dancefloor dancing together."
And Kathy says amid the noise and a lot of laughs, new friendships are formed. 
"Greeks are just that way inclined and our classrooms are no different. Everyone is welcome at OPA-cize – it's not exclusive, it's inclusive – and that's my biggest message."
Latest & Breaking Australia News Today Headlines: More Updates