Australia News
Peter Dutton appears to respond to wrong petition in another blow for families separated by travel ban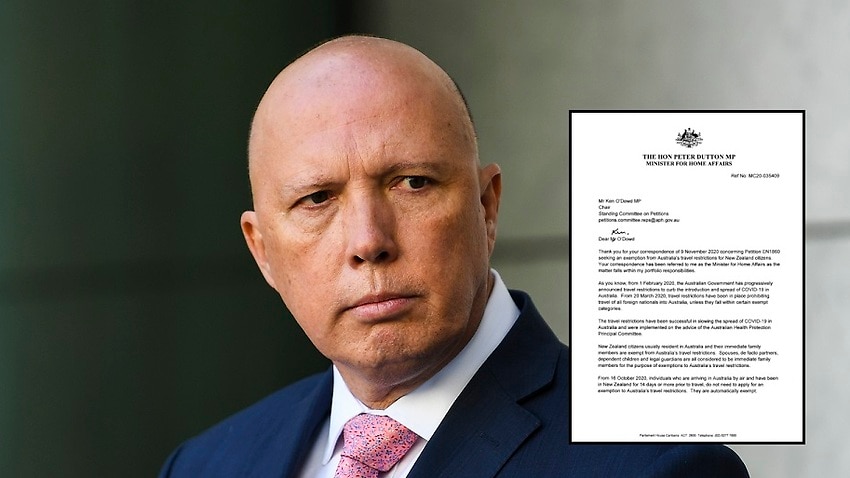 News Today
||
Headlines Today
Australians campaigning to change a travel rule impacting separated families have been dealt another blow, after receiving Home Affairs Minister Peter Dutton's formal response to their parliamentary petition. 
More than 11,000 people signed the petition seeking to allow overseas parents to be considered the "immediate family" of Australian citizens or permanent residents, so they can enter the country under COVID-19 travel rules.
The response from Mr Dutton that was uploaded to the Parliament House website on Monday came more than three months after the closing date for signatures, but appeared to address a different petition.
"So not respect at all, after almost 12,000 people have been waiting for this response over three months."
Mr Dutton's response appeared to reference petition EN 1870 regarding border exemptions for New Zealanders in relationships with Australians, rather than EN 1860, which relates to the parent rule.
'How long do we need to wait?'
Ms Greenfield has been separated from her parents, who are yet to meet their first granddaughter as they have been prevented from travelling to Australia from Peru.
She is now planning to apply for an exemption to travel to Peru, but says she fears it will pose a health risk to her family. "How long more do we need to wait for something? We have nothing … we have uncertainty, that's all we have," she said.
"You can see how desperate we are. Who wants to travel right now? Just desperate people."
Ms Greenfield said affected families had been very upset and frustrated for many months, and when they opened Mr Dutton's letter on Monday, they wondered if it was a joke.
While advocates already know the government won't be changing the rule, Ms Greenfield said they wanted the formal response to support further advocacy.
"There is no respect at all to the migrant families. Minister Peter Dutton can't even take the time to answer to that petition properly, and makes these mistakes," she said.
Labor MP Julian Hill said it was "beyond ridiculous" that the minister "can't even answer the right petition".
"it's basic courtesy and human decency to give people an honest, and hopefully thoughtful, response," he told SBS News.
Mr Dutton's office has been contacted for comment.
Latest & Breaking Australia News Today Headlines: More Updates