Australia News
Sydney lockdown protest appears to fizzle out amid large-scale police operation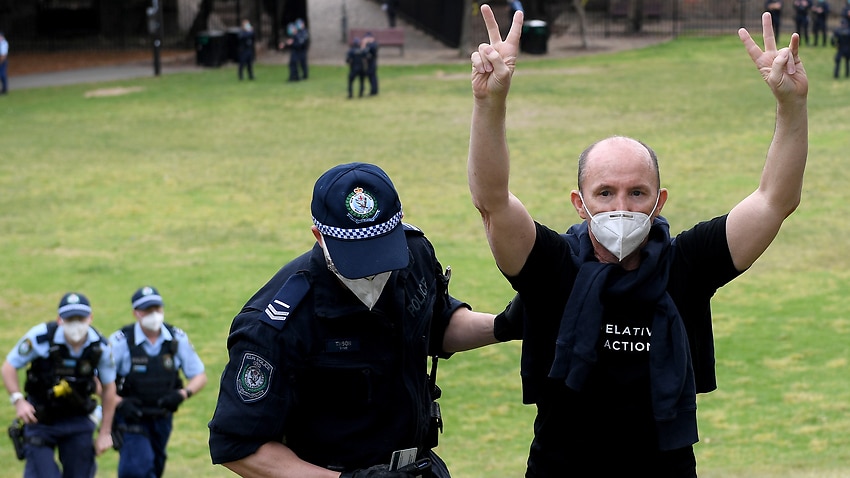 News Today
||
Headlines Today
"A high visibility police operation is currently underway in the Sydney CBD," NSW Police said shortly after 11am.
"A heavy police presence is on all major roads leading into the CBD. Police urge motorists to avoid the area."
Large numbers of police were deployed throughout the city, and were seen moving would-be demonstrators along from public areas. 
However, come mid-afternoon, there was no evidence of large-scale protests anywhere in the city, and eyewitnesses in the CBD said police had arrested a small number of people who had attempted to protest.
The Sydney CBD is seen at police officers patrol Sydney Park in order to prevent an anti-lockdown protest. Source: AAP
---
The same could not be said for Melbourne, where police unleashed capsicum spray on hundreds of protesters who defied the city's stay at home order.
Earlier, NSW Minister for Police and Emergency Services David Elliott warned the would-be demonstrators to stay home.
"There is no doubt that these protests are a risk to public health – for the community, for police as well as for the individual health of the protesters themselves," Mr Elliott said.
"We've seen past protesters end up contracting COVID-19, so anyone who is still considering protesting needs take a good hard look at themselves."
Police apprehend a man ahead of a planned protest at Sydney Park. Source: AAP
---
NSW Police Deputy Commissioner Mal Lanyon said the operation was launched in response to social media posts about the protests, as has happened on multiple occasions throughout the state's three-month-long lockdown.
"We are continuing to monitor online commentary … and have put in place an extremely mobile police operation with significant resources, to respond to whatever situation we are faced with," he said.
"Engaging in an unauthorised protest does not comply with the public health order; and anyone choosing to attend or participate for that purpose should expect to be met by the police and face penalties ranging from a fine to being arrested."
More to come.
Latest & Breaking Australia News Today Headlines: More Updates