Australia News
'Tip of the iceberg': Online food delivery platforms involved in dozens of NSW safety incidents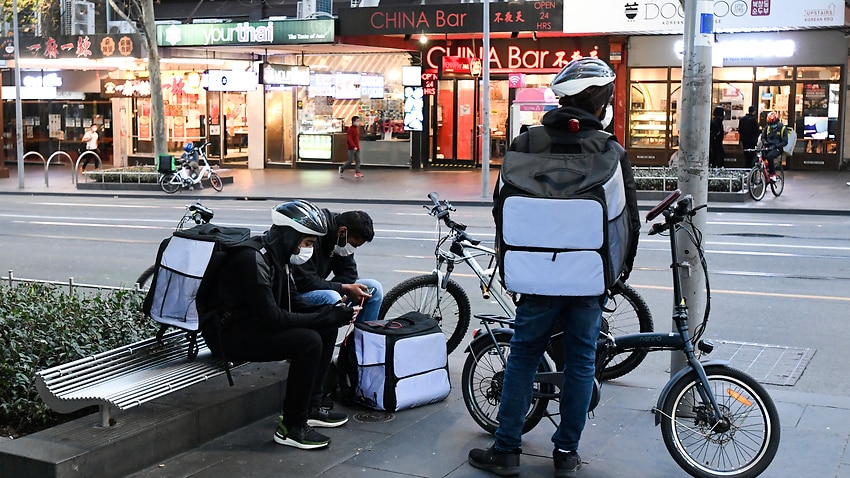 News Today
||
Headlines Today
New figures reveal online food delivery platforms have been involved in more than 65 safety incidents in NSW in the past 12 months. 
The lack of safety within Australia's food delivery industry is under intense scrutiny after a spate of deaths involving delivery riders. 
Figures released to SBS News show Uber Eats and Deliveroo have each been the subject of three safety complaints in the past 12 months. 
The Transport Workers' Union, which has been a vocal critic of the lack of safety within the industry, says the figures likely represent the "tip of the iceberg". 
"Clearly this shows what we have been saying, and what the recent deaths show, is that there is a crisis in the industry, we can't sweep this under the carpet as a community," TWU national secretary Michael Kaine told SBS News.
"We think that is probably the tip of the iceberg, many of these companies are not aware of their responsibility to report to SafeWork," he said. 
"We think there is actually probably more safety incidents which should have been reported. And probably even more deaths that should have been reported."
SafeWork NSW said food delivery platforms were currently being probed in six active safety investigations. 
The workplace regulator would not say how many of the more than 65 incident notifications related specifically to delivery riders. 
It also refused to name the companies that were the subject of the six active investigations. 
Since September, five delivery workers have died on Australian roads. Four of the deaths were in Sydney. 
The NSW state government recently set up a task force to investigate the deaths.
It will be led by SafeWork New South Wales and Transport for New South Wales and will examine whether any avoidable risks may have contributed to the deaths and whether there are improvements that need to be made to enhance safety.
Deliveroo, one of Australia's major food delivery platforms, said it took its safety obligations extremely seriously. 
"Deliveroo takes its obligations under the SafeWork Australia Work, Health and Safety Act extremely seriously and fulfils its duties, including the reporting of incidents, responsibly and diligently. Any suggestion we do not is untrue and misleading.
"There is no doubt that the issues of road safety are complex and require the input of experts, industry and government to build solutions. We are committed to working with stakeholders to achieve this."
Uber Eats did not respond to a request for comment about the SafeWork figures. 
Mr Kaine said while the SafeWork investigations were welcomed, they were "post incident" investigations and didn't address the root causes of safety concerns.
"Something has already occurred, someone is dead, someone is injured, then they come in and investigate. What we really need is a system put in place that looks at this sector and reforms it," Mr Kaine said.
The union is calling on the federal government to establish a tribunal to investigate the root causes of safety concerns, such as underpayment of workers and pressures to deliver within certain time frame, as well as contracting and insecure work arrangements.
In response to questions sent by SBS News earlier this week the Industrial Relations Minister Christian Porter said workplace health and safety was largely a state and territory issue.
"While the Commonwealth has no direct authority to make changes in this area, it can play a leadership role on issues such as this. That is why I intend to have rider safety added as priority agenda item for the next meeting of national work health and safety ministers," Mr Porter said.
But Mr Kaine said that Mr Porter was just "passing the buck" and that the federal government had the power to set workplace laws which were copied by each state and territory jurisdiction.
Latest & Breaking Australia News Today Headlines: More Updates