Australia News
Victoria posts 1,965 new local COVID-19 infections as cases jump in Mildura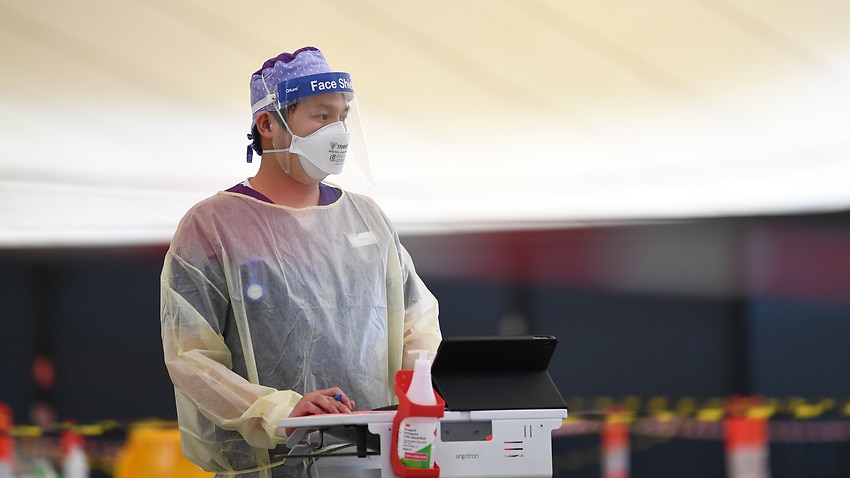 News Today
||
Headlines Today
Mildura will be under the same stay-at-home rules as Melbourne, excluding the curfew, with a 15-kilometre travel limit and a ban on visitors at people's homes.
Ms Matson acknowledged the decision to enter lockdown was made "quite late into the evening" on Friday. 
"But as always, we are making these decisions on the latest advice and the latest data at the time and if there was any inconvenience caused by our late notice, we do apologise for that," she said. 
"But we will never apologise for taking the right public health actions to protect Victoria and Victoria's community, and in this instance, the community in the Mildura area." 
Another five deaths were reported on Saturday, including two from Moreland, a woman in her 90s and a man in his 70s, a Banyule man in his 60s, a Hobsons Bay man in his 60s and a Hume man in his 50s. 
There are currently 578 people in hospital with the virus, with 117 in intensive care, 83 who require ventilation.
Minister for Government Services Danny Pearson said 85 per cent of the over-16 population have now received their first dose of the COVID-19 vaccine.
"And 57 per cent have received a second dose which is a fantastic effort," he said. 
In Melbourne, 735 COVID-19 cases were recorded in the northern suburbs, in particular in the local government areas of Hume and Whittlesea. 
In the city's west, there were 464 new cases, many of those in the Melton area. There were 533 new infections recorded in the south-east. 
Routine testing by Virgin Australia has also identified a positive case in a cabin crew member who flew on at least six domestic flights while potentially infectious. 
The flights between Melbourne, Adelaide, Sydney and Newcastle on 4 to 6 October have been listed as close contact sites and passengers will be notified. 
Thousands to be released from quarantine
Meanwhile, people considered secondary contacts of a COVID-19 case are no longer required to isolate in Victoria as the state moves towards living with the virus. 
Text messages were sent on Saturday to 16,000 people advising them of the changes and effectively releasing them from quarantine. 
Primary contacts, who have directly engaged with a positive case, will still need to get tested and isolate for 14 days.
Secondary contacts are the associates of a 'primary contact' and will no longer be managed by public health units. 
"This has been effective in Melbourne for a while, but now this will be occurring statewide," Ms Matson said. 
"There is a very important difference between someone who is known to have come into contact with a confirmed case and someone who has come into contact with that primary close contact. The risk is different. So, this just recognises the changing risk and the changing environment that we're in.
"We are no longer chasing COVID zero in Victoria, and we have 17,000 active cases in Victoria at this point in time."
Support for Victoria's creative industries 
Mr Pearson also on Saturday announced an extra $15 million in funding for the the state's arts and creative industries. 
"$10 million of this will target key small to medium creative organisations, much loved arts festivals, and the state's major performing arts companies," he said. 
"It will ensure they can continue to operate and employ people, engage artists and plan a pathway to recovery as restrictions ease."
A further $5 million will go directly to individual artists, creative workers, collectives and micro businesses, many of who Mr Pearson said have "fallen through the gaps" of other support programs. 
"This funding will be delivered through a new streamlined round of the Sustaining Creative Workers Program and it will contain grants of up to $5,000 for practitioners, including freelancers and subcontractor contractors," he said. 
The grants are simular to a program run in 2020 and applications can be made on the Creative Victoria website.
Meanwhile, Greater Shepparton and Moorabool Shire exited their lockdowns at 11.59pm on Friday, with rules now matching the rest of regional Victoria including masks indoors and out, and a ban on home gatherings. 
With AAP. 
Latest & Breaking Australia News Today Headlines: More Updates