Australia News
Victorian government strikes deal to pass its controversial pandemic legislation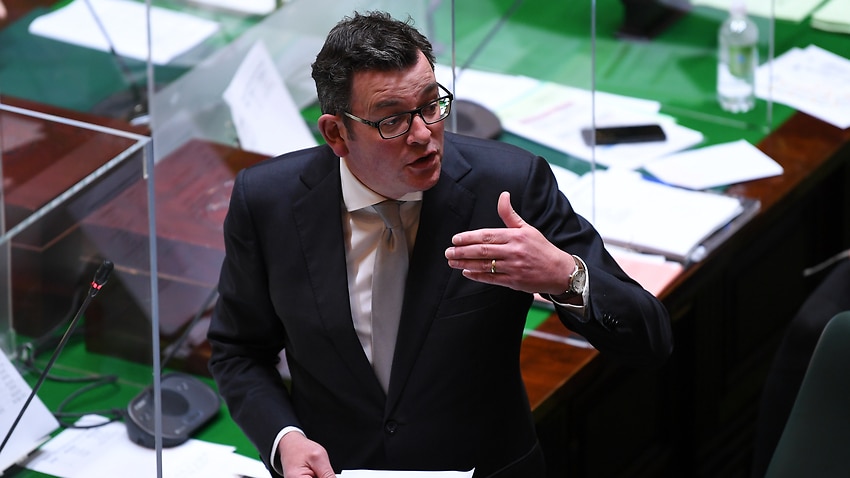 News Today
||
Headlines Today
Voting on the bill was delayed by the attorney-general to allow for negotiations with key crossbenchers – Transport Matters MP Rod Barton and Sustainable Australia's Clifford Hayes – in an effort to break a deadlock.
Overnight, the state government agreed to six amendments after securing a vote on the bill from Mr Barton.
The amendments include the creation of a cross-parliamentary committee as soon as practicable after a pandemic declaration is made, the committee can also recommend the disallowance of pandemic orders.
Parliament will be able to disallow pandemic orders by an absolute majority in a joint sitting of both houses, under the changes.
Additionally, a two-year review, carried out by independent legal and health experts, will start within 18 months of a pandemic declaration.
Protesters are seen during a demonstration against the pandemic bill outside the Victorian State Parliament, in Melbourne on 18 November, 2021. Source: AAP
---
A new independent merits review scheme for detention orders will replace the current Detention Review Officer Panel, and the amendments will remove the aggravated offence clause.
The changes will also clarify that complaints about detention can be made to the Victorian Ombudsman and parliament or a committee can refer a matter for investigation.
Mr Barton said he would have preferred stronger changes to the bill around the joint sitting of the houses, but said "we can't have everything".
He said the government had been brought around to the changes "kicking and screaming".
"What we've done is fundamentally change the bill," he told 3AW.
"People are are going to be better off, there's more clarity, we've curbed the powers of the premier."
He said he met with several experts, including Victorian Ombudsman Deborah Glass, and tried to meet opposition leader Matthew Guy last week but was told he was too busy.
The other key crossbencher, Mr Hayes, said he would not support the amended bill as he believes the changes don't go far enough in protecting parliamentary oversight, human rights, civil liberties and fairness.
"A particular component that I was consistently opposed to was the weak disallowance provision that would see a disallowance vote put to a vote in a joint sitting; this is an impossibility due to the government's strong majority in houses," he said in a statement.
Attorney-general Jaclyn Symes said the bill would be put to a vote later on Tuesday, and acknowledged the laws did not meet everyone's demands.
"What we have managed to achieve is a piece of legislation that is going to be the best in the country," she said outside parliament.
"I suspect other jurisdictions will be looking to Victoria calling for this type of framework to manage a pandemic in their states."
Mr Guy said the government had tried to "ram through" the laws and had treated negotiations like a "partisan political game".
Latest & Breaking Australia News Today Headlines: More Updates