United Kingdom
Uighurs: UK sanctions four Chinese officials over 'appalling violations' of human rights in Xinjiang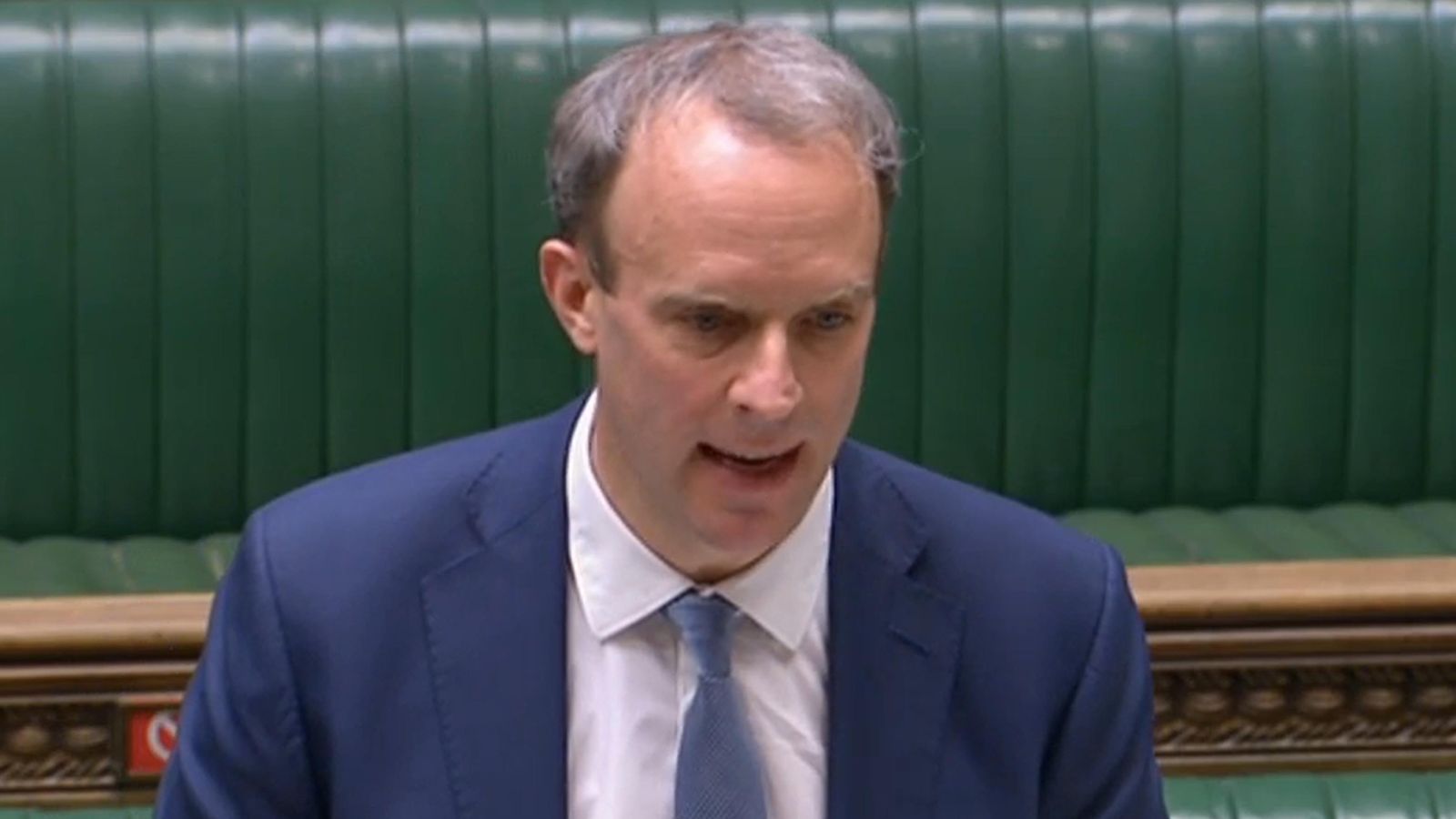 Today News
||
UK News
Four Chinese officials will be sanctioned by the UK over "appalling violations" of human rights against Uighur Muslims in Xinjiang province, the foreign secretary has announced.
Sanctions have also been placed on an official body – Xinjiang Production and Construction Corps Public Security Bureau.
The US, Canada and the European Union have also introduced sanctions, with the UK imposing travel bans and asset freezes.
Dominic Raab said the evidence points to a "highly disturbing programme of repression" in Xinjiang and the world "cannot simply look the other way" as "one of the worst human rights crises of our time" unfolds.
Mr Raab told the Commons that the "evidence is clear as it is sobering" when it comes to what is happening in Xinjiang, describing it as the "largest mass detention of an ethnic or religious group since the Second World War".
The foreign secretary said: "It includes satellite imagery, survivor testimony, official documentation and indeed leaks from the Chinese government itself, credible open source reporting including from Human Rights Watch and Amnesty International, visits by British diplomats to the region that have corroborated other reports about the targeting of specific ethnic groups."
Mr Raab added: "Expressions of religion have been criminalised, Uighur language and culture discriminated against on a systematic scale.
"There is widespread use of forced labour, women forcibly sterilised, children separated from their parents.
"An entire population subject to surveillance, including collection of DNA, use of facial recognition software and so called predictive policing algorithms."
Referencing the concerted international action, Mr Raab said: "I think it's clear that by acting with our partners, 30 of us in total, we are sending the clearest message to the Chinese government that the international community will not turn a blind eye to such serious and systematic violations of basic human rights and that we will act in concert to hold those responsible to account."
Amid this backdrop, MPs are set to vote on amendments to the Trade Bill aimed at stopping trade pacts with countries involved in genocide.
Labour's shadow foreign secretary Lisa Nandy referenced this in her response to the foreign secretary, accusing her opposite number of a "grubby" and "cynical" move designed to placate Conservative backbenchers.
"It is designed to send a signal, first and foremost, not to the Chinese government but to his own backbenchers," she told MPs.
The Government's flawed and inconsistent approach to China and to human rights has never been more apparent than today: sanctioning officials responsible for persecuting the Uyghur in the afternoon and whipping MPs to vote against the genocide amendment in the evening.

— Lisa Nandy (@lisanandy) March 22, 2021
"It is motivated primarily by a desire to protect the government not the Uighur.
"For all the talk of being a force for good in the world, it is only when this government is staring down the barrel of defeat that it discovers a moral centre.
"Only now that the US and EU have acted has he finally moved to take this step."
Layla Moran, foreign affairs spokesperson for the Liberal Democrats, also criticised the government.
"Dominic Raab is still refusing to call what is happening to the Uighurs a genocide. These sanctions as far as they go are welcome, but there is more to do," she said.
"The Liberal Democrats are clear that human rights must always come first – that's why the Genocide Amendment to the Trade Bill is so vital."
UK news Today Latest stories & updates More Headlines