Deportes
José Pedraza se apunta un dominante triunfo sobre Mikkel LesPierre en Las Vegas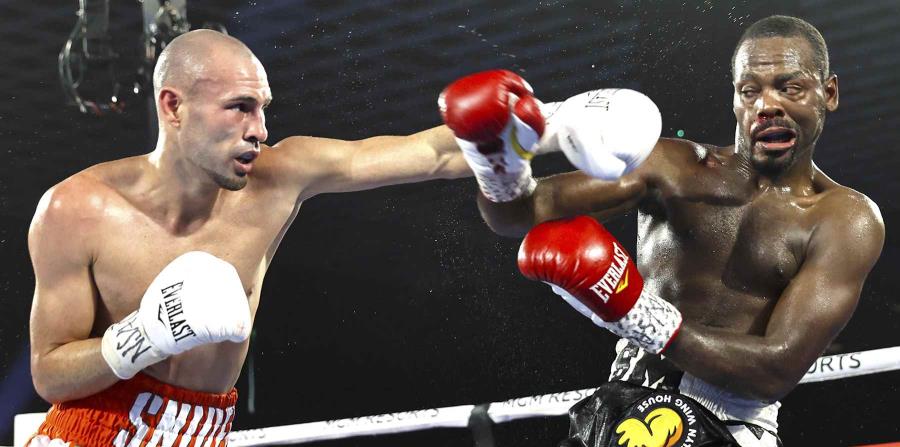 Ultimas Noticias
||
El dos veces campeón mundial puertorriqueño José "Sniper" Pedraza pasó un susto en el quinto asalto tras una caída que luego fue invalidada tras una revisión en medio de la pelea, para derribar dos veces a Mikkel LesPierre y salir por la puerta ancha en el combate estelar de la cartelera de verano de Top Rank en el hotel MGM Grand en Las Vegas.
La victoria para el cidreño fue por decisión unánime con los jueces viendo la pelea a su favor 100-88, 99-89 y 99-89 en una reyerta de las 144 libras a 10 asaltos.
Pedraza arrancó agresivo el combate, haciendo sangrar temprano a LesPierre. Parecía que el boricua tenía prisa en acabar el pleito ya que en el segundo episodio lanzó 35 puños en un minuto mientras que LesPierre no bajaba la guardia ante la ráfaga. Para la cuarta vuelta, la agresividad de Pedraza tenía en aprietos a LesPierre, quien pudo respirar gracias a la campana.
Target practice for the Sniper ??@sniper_pedraza looking sharp in early rounds. #PedrazaLesPierre | LIVE on ESPN pic.twitter.com/3lGtlxTtQn

— Top Rank Boxing (@trboxing) July 3, 2020
En el quinto asalto, un golpe a cuerpo de LesPierre llevó a la lona a Pedraza, pero la Comisión de Boxeo de Nevada detuvo luego el combate por dos minutos para revisar y determinar que la caída fue a causa de un tropezón.
Después del susto, Pedraza respondió con un gancho de izquierda en el mismo asalto para derribar a LesPierre, quien cayó nuevamente en el décimo y último asalto.
Beautiful left hand from Pedraza. Les Pierre knockdown was reviewed and taken away as it was a trip #PedrazaLesPierre??: @trboxing pic.twitter.com/JtBucQhJTb

— HYPEBOXÉ (@hypeboxe) July 3, 2020
Pedraza mejoró a 27-3 con 13 nocauts y LesPierre vio su récord caer a (22-3-1 y 10 nocauts.
Antes de la pelea, Pedraza hizo entrada al cuadrilátero sin música en honor a la madre de su entrenador y padrastro Luis Espada, fallecida la semana pasada.
.@sniper_pedraza honors a loss in his family with a silent walkout in tonight's main event ??#PedrazaLesPierre | LIVE on ESPN pic.twitter.com/nGfqAHOiQy

— Top Rank Boxing (@trboxing) July 3, 2020
La pelea entre Pedraza y LesPierre originalmente iba a celebrarse el pasado 18 de junio pero un positivo a COVID-19 en el grupo de estadounidense pospuso la reyerta.
Pedraza no peleaba desde el pasado septiembre de 2019, cuando cayó derrotado por decisión unánime contra José Zepeda en su debut en la 14o libras.
Últimas Noticias En Español Mundo, EE.UU., Latino América y mucho más.
Noticias En Ingles || Ultimas Noticias || América Latina Noticias || Deportes Noticias || Negocios Noticias ||
Estados Unidos || Entretenimiento Noticias || Mundo Noticias || Salud Noticias || Tecno Noticias

Source