Entretenimiento
Ringo Starr, la estrella de The Beatles, dueño de un gran carisma y ritmo, cumple 80 años este martes
Ultimas Noticias
||
Considerado por muchos fans y conocedores como el integrante más carismático y accesible de The Beatles, Ringo Starr cumple mañana 80 años. No podía faltar una celebración digna de su estatus, y por eso dará un concierto benéfico vía streaming. Con una serie de actuaciones desde sus respectivos hogares, el homenajeado, Paul McCartney, Sheryl Crow, Joe Walsh, Ben Harper, Gary Clark Jr. y otros invitados brindarán un show especial, desde las 19:00 horas de México, por YouTube.
Las donaciones recabadas durante el evento se destinarán a causas que apoya el baterista, como Black Lives Matter Global Network, MusiCares, The David Lynch Foundation y WaterAid.
Capitán del 'Submarino'
-Richard Starkey Jr., su nombre real, nació en Liverpool, Inglaterra, en 1940 y de 1962 a 1970 fue baterista de The Beatles; ingresó a la banda en sustitución de Pete Best y la alineación definitiva, John Lennon, Paul McCartney, George Harrison y Ringo Starr, entraría en la leyenda.
-Hijo de Elsie Gleave Parkin y Richard Starkey, quienes se divorciaron, creció en un barrio obrero. A los 13 años, una enfermedad pulmonar (pleuresía) lo llevó constantemente al hospital; dicho padecimiento lo alejó de la escuela para siempre y entró a trabajar como mensajero en el tren de Londres. También fue aprendiz de ingeniería antes de sumarse a su primera banda, The Eddie Clayton Skiffle Group, en 1959, para luego sumarse a Rory Storm and the Hurricanes.
-Durante el vertiginoso ascenso al estrellato de los Fab Four Ringo dejó su huella, como intérprete o autor, en temas ya clásicos, como "With a Little Help from My Friends", "Yellow Submarine", "Don't Pass Me By" y "Octopus's Garden". No obstante, su talento permaneció eclipsado por la mancuerna Lennon-McCartney.
-Starr debutó en el cine con Los Beatles en "A Hard Day's Night" (1964); un año después estuvieron en "Help!". A partir de entonces actuó en otros proyectos fílmicos, como "El Cavernícola", rodada en México en 1981, donde conocería a Barbara Bach, su esposa. Además, participó en un conocido comercial de Pizza Hut junto a The Monkees en 1995.
-En 1971, con The Beatles, recibió el Óscar a la Mejor Música o Canción Original y el Grammy al Mejor Tema Original Escrito para una Película o Televisión por "Let It Be", documental dirigido por Michael Lindsay-Hogg.
-También como cuarteto fue inducido, en 1988, al Salón de la Fama del Rock and Roll. Y en 2015 hizo lo propio gracias a su trabajo como solista, tal como se había hecho con sus ex compañeros.
-Fundó, en 1989, el concepto Ringo Starr & His All-Starr Band, supergrupo en constante renovación por la cual han desfilado invitados de leyenda, como McCartney, Peter Frampton, Joe Walsh (Eagles), John Entwistle (The Who), Steve Lukather (Toto), Andy Summers (The Police), Ginger Baker (Cream), Colin Hay (Men at Work), Greg Lake (Emerson, Lake & Palmer), Richard Marx, Sheila E., Billy Preston y, por supuesto, su primogénito, Zak Starkey. Dicha agrupación se ha presentado en México.
-El percusionista nació zurdo, pero su abuela pensó que ese era un defecto e intentó convertirlo en diestro. Ser zurdo fue su don: siempre ha tocado la batería como lo haría si tuviera más fuerza en la mano derecha (con la tarola del lado izquierdo), un sonido único apodado "Ringo".
-En 2011, los lectores de Rolling Stone eligieron al británico como el quinto mejor baterista de la historia, sólo detrás de John Bonham (Led Zeppelin), Keith Moon (The Who), Neil Peart (Rush) y Dave Grohl (Nirvana, hoy líder de Foo Fighters).
-Las adicciones también afectaron a Ringo. Durante 20 años vivió alcoholizado y molesto por la desintegración de The Beatles, razón por la que es incapaz de recordar varios pasajes de su vida en los 70 y 80.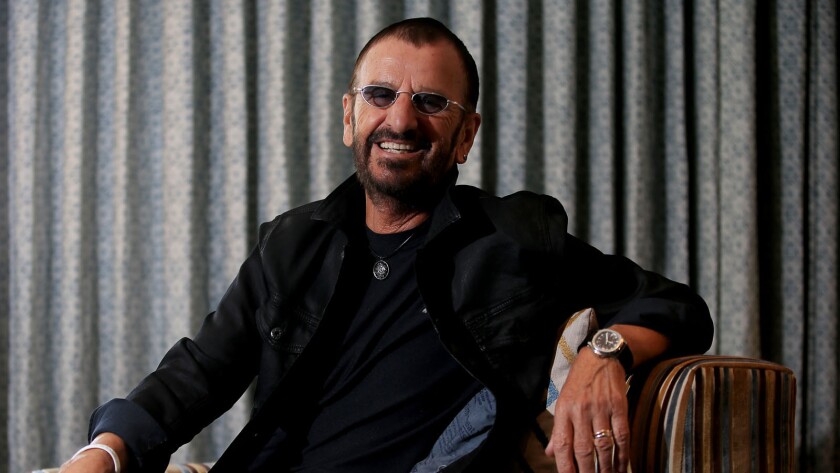 LAS FRASES DE RINGO STARR
"Nunca estudié nada realmente. No aprendí batería. Yo me uní a las bandas y cometí todos los errores en el escenario".
"La gente sólo me ve como un Beatle, pero mis amigos me ven como una persona completa. Así es como funciona la vida y ya no me molesta".
"Primero, y sobre todo, soy un baterista. Después soy otras cosas, pero no toco la batería para hacer dinero".
"Siempre he sido bueno para crear la melodía para un primer verso, pero luego de eso no puedo hacer nada. Me toma años, por eso soy tan lento".
Así es…
-350 millones de dólares es la fortuna que ha generado
-33 los filmes en que interviene, incluidos documentales
-20 álbumes de estudio publicados como solista
-13 sencillos en la lista Hot 100 de Billboard
Fuentes: Forbes, The Richest, NME, Billboard, Rolling Stone
window.fbAsyncInit = function() FB.init(
appId : '125832154430708',
xfbml : true, version : 'v2.9' ); ;
(function(d, s, id) var js, fjs = d.getElementsByTagName(s)[0]; if (d.getElementById(id)) return; js = d.createElement(s); js.id = id; js.src = "https://connect.facebook.net/en_US/sdk.js"; fjs.parentNode.insertBefore(js, fjs); (document, 'script', 'facebook-jssdk'));
Últimas Noticias En Español Mundo, EE.UU., Latino América y mucho más.
Noticias En Ingles || Ultimas Noticias || América Latina Noticias || Deportes Noticias || Negocios Noticias ||
Estados Unidos || Entretenimiento Noticias || Mundo Noticias || Salud Noticias || Tecno Noticias

Source