Sports
'It's been my dream since I was a little girl': Australia's Minjee Lee wins US Women's Open
News Post
||
News Now
:
Australia's Minjee Lee has won the US Women's Open, claiming one of the biggest women's golf tournaments ever. 
Key points:
Minjee Lee says the US Women's Open was the tournament 'she always wanted to win'
Starting the final round with a three-shot lead, Lee was never threatened as she carded a composed even-par 71
Lee is the third Australian after Jan Stephenson and Karrie Webb
Lee's four-shot victory has earned her the tournament's $US1.8 million ($2.5 million) winner's prize — the largest in women's golf history.
The win was Lee's second of golf's major championships after her victory at The Evian in 2021.
The WA native took a three-shot lead into the final round in the knowledge she would need to conquer the toughest conditions of the tournament to win.
But a birdie-birdie start quickly settled the nerves, as Lee extended the lead and never looked back.
"I'm speechless. I can't believe it right now," Lee said after completing her win.
"It's super special and such a great honour. It's been my dream since I was a little girl, this is the one I always wanted to win."
Bogeys on the fifth and seventh holes kept Lee in check, but with all her competitors struggling with the tough set-up at Pine Needles, her lead was never threatened.
A series of clutch par putts boosted the confidence, before a birdie at 13 got the party started.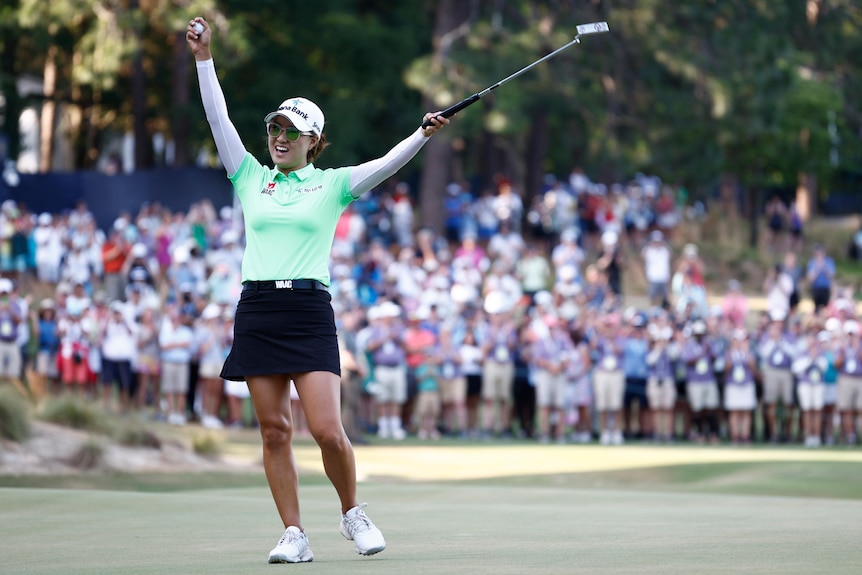 Lee added another birdie at the par-five 15th hole to briefly stretch her lead out to six shots, but a pair of bogeys ensured an even-par round and a four-shot win over runner-up Mina Harigae of the US.
Lee is the third Australian to win the US Women's Open after Jan Stephenson (1981) and Karrie Webb (2000 and 2001).
Relive the final-round action in our our live blog.
Live updates
Pinned
Leaderboard
Minjee Lee -13 (71)
Mina Harigae -9 (72)
Hyejin Choi -7 (70)
Key Event
Pinned
Minjee Lee is the US Women's Open champion!
The putt drops and Minjee Lee is our champion! The champagne is indeed out and flowing on the green as Lee is greeted with hugs by the likes of Hannah Green and Lydia Ko.
What more can you say about about Minjee Lee? Today and all week, she has shown a mastery and composure around this golf course that nobody else has been able to match. Only five players managed to come it at even-par or better today, but Minjee Lee – with all the pressure in the world on her shoulders – was one of them.
She stood up in the biggest moment of her career. Her play was nearly faultless. She didn't wait for others to slip up, she went out and won this tournament. A great moment in Australian golf and Australian sport.
Congratulations Minjee Lee
It feels like we've watched something special today. In real time we watched Minjee Lee become one of the elite players in world golf, not just because of her fantastic play, but because of her incredible mentality. It was just about faultless today, courageous and composed under the most intense pressure in the game.
It's been a treat to watch, and it's only just the beginning for Minjee Lee. Thanks so much for joining me this morning, and keep an eye out for all the reaction and analysis from this famous victory. Until next time, have a great day!
'The champion is Minjee Lee of Australia'
The gold medal is around her neck and the trophy is in her hands. The smile is wide enough to be seen from back home in Perth.
I'm speechless. I can't believe it right now. It's super special and such a great honour. It's been my dream since I was a little girl, this is the one I always wanted to win.
A popular winner
Amazing! Well done

-Joanne
Congratulations Minjee, what a wonderful round

-Bruce
Stunning golf from Lee! Well earned. Fabulous day for Australian Golf.

-Steve Falcon
An amazing champion good luck

-Lynette Holdsworth
Lee for par and US Women's Open victory
So Mina Harigae finishes up with par and secures a standalone second-place finish. She has played brilliantly, but has been beaten by something special.
And now Minjee Lee. Her moment arrives…
She misses the par putt. By a fair bit. Now for bogey and victory…
Lee for birdie at the 18th
It's a long putt, and it's a tricky putt. It's also a putt that doesn't matter a whole lot. She'll happily bash this one up the hill somewhere close and settle for a par.
First part done. Nice putt. She'll mark her ball, let Mina Harigae finish up and then come back and claim her glory.
Lee from the 18th fairway
Pin is off to the left of this green, but the dead centre would do just nicely for Minjee here.
And that's exactly where she goes. No need to take any risks. Minjee Lee hits the 72nd green and is a couple of putts away from officially being a US Women's Open champion.
FINALLY a smile breaks out across her face as she waves to the crowd… and maybe holds back a tear or two? This is a massive moment in her career, the win that truly takes her from good to great.
Lee on the tee at 18
She is two good swings away. Apart from a few jitters early on, Minjee has driven the ball beautifully today. She only needs one more solid one here.
And that is a thing of beauty. A magnificent golf swing produces another magnificent golf shot. The 18th fairway is found.
Lee for par at 17
Harigae finished off her par, so she's closing in on that second-place payday.
And Minjee Lee makes no mistake with that par putt! She will carry a five-shot lead into the final hole.
The champagne is on ice at Pine Needles and back home in Perth I'm sure.
Lee for birdie at 17
Not one she'll be expecting to hole, but she's in a good position to leave something close.
And that's basically what she does. It peels off to the left a little more than Lee would have liked, but the speed is good and she should be comfortable enough for her par.
Lee from the 17th fairway
That has turned out to be an outrageously good drive. She'll just be looking to keep something below the hole on the green here.
And that's what she does, albeit perhaps a little further below the hole than she might have liked. She hangs on to the front of the green and will have a long birdie putt to come.
I wonder if she's started thinking about lifting that trophy yet? Or cashing that cheque…
Lee on the 17th tee
A severe right-to-left dogleg to deal with here.
Lee pulls that one pretty badly, and for a hot second it looks like it's destined for the trees… but somehow it emerges past the corner unscathed and into the fairway. A lucky break from a bold (and slightly miscued) shot.
Lee for par at 16
Harigae just tidied up her par to remain two shots clear in second place.
Now Lee for par. Misses! She lips out and has to settle for bogey. Not ideal, but you can probably cop that given the circumstances.
Lee for birdie at 16
This would just be icing on the cake basically. Just rubbing it in. Just making a point.
A bit pacey and past the right edge. Par shouldn't be an issue for Lee from there.
Posted , updated 
Latest Sports Breaking News Today Headlines Check Below Links
Today News Post || USA News || NFL News || NHL News || NBA News || MLB News || Sports News Today

Source