El peso de Pablo Sandoval vuelve a llamar la atención en los entrenamientos de los Giants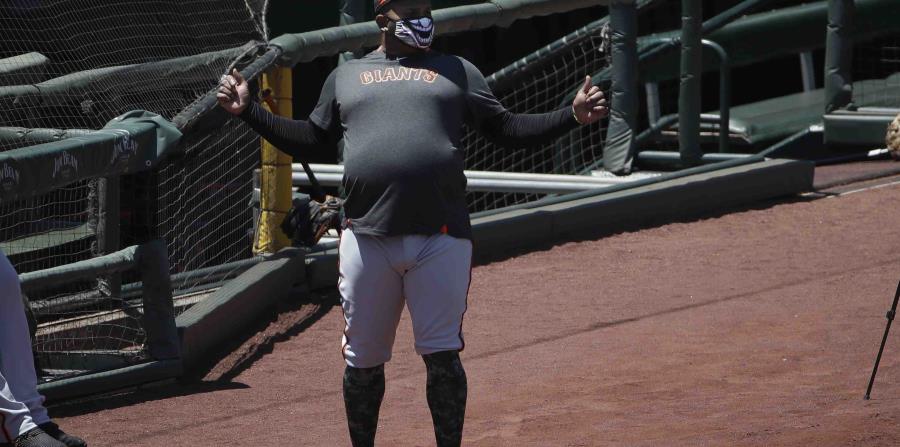 Ultimas Noticias
||
SAN FRANCISCO.- La contextura física y tamaño de cintura de Pablo Sandoval han vuelto a ser centro de polémica en la vuelta del béisbol de las Grandes Ligas.
El manager Gabe Kapler afirmó que los Giants de San Francisco están plenamente convencidos que el "Kung Fu Panda" estará en condiciones óptimos para aportar cuando la temporada se ponga en marcha a fines de este mes, a pesar de que luce con más peso que lo mostrado durante los entrenamientos de primavera hace cinco meses en Scottsdale, Arizona.
"La función de Pablo en este equipo es lo que ha estado haciendo en los últimos días y lo que ha hecho por esta ciudad y la comunidad en el pasado, y eso es dar una energía positiva, aportar hits oportunos y batear. Son cosas que creemos que él sigue teniendo la capacidad de hacer", dijo Kapler el domingo.
"Lo ha demostrado en este escaso tiempo. Guardo mucho aprecio a Pablo y entiendo lo que debe ser lidiar con este tipo de atención. Es algo que no se lo deseo a nadie", añadió.
El infielder venezolano de 33 años se sometió a una cirugía reconstructiva del codo derecho a inicios del pasado septiembre.
Pablo Sandoval is taking grounders at third base. His throws appear to have good carry. pic.twitter.com/Lrk5ltofyl

— Andrew Baggarly (@extrabaggs) July 4, 2020
Sandoval, quien en la guía del equipo aparece registrado con 5'11" y 268 libras, ha tenido altibajos con el peso a lo largo de su carrera. Pero siempre ha podido desplazarse bien en las bases y contribuir como un toletero ambidiestro.
Disputó 108 juegos la pasada campaña, siendo titular 36 veces en la tercera base y 15 en la primera. También se desempeñó como bateador designado en cuatro oportunidades, tarea que podría tener otra vez este año.
"Creo que lo que esperamos de Pablo es hacer las cosas necesarias que le permiten ser un excelente pelotero", dijo Kapler. "Se comprende que en el mundo actual nos enfocamos en el peso. Lo entiendo… En este caso particular, todos nos hemos percatado que Pablo está haciendo buen contacto y que sus tiros son eficientes".
Cuando arrancaron los entrenamientos de primavera, se temió sobre el tiempo que necesitaría Sandoval para estar en condiciones de jugar en el cuadro interior. Kapler señaló que el Jugador Más Valioso de la Serie Mundial de 2012 está cerca de ello. Sandoval bateó para .268 con 14 jonrones, 23 dobles y 41 remolcadas en 2019.
"Ha demostrado que está sano y eso es lo más importante", añadió Kapler. "No es nuestro primer bate. De Pablo Sandoval esperamos bateo de poder. Conectar la pelota. Sería el candidato ideal como bateador designado. Fildea limpiamente y tenemos presentes todas esas cosas y en esas cosas nos enfocamos".
Últimas Noticias En Español Mundo, EE.UU., Latino América y mucho más.
Noticias En Ingles || Ultimas Noticias || América Latina Noticias || Deportes Noticias || Negocios Noticias ||
Estados Unidos || Entretenimiento Noticias || Mundo Noticias || Salud Noticias || Tecno Noticias

Source