Pitufo Díaz se apunta un importante triunfo en Las Vegas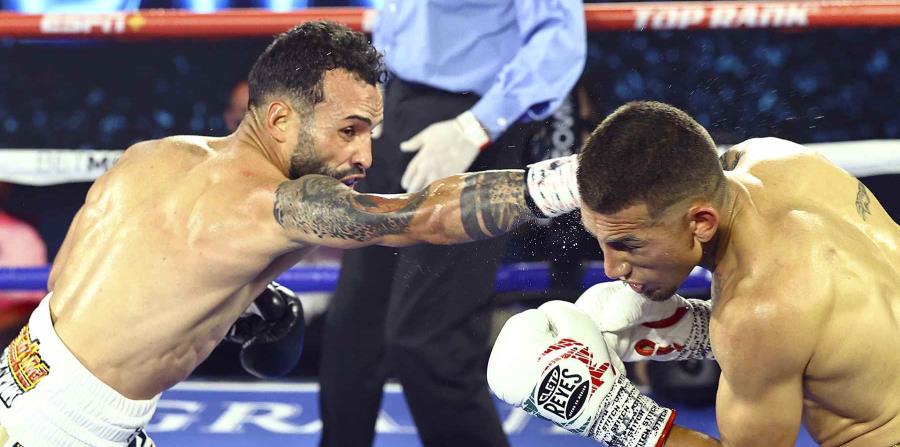 Ultimas Noticias
||
El púgil puertorriqueño Christopher "Pitufo" Díaz exhibió una de sus mejores peleas de su carrera al derrotar por decisión unánime a Jason Sánchez en la continuación de las carteleras de verano de Top Rank en el hotel MGM Grand de Las Vegas, Nevada.
Los jueces vieron el combate co-estelar de la noche, de diez asaltos, 98-92, 97-93 y 98-92 a favor del barranquiteño, quien ahora apunta a una nueva oportunidad por una pelea de título mundial.
In the 10th round and sensing he was ahead, @RealPitufoDiaz kept his foot on the gas to finish off Jason Sanchez via Unanimous Decision. ??Feel it up close from ringside ??#MoloneyFranco | LIVE NOW on ESPN pic.twitter.com/JXxKDN5B05

— Top Rank Boxing (@trboxing) June 24, 2020
.@Timbradleyjr recaps some of @RealPitufoDiaz's best work against Sanchez, as Diaz takes a significant step towards another world title shot. #MoloneyFranco pic.twitter.com/13urCILUYs

— Top Rank Boxing (@trboxing) June 24, 2020
De la mano del laureado entrenador Freddie Roach, Díaz demostró que su destrezas están sumamente pulidas frente a un rival aguerrido y retante. El boricua mantuvo su energía durante todo el combate, terminando la reyerta fuerte com varios golpes que hicieron sangrar a Sánchez en el último episodio.
Díaz mejoró a 26-2 con 16 nocauts para su segunda victoria consecutiva.
Últimas Noticias En Español Mundo, EE.UU., Latino América y mucho más.
News English || Ultimas Noticias || América Latina Noticias || Deportes Noticias || Negocios Noticias ||
Estados Unidos || Entretenimiento Noticias || Mundo Noticias || Salud Noticias || Tecno Noticias

Source