Tyson Fury y Anthony Joshua llegan a un acuerdo para unificar títulos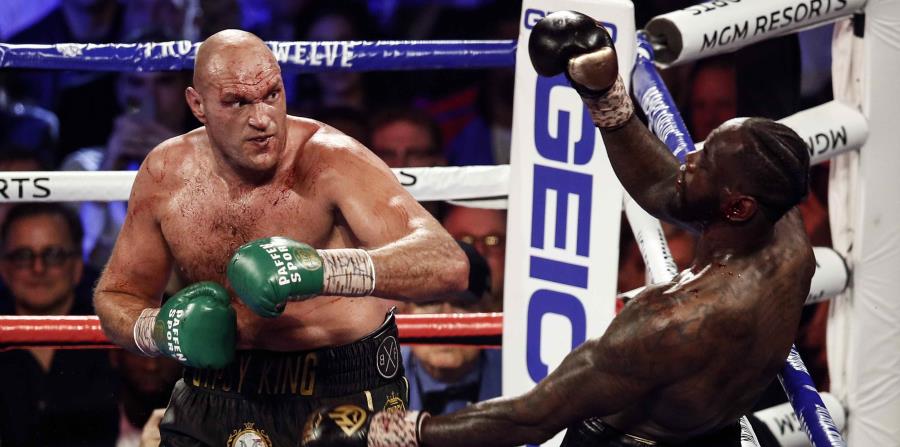 Ultimas Noticias
||
LONDRES.- Un enfrentamiento netamente británico por el título de peso pesado entre Anthony Joshua y Tyson Fury en el 2021 está cada vez más cerca.
Fury confirmó el miércoles que llegó a un acuerdo con el equipo de Joshua para montar un par de peleas entre los actuales poseedores de los cinturones de peso pesado.
"La más grande pelea de la historia del boxeo británico ha sido pactada", indicó Fury en un mensaje de video que publicó en Twitter. "Dos peleas pactadas".
It's official FURY VS JOSUAR AGREED FOR NEXT YEAR, I got to smash @bronzebomber first then I'll annihilate @anthonyfjoshua #WEARESPARTANS MASSIVE THANKS TO DANIEL KINNERHAN FOR MAKING THIS HAPPEN.???????? god bless pic.twitter.com/18FfVKfCax

— TYSON FURY (@Tyson_Fury) June 10, 2020
El promotor de Joshua, Eddie Hearn, dijo antes a la cadena británica Sky Sports, que ambos bandos se pusieron de acuerdo en disputar dos peleas.
"Estamos en sintonía", señaló Hearn. "Es justo decir que, en principio, ambos boxeadores acordaron pelear. Dos peleas".
Aun no se determinan las fechas específicas y sedes. Tampoco han firmado los contratos. Pero Hearn indicó que las partes acordaron los términos financieros.
"La pelea podría darse el próximo verano", dijo Hearn, aunque reconoció que "hay mucho que superar".
Primero, Fury tiene planeado enfrentar a Deontay Wilder por tercera ocasión. Bob Arum, promotor de Fury, le dijo a The Associated Press el lunes que Fury "le debe" a Wilder una tercera pelea tras arrebatarle el cinturón del Consejo Mundial de Boxeo al estadounidense en febrero en un enfrentamiento que ganó con un nocaut técnico en el séptimo round.
El miércoles, Fury describió la tercera pelea ante Wilder como un "obstáculo".
"Tengo que aplastarle la cara a Deontay Wilder otra vez, en la siguiente pelea y después iremos ante Joshua en la pelea del próximo año", dijo.
Arum, director ejecutivo de Top Rank, dijo que están buscando que esta pelea sea en noviembre o diciembre. Entonces después Fury volteará su atención hacia Joshua, actual campeón de la AMB, FIB y la OMB, indicó Arum.
Fury también tiene una defensa obligatoria de su título ante Dillan Whyte. Joshua también tiene programado pelear este año, frente a su primer retador de la FIB, Kubrat Pulev.
Hearn aseguró que la pelea Joshua-Fury sería "la más grande pelea en la historia del boxeo británico".
"No se puede ser más grande y no habrá una pelea más grande en nuestra generación", agregó Hearn.
Ambos bandos están entusiasmados de llevar a cabo la pelea en un recinto repleto de público, lo cual no es posible en este momento debido a las restricciones por el coronavirus.
La revancha entre Fury y Wilder atrajo un lleno total en Las Vegas, con una taquilla récord de 17 millones para el evento en vivo, que es aparte de la transmisión televisiva con pago.
Últimas Noticias En Español Mundo, EE.UU., Latino América y mucho más.
Noticias En Ingles || Ultimas Noticias || América Latina Noticias || Deportes Noticias || Negocios Noticias ||
Estados Unidos || Entretenimiento Noticias || Mundo Noticias || Salud Noticias || Tecno Noticias

Source