Australia News
A Perth auction house is under fire for the 'grotesque' sale of Adolf Hitler's personal gravy boat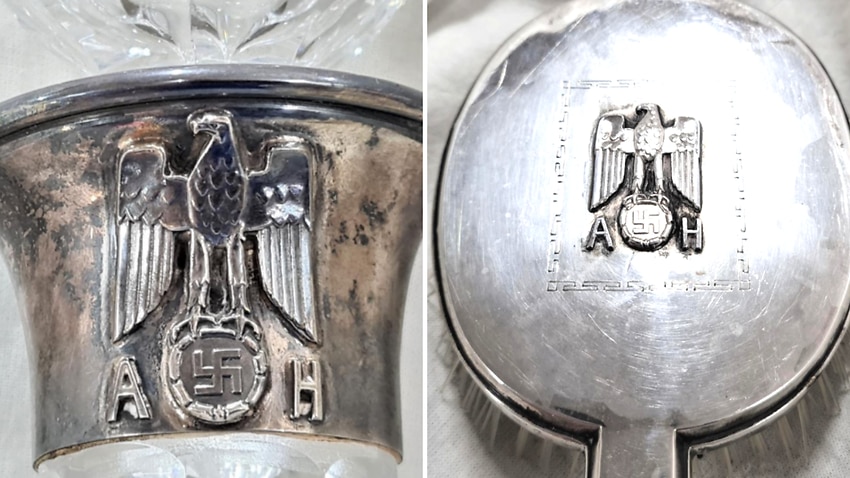 [ad_1]
News Today
||
Headlines Today
A West Australian military auction house has come under fire for listing a number of items advertised as formerly belonging to Adolf Hitler. 
JB Military Antiques has seven items listed for auction described as "very rare" pieces of the former German dictator's "personal silverware", including an ice bucket, hairbrush, cigar or cigarette box, and gravy boat.
All but one of the items, some estimated to be worth up to $7,000 each, feature Nazi insignia and the initials "AH". The auction is scheduled to take place in Perth on Sunday morning. 
Meanwhile, a leading Jewish advocacy group, the Anti-Defamation Commission (ADC), has slammed the auction, describing it as a "lurid trade" that glorifies and promotes anti-semitism in Australia.
ADC chairperson Dvir Abramovich, who has led a campaign against the sale of Nazi memorabilia, called for the "grotesque and sinister practice" to be outlawed and for the items to be immediately withdrawn. 
The sale of Nazi memorabilia is prohibited or restricted in a number of European countries, including Germany, but is relatively common in Australia. Online auction site EBay has banned the sale of Holocaust or Nazi-related items. 
"The extermination and dehumanisation of millions should not have a tag price and be offered to the highest bidder," Dr Abramovich said in a statement to SBS News.
"The perverse and twisted sale of these blood-stained items that belonged to a monster tramples on the memory of the victims of the Holocaust and is a spit on the graves of the valiant diggers who sacrificed their lives to defeat this evil tyrant. 
"It is also a kick in the stomach of the survivors who have suffered enough."
The owner of JB Military Antiques, Jamey Blewitt, told SBS News the auction house did not intend to promote Nazism but believed the items should be sold as historical artefacts to educate people about that period in history.
"I firmly believe that by exposing such items to the public, we can allow a free-flowing dialogue to take place, where facts, as opposed to opinions outweigh the arguments for or against ideologies and beliefs," he said in a statement on Friday.
"Whilst this is a period of history which has caused and continues to cause pain and discomfort for a great number of people … these items are sold as historical artefacts in their nature and speak more about the educational legacy these provide and what can be learned from the period."
In response to calls for the sale of Nazi memorabilia to be outlawed, Mr Blewitt said there were a large number of people who seek to collect the items in the interest of preservation.
"I'm sure many would agree that in a democratic society such as Australia, where no laws exist that ban the sale of such items, that the rules of the land should allow such items to be bought and sold legally," he said.
Federal Treasurer Josh Frydenberg, Australia's highest-profile Jewish MP, has previously slammed the sale of Nazi memorabilia in Australia, describing it as "abhorrent" in 2019.
Latest & Breaking Australia News Today Headlines: More Updates