Australia News
'Everybody's scared': Thousands prepare to evacuate as floodwaters continue to rise in the Hawkesbury-Nepean Valley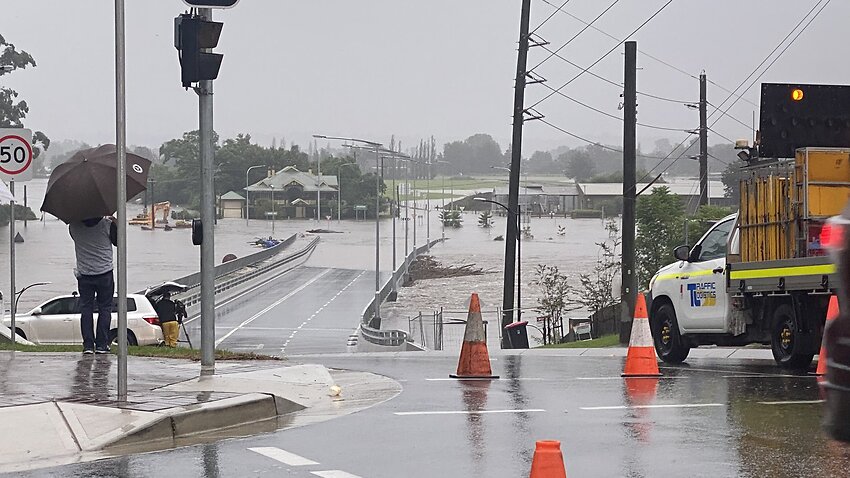 [ad_1]
News Today
||
Headlines Today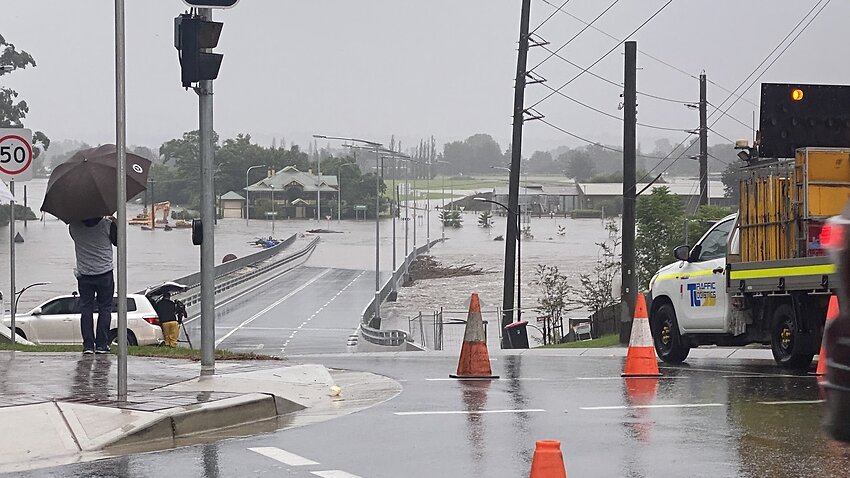 Communities along the Hawkesbury River in NSW are bracing for once-in-a-generation flooding that could displace residents and disrupt utilities for months.
Warragamba Dam, Sydney's main water source, spilled over on Saturday afternoon, causing river levels to rise along the Nepean and Hawkesbury.
Floodwaters are expected to rise to major levels on Monday morning and inundate places such as Windsor, Pitt Town, North Richmond, Freemans Reach and Colo.
The Hawkesbury is predicted to reach a peak of about 15 metres on Monday afternoon and the State Emergency Service says homes and properties will be flooded, some up to roof height.
The floods will cut off evacuation routes and cause lasting outages to utilities, the SES said as it urged evacuations.
"Extensive outages of water, electricity, sewerage, telecommunications and gas are expected to last many weeks or months," the SES said early on Monday.
The event is likely to exceed the capacity of emergency services, who have already responded to some 8000 calls for help, the SES said.
"Yesterday we were hoping it will only be a one-in-20-year event, now it looks like a one-in-50-year event," Ms Berejiklian told reporters on Sunday.
"Everybody's scared at the moment that [the floods] may happen again," Mr Khan said.
He said the region's tendency to flood had made insurance premiums unaffordable for many residents.
"A lot of businesses don't have insurance now because of the floods because they couldn't afford it,," he said.
"So if it happens again, it will be hard for them to reopen the business."
Ms Wilson says many are facing the same problem in the Hawkesbury floodplain.
"I have friends living in heritage properties in the peninsula area in Windsor. Their insurance premiums are $30,000 for flooding. Nobody can afford that."
"We've been left high and dry by the insurance industry unfortunately."
The Insurance Council of Australia on Sunday said it was liaising with emergency services to understand the impacts of the floods on the area and urged impacted residents to make contact with their insurer.
The council said as the weather event is ongoing, it is still too early to estimate the repair bill, although SES commissioner Carlene York early assessments show the damage to homes and residences is severe.
Federal government's natural disaster arrangements have been activated for 18 local government areas across NSW.
'Unchartered territory' 
The Hawkesbury Valley is one of the state's most flood-prone regions, says Western Sydney University water scientist Dr Ian Wright.
He said the region has undergone an "enormous transformation" in recent years from a "semi-rural landscape to an urban landscape", which has brought a lot more people to the region and made it even more prone to flooding.
"All the hard surfaces and pipes and plumbing, that changes the way water has flowed and that has created much more potential for flash-flooding and contributed to regional flooding," Dr Wright told the ABC.
"This is unchartered territory. We have a lot more people living in a highly flood-prone area and NSW's state emergency service regard the Hawkesbury Valley as one of the most flood prone areas of NSW, possibly Australia.
"I think there has been lots and lots of preparation but because we haven't seen a flood of this scale for some time and with floodwaters now surging out of Warragamba Dam, the whole community is going to be learning from this."
A current proposal to rise the walls of Warragamba Dam would see floodwaters coming from the large Warragamba catchment captured and temporarily held back. After the flood peak, floodwaters would then be released in a controlled way. 
"So instead of spilling as we are seeing right now it would hold that water back to reduce the incidents and scale of flooding down in the Hawkesbury flood plains and then progressively release that over time," Dr Wright said.
Ms Wilson said many residents believe the plan may actually create more problems.
"We have a bathtub effect in the Hawkesbury. So if we're already flooded and they've got the wall raised and they start releasing the water incrementally, it will top up the bathtub," she said, meaning waters will sit on the Hawkesbury floodplains for longer.
Residents across the Hawkesbury and Nepean Valleys face an anxious wait over coming days, with the heavy rain set to continue until Wednesday.
Mayor Khan has urged people to stay calm and follow instructions.
"Please do not panic. Just be aware if you're in a dangerous spot. Listen to SES and just be ready if you have to be evacuated," he said.
"Make sure you've got your pets and whatever you need because we could get a rise in the creek very quickly, which is how mother nature works. But please, stay home and wait until you hear from the SES."
The Public Information and Inquiry Centre provides information about the severe weather at any time of day on 1800 227 228. For emergency help in floodwaters, call the NSW SES on 132 500.
Additional reporting: AAP
Latest & Breaking Australia News Today Headlines: More Updates